There are a lot of people in the Philippines who think that digital platforms, especially when it comes to financial services, are a good thing. Knowing how to keep your money "liquid," which means that you should be able to move it from your bank account to digital platforms like GCash, is also important. That said, this post will focus on how you can transfer money BDO to Gcash account.
If you're wondering how you can transfer money BDO to Gcash account, then you've come to the right place! This accessibility feature will most definitely help you settle your dues safely, on time, conveniently, or even, utilize your money to grow it in the future, such as through investments, or a business. To learn more about this procedure, keep on reading below: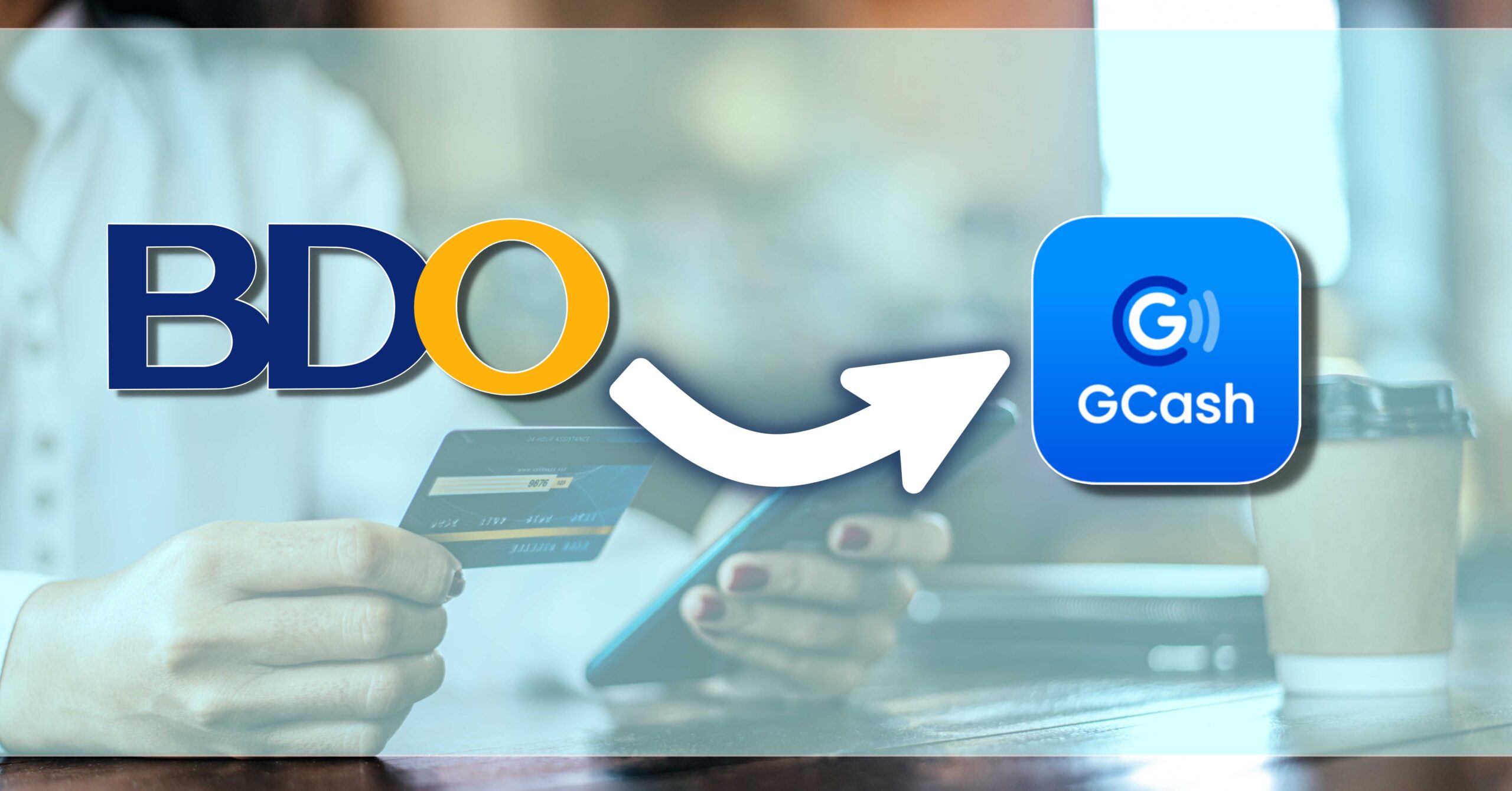 A Basic Guide on How to Transfer Money BDO to Gcash Account
To top up or transfer money BDO to Gcash account, you can now use the GCash app. Just go to a bank's website or app and do the transactions right away. You can also do them through an app. These are safe and can be done in just a few minutes.
Why Transfer Money BDO to Gcash Account
People in the Philippines have changed their habits because of the pandemic's rapid rise and spread. People are more likely to trust online banking apps because they have become easier and more secure to use.
People in the country have become more and more excited about GCash, an e-wallet since it was first made available in the country. A lot of people paid their bills from home during the COVID-19 pandemic. You can set up a GCash account in less than a minute.
Because GCash is so popular, small and medium-sized businesses now accept it as a way to pay for things like food and other things.
Other electronic wallets don't let people send money to their GCash account and then transfer it to their bank account. GCash lets people do both. It's also easy to add money to your GCash account in real-time. This method doesn't make you wait for your money to come in.
GCash is a real-time money transfer and cash-in service that accepts all major banks in the Philippines. With a small fee, you can easily top up your account with funds from your linked bank account.
This means that if you are banking with BDO, it's now very convenient to transfer money BDO to Gcash account. Keep on reading to learn how.
Guide to Transfer Money BDO to Gcash Account
Before you can start with this procedure, you must first have a proper BDO Online account and app installed on your phone. This will allow you to access your account and manage your transactions.
If you are not yet enrolled in a bank account with BDO, then you may go to its website and sign up.
How to Use the BDO Mobile App to Transfer Money from BDO to GCash
Step 1: Log in to your BDO mobile app. Use your user ID and password to do so.
Step 2: Make sure you're on the app's home screen. Then, click "Send money."
Choose "to another local bank" at the bottom of the page. When asked, choose "GCash" from the options.
Step 3:  When asked, choose "proceed without a template."
Step 4: Credit to another bank is the transaction type you can choose for this.
Step 5: Select the BDO account you'll get the money from.
This is where you'll get your money. There are many ways you can get the money. You can get it from your savings or checking account, or from your cash card.
Step 6: Add the amount that you want to send.
Step 7: Then, choose "GCash" from the list of banks.
Step 8: Put in the GCash number of the person you want to send the money to.
Step 9: Indicate the recipient's last name, first name, middle initial, phone number, and the reason for the transaction.
Step 10:  In the "template description" section, write down the reason for the transaction.
Step 11: Click "confirm" to make sure everything is right with the transaction.
Step 12: When you open a new screen, you will see the details of the deal. Once the review is done, click "continue."
Step 13: You will see a message that says that the transfer money BDO to Gcash account was successful. You can take a screenshot of this page for future use.
However, if you don't have the BDO Mobile app on your phone, then you might not be able to transfer money BDO to Gcash account. But don't worry! There is another way – through BDO Online Banking!
How to transfer money BDO to Gcash account with BDO Online Banking
Step 1: Go to the BDO online banking website to see how you can pay your bills.
People who want to use their account must enter their user name and password here.
Step 2: A one-time password (OTP) will be sent to your cell phone through text message.
You can also make your own OTP through the BDO Mobile App. Once you get the OTP, enter it then click the next button.
Step 3: Click "Send money" in the Navigate menu.
Then, choose "to another local bank" from the list.
Step 4: Then, choose "proceed without a template" and click next to move on.
Step 5: Fill out the sender details form with your information (account to transfer from, destination bank, and destination account number) and the amount you want to transfer.
Step 6: Choose "Gcash" from the destination bank list and enter the recipient's GCash account number in the destination account number field.
Step 7: Scroll down and complete the recipient's information form (receiver name, mobile number, and purpose of transaction). After that, click "submit."
Step 8: A summary of the transaction will be displayed in a new window. Examine the information and then click "Continue."
Step 9: Enter the OTP that was provided to your phone or generated by the BDO Mobile App generator, and then click Submit.
Step 10: In a confirmation message, you will be shown a reference number and the details of the successful transfer money BDO to GCash account that you made.
You can take a screenshot of this page or write down the number so you can keep it safe.
Frequently Asked Questions:
How do I link my BDO account to GCash?
If you want to link your BDO account with your GCash account, you can't do it right now. Using your BDO Mobile app or going to the BDO online banking site will still be the best way for you to transfer money BDO to Gcash account.
How do I enroll my GCash account in BDO?
It's not possible right now, but you can still transfer money BDO to Gcash account by following the steps above.
Is there a BDO to GCash transfer limit?
People who want to transfer money from BDO to GCash can only do that once a day.
Can I transfer money from BDO Pay to GCash?
There will be a way to transfer money from BDO Pay accounts to non-BDO accounts, like GCash wallets. Using InstaPay can accomplish this.
What is the "template name" in BDO?
It can be very easy to transfer money with the BDO "template name." Through a template, you can send money to the same person many times without having to enter their information each time.
What will happen if I entered the wrong payment details?
In that case, BDO will return the full amount, including the service charge, to your account in 1-2 banking days.
The money may not show up in your GCash account right away. If you don't get the money in 24 hours, call the GCash hotline 2882. To make sure the money transfer went through, check your BDO online banking account to see if it did.
What should I do if I experience a delay in my bank transfer?
The delays when you transfer money BDO to Gcash account can be caused by various factors such as the bank's system issues and ongoing maintenance.
A ticket can be made in the bank's help center if the transfer doesn't work out in the first few days after you make it. Here's how:
STEP 1: Fill out a ticket in the Help Center. A GCash representative will get back to you in the next 24 business hours after you send them your question.
STEP 2: Input your email address.
STEP 3: It's time to put in your full name that you used to sign up for GCash.
STEP 4: Input the number of your GCash-registered mobile phone here.
STEP 5: Select Send Money to a Bank > The money I sent did not go to the bank account I had chosen.
STEP 6: In the text box, write "I had to wait for my bank transfer."
STEP 7: Input the Date of the Bank Transfer.
STEP 8: Check out this option if you have a reference number from GCash and want to use it.
STEP 9: If so, enter the GCash Reference Number.
STEP 10: Input the amount of the transaction.
STEP 11: If you received an SMS or an In-App Confirmation, select this option.
STEP  12: If so, send screenshots of the SMS or In-App Confirmation message.
STEP 13: Tap Submit.
Final Thoughts
With just a few taps, you can easily transfer money BDO to Gcash account from your bank account or mobile device. It's as simple as that.
With GCash, you can send and receive money in real-time instead of waiting for it to reflect on your recipient's account. This eliminates the need to go to a bank and fill out various forms and deposits.
Although transferring funds from a bank account to a GCash account is more complicated than transferring funds from a regular bank, it is nevertheless achievable. Simply follow a few simple steps to make the purchase online or using the company's app. It's still far more convenient and time-efficient than going to the bank.
Follow these simple steps to transfer money from your BDO account to GCash. You'll be able to receive and send money in real-time!
READ NEXT: Reminder for OFWs with BDO Kabayan Savings to Avoid P300 Monthly Deduction