Online banking, as we've seen over the years, has become an essential aspect of every Filipino's life. Going online has provided lots of benefits for their banking needs. And one of the biggest commercial banks in the country, Banco de Oro, looks to capitalize on this trend as this becomes part of the Filipinos' new normal.
Also Read: Reminder for OFWs with BDO Kabayan Savings to Avoid P300 Monthly Deduction
For many overseas Filipino workers and even in these times where everything is going digital, it is very important that we upgrade our knowledge and skills when using online services. A lot of banks are offering online options to access financial services and it's time that we also adapt to these changes to minimize the hassle of going out to the banks. If we can do these services at the convenience of a web browser or via mobile app, it saves us a lot of time and energy.
In this post, we will share the various features you can get from BDO's online banking facility, which will prove to be useful whether you have a BDO account or not.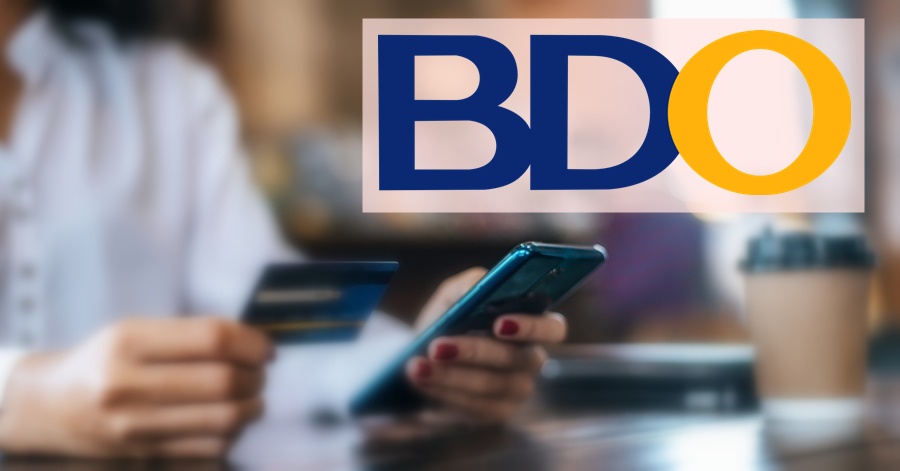 BDO Online Banking: Everything You Need to Know about Banco De Oro Internet Banking 
For those who already have an account with BDO, knowing all the features they can take advantage of will help them maximize their use of the online banking platform whereas those who are still thinking about opening an account with them can determine if BDO's internet banking channel is the best fit compared to those of other banks.
That said, here's everything you need to know about BDO's Online Banking features.
What is BDO Online Banking?
BDO's online banking facility enables account holders to have access to and perform various types of financial transactions anytime and anywhere through the use of their laptops or smartphones. 
That said, most of these transactions can be completed without the need to visit a BDO branch.
With BDO Online Banking, you can easily perform these transactions anywhere, anytime as long as you have access to the internet:
Check account balances and transactions

Pay bills

Transfer funds

Order checkbooks

Request a Stop Payment Order on issued checks

Reload prepaid mobile phones and BDO cash cards
BDO Online Banking Services
Now that you know what you can do with BDO's Online Banking facility, let us take a look at the following services you can avail of through BDO's Online Banking Facility:
1. BDO Online Enrollment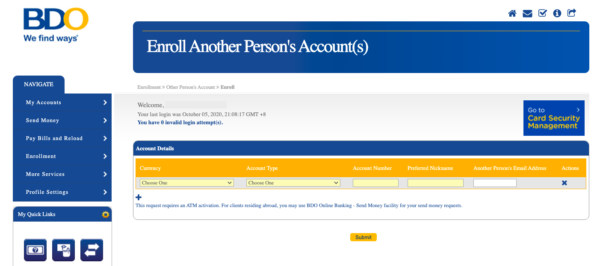 Those who have any of the following BDO accounts (individual or joint OR accounts), may register for BDO Online Banking:
Savings

Checking

Time deposit

Prepaid card

Auto Loan, Home Loan, Personal Loan, or SME Loan

Trust account
In line with this, here are the things you can enroll in BDO online:
ATM Card

 – One of the most important things you need to have these days is an ATM card. This makes paying bills or sending money through an ATM anywhere in the country or abroad possible. And to be able to use this service, you need to enroll your ATM card in BDO Online Banking. This will let you link your billers and third-party accounts (where you're sending money to) to your ATM.

Own Account

 – Those who just opened a new BDO account can enroll it in BDO's e-banking platform. By doing so, you can use your account for performing a wide variety of online transactions.

Other Person's Account

 – Another great thing you can do with BDO's online banking facility is to enroll another person's BDO account so that succeeding fund transfers to that account will be faster and more convenient. Before you perform this transaction, make sure your ATM card has already been activated.

Company/Biller

 – For those who have bills to pay, you can now use the BDO online facility to do so. Some billers, such as Meralco, have to be enrolled in BDO Internet Banking before you can start paying bills online. You can even set up an auto-debit payment scheme to make sure that your bills are paid directly from your BDO online account on time, and avoid getting complications such as overdue bills, etc.

Prepaid Mobile Number

 – Another great thing about BDO's online facility is that you don't need to go out to buy load for yourself or your loved ones because you can do this now straight from your phone while at home. You just need to enroll your mobile number to the BDO online facility. 
2. BDO Online Balance Inquiry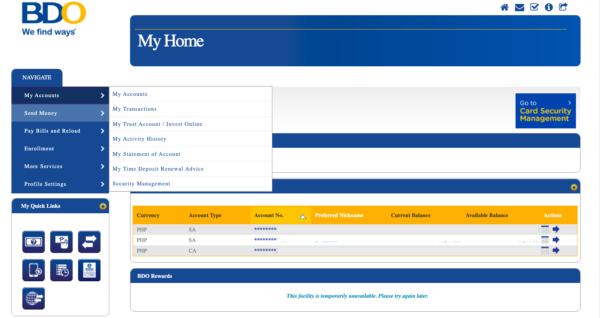 One of the most common activities people perform in the bank or through an ATM is to check their balance and transaction history. But with the BDO Online Facility, you can do this right from your own home with the use of your mobile phone or a laptop. The process is straightforward and very convenient to do. Just log on to your account, and on the BDO Online Banking homepage, you can see all your enrolled accounts along with your current balance and available balance.
But there is still a faster way to do this, which is through the Quick Balance feature, using the BDO Mobile app. 
Moreover, viewing your transaction details for the past three months can be done through the My Transactions feature. Through this method, you can even filter your search by currency (Peso/Dollar), account, time period, and type of transaction (debit/credit).
And if you have a BDO checking account, you can also access your statement of account on the online banking platform.
3. BDO Online Send Money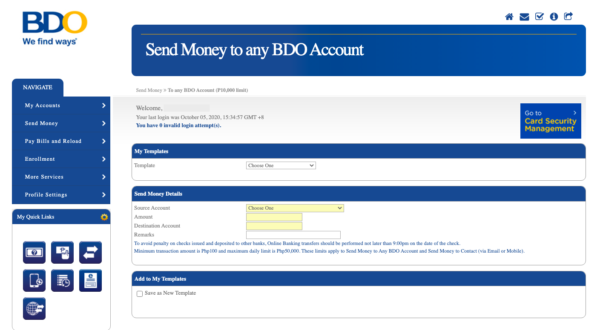 Another common transaction people perform with their bank account is sending money to other people. That said, BDO Online Banking users can transfer money to another BDO account, another local bank, or an email address/mobile number using the BDO Online Facility. Cash pickup and door-to-door delivery are also available through this facility.
It's worth noting that fund transfers via BDO Online Banking can be scheduled immediately, on a later date, or a regular date (daily/weekly/monthly) for your convenience and necessity. Furthermore, you can view the status of your send money transaction on the website.
4. BDO Online Pay Bills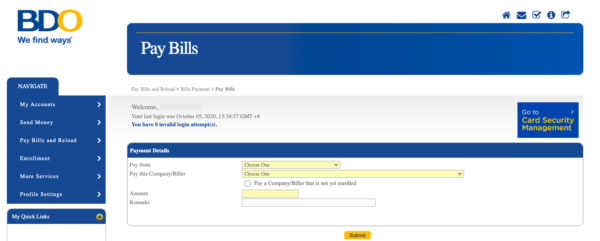 With BDO's online bills payment service, customers can pay bills to more than 180 companies and billers across the country, including Meralco, GrabExpress, and Lazada. Using this service, you can settle your bills immediately or set it to a later date or a recurring schedule for the most convenience.
One benefit of using this service is that no fee is charged for bills payment transactions via BDO Online Banking.
Also, if you have to pay multiple billers, you can easily do so in just one transaction using the Bill Rack feature. You can add billers to your Bill Rack and pay all at once instead of paying each, one at a time. Then after you've settled your payment, you can view its status on the online banking site of BDO.
Moreover, BDO credit cardholders may also use the online banking platform to enroll in the Auto Charge Payment Facility, which automatically charges bills to their credit card so they won't have to worry about missing a payment in their credit card bills. 
5. BDO Online Reload
Prepaid Mobile Reload
With the BDO Online Facility, you can now buy cellphone load from PHP 40 to PHP 2,000 as well as schedule reloading for any Globe, TM, Smart, TNT, or Sun prepaid mobile number. 
To perform this transaction, you need to enroll in the mobile number for online reloading, but you won't be required to activate the enrollment via an ATM.
You can also check your prepaid reload status via BDO Online Banking.
BDO Cash Card Reload
In the same way, you can also reload your BDO prepaid cards, schedule it, and check your reload status using the BDO Online Banking Facility. 
How to Transfer Money using BDO Online
Here are the different ways to transfer money online from your BDO account:
1. Send Money to Another BDO Account
Transferring funds to a pre-enrolled account requires enrolling your own or somebody else's BDO account in the online banking facility.
Send Money to Pre-enrolled BDO Account Transfer limit:

PHP 1 million per transfer

Transaction fee: 

Free

Fund availability: 

Instant
2. Send Money to Any BDO Account
Alternatively, you may also send cash to a BDO account that isn't enrolled in your online banking account. This type of fund transfer is typically used when sending money to your loved ones or paying online sellers for your purchases.
Transfer limit:

PHP 50,000 per day

Transaction fee: 

Free

Fund availability: 

Instant
3. Send Money from USD to Peso (Own BDO Account)
This feature allows you to transfer funds from your own BDO US Dollar account to Peso account.
Transaction limit: 

 USD 20,000 or equivalent (foreign currency transfer) per transfer

Transaction fee: 

USD 1

Fund availability: 

Instant
4. Send Money to Contact (via Email or Mobile)
This feature allows sending money to another person's BDO account without the need to input the account number. You can do so by just providing the recipient's email address or mobile number to complete the transaction.
Transaction limit: 

PHP 50,000 per day

Transaction fee: 

Free

Fund availability: 

Instant
5. USD Wire Transfer (to Local/Overseas Bank)
Another thing you can do is to request a fund transfer from your BDO US Dollar savings account to another local or foreign bank account.
Transaction limit: 

Up to your available balance

Transaction fee: 

USD 10 per transaction

Fund availability: 

Within three to five banking days
6. Send Money to Another Local Bank
You can also use the BDO Online Banking Facility to send cash to another bank or e-wallet account in the Philippines (such as BPI, GCash, GrabPay, and more) via InstaPay or PESONet.
Send Money to Another Local BankTransaction limit: 

PHP 50,000 per day

Transaction fee: 

PHP 25 (per InstaPay transfer) / PHP 100 (per PESONet transfer)

Fund availability: 

Instant (InstaPay) / Within one to two banking days (PESONet)
7. Send Money for Cash Pickup at Any BDO Branch/Partner
Sending money to recipients without a bank account is possible using the BDO Online Banking Facility. They can simply pick up the money within an hour from any BDO branch and partner outlets in the Philippines such as:
BDO branches nationwide

BDO Remit Counters in SM Malls

Cebuana Lhuillier

ML Kwarta Padala

Palawan Pawnshop

RD Pawnshop

Villarica Pawnshop
Transaction limit: Cebuana Lhuillier: PHP 30,000 / BDO branches and other partners: PHP 50,000
Transaction fee: Cebuana and ML Kwarta Padala: PHP 150 /BDO branches and other partners: PHP 100
Fund availability: Within one to two banking days
8. Door-to-Door Cash Delivery
For those who can't step outside their home or neither has a bank account nor access to any BDO branch or cash pickup outlet can greatly benefit from this feature offered by BDO. This allows for money transfer directly to the recipient's address in the Philippines, and the cash will be delivered to their home.
Transaction limit: 

PHP 50,000 per day

Transaction fee: 

PHP 200

Fund availability: 

Within one to two banking days (Metro Manila) / Within three to six banking days (provinces)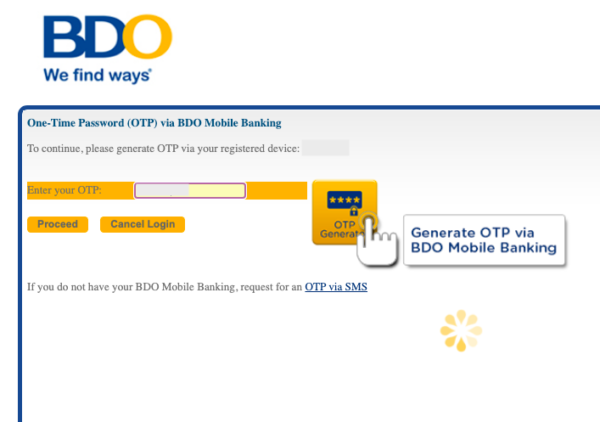 BDO Online Banking Security Features
One of the top reasons why some Filipinos are afraid to enroll in online banking, with any bank for that matter, is the facility's susceptibility to hacking, as well as customers' exposure to online banking fraud, which has increased over the years, especially during the COVID-19 pandemic, with more people doing financial transactions online.
For this reason, clients need to be reassured that they won't lose their hard-earned money when using BDO Online Banking. And BDO has developed these features for this exact purpose:
a. User Authentication via OTP
There are several ways BDO's Online Banking has enforced security measures to verify a user's identity. Aside from entering a username and a password, users are also required to key in a one-time password (OTP)—which BDO sends via SMS to the registered mobile phone number—each time they log in. The OTP requirement is needed for certain transactions, like fund transfer and prepaid reloading, to ensure that each transaction is secure and has been verified by the account holder. 
If you do not wish to flood your inbox with codes and updates from BDO every time you make a transaction using their online banking facility, you can opt to use the OTP Generator feature on the BDO Mobile app. This is useful when you don't receive the OTP via text message within 5 minutes.
b. Automatic Log-out
Whether you're on your phone or laptop, you won't have to worry when you forget to log out after your online banking session because the automatic log-out feature secures your BDO account. 
Through this feature, you'll be logged out of the system once it detects inactivity for a certain number of minutes. This way, nobody can access your online banking account except for yourself.
c.
Lock/Unlock Card
In case you lose your BDO debit or credit card, you can immediately block unauthorized transactions through the Lock/Unlock Card feature on BDO Online Banking. In just a few clicks, you can lock your BDO card so that nobody can use the lost or stolen card for ATM and in-store transactions, as well as for online purchases and payments.
And while your physical card is locked, you can still use BDO Online Banking and Mobile Banking channels to transfer funds, pay bills, and perform other transactions. And once your card has been replaced, you can unlock the card to make it active again.
4. Set Transaction Limits
Another convenient feature when using the BDO Online Facility is that you can adjust the ATM withdrawal limit, PIN-based purchase limit (for in-store purchases), and No PIN purchase limit (for online purchases) for each of your BDO debit and credit cards. Moreover, may enable or disable overseas card-based transactions.
With these BDO online security features in place, users are guaranteed that they won't lose a lot of money in case someone steals their card or attempts to hack into their account. Knowing how to use all of these features can help you secure and better manage your account transactions
Other Useful
BDO Online Banking Features You Might Not Know
Did you know that there are several other features that you don't get to see as much as the others, but are just as useful in helping make your transactions more efficient?
a. My Quick Links
The Quick Links box is composed of several different icons showing your most commonly used BDO online services. You may select the icons you need, so you can quickly access them with just a few clicks.
b. My Saved Templates
If you have regular or recurring transactions with a specific person or business, this feature will most certainly come in quite handy. Using this feature, you can save your first send money transaction as a template, which you can use for your next fund transfers to the same recipient. By doing so, this will save you time because if you use a template for sending money, you won't have to input all the required details for every transaction. 
Frequently Asked Questions
FAQ #1: How do I register or update my mobile number to receive OTP?
First, you will need to login to your BDO Online Banking account. Go to Profile Maintenance > Customer Information > Update Customer Information > Mobile Number. Then input the numeric characters only up to 15 digits without special symbols such as "-" or "+." 
Examples of acceptable formats for local mobile numbers are 639171234567 or 09181234567. 
Meanwhile, for those using international mobile numbers, they will need to include the country code and area code (e.g. 85291512345). Click "Update." After this, you will then be prompted to check your registered email address for your system-generated Approval Code.
It's important to note that your mobile number will not be updated if you do not input your Approval Code during the registration process. And to finalize the registration of your current mobile number, you need to login to your Online Banking account, click on the Approval Code icon (checkmark on the upper right-hand corner of your screen), and input your Approval Code.
FAQ #2: Do I pay anything for the OTP?
You don't have to pay for your OTP as this is sent to your mobile number free of charge. Do note, however, that when your mobile number is in international roaming mode while you are overseas, the corresponding telecommunication charges of your network provider may apply.
FAQ #3: What should I do if I do not receive my OTP via SMS?
You may cancel your current request and try logging in again. Enter your correct user ID and password so that a new OTP will be sent to your registered mobile number.
FAQ #4: What should I do in case I suspect a Password breach or unauthorized transactions on my accounts?
In case you suspect a password breach or any unauthorized transactions using your accounts, you need to perform the following:
Change your BDO Internet Banking Password online.

Call BDO Call Center and request a Password/PIN reset.
FAQ #5: What should I do in case I forgot my BDO Online Banking Password?
There are two ways you can request access to a forgotten password:
1. The first method is to nominate a new Password via www.bdo.com.ph. On the Log-in page, select the "Forgot Password" module. For security reasons, you can only nominate a new Password upon providing the correct data in the personal and Enrollment details asked during your online request. 
Important: This facility is only available for BDO Internet Banking enrollees only.
2. Alternatively, you can request a new password via the BDO Call Center. BDO's Call Center Officers can reset the password for you. You will just need to answer some security questions (usually related to the account information that you have). After they have reset your password, you need to log in immediately after your request to change and secure your password. 
These are just some of the common things you need to know about BDO's Online Banking Facility. To learn more about their new features and system updates, you can check out their website at https://www.bdo.com.ph/. 
Now that you know some of the most common features you can get from registering with BDO's Online Banking Facility, you can determine if these features apply to most of the transactions you perform when at the bank or using an ATM. However, using an online banking facility will prove to be much more convenient, safer, and faster for you, because most of these transactions won't require you to step outside of your house, especially during these times.
Convenience, security, and speed are among the best features any online banking facility can offer. So think about what you can gain from having your account enrolled in an online banking facility. 
ALSO READ: List of OFW Loans in the Philippines (Banks and Government Agencies)