A video footage of a corporate executive shoving the face of one of his employees into a boiling pot of food at an office party has sparked rage among netizens across social media sites, according to report by Yahoo! News.
ALSO READ: Japan Do's and Dont's
The footage, which had been taken on at least two different mobile devices running a little over a minute, was initially put up on the website of the Shunkan Shincho Weekly News before it was picked up by the media.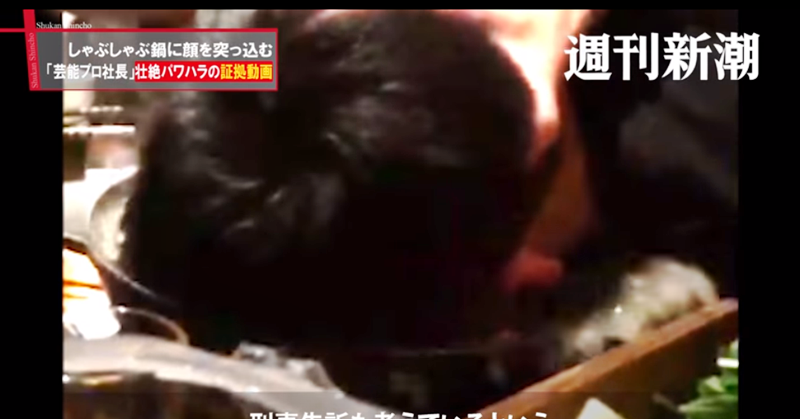 [VIDEO] Japanese Boss Shoves Worker's Face in Hotpot at Office Party
The video features a group of people inside a Japanese-style restaurant, with bottles of beer and food on the table. At the centre of the table was a nabe, a dinner pot where water is boiled to cook meat and vegetables over a lit stove.
A man whose face was not shown in the video grasps the back of the head of the victim – whose face has been blurred out – and shoves it straight into the boiling water in the pot. Spectators can be heard jeering and laughing in the background.
The description on the video at the website says that the footage was taken at a year-end office party of an entertainment agency based in Tokyo back in 2015.
The clip also shows a still image of the man who had sustained extensive burn injuries on his face. The complainant revealed that the burn injuries, which resulted into extensive scarring, took over a month to heal.
This form of power harassment, which has been considered part of work culture in the country, has not been directly addressed by Japan laws. Likewise, sexual harassment regulations in the workplace are considered "toothless."
In a 2017 study conducted by the Japanese Trade Union Confederation, 30% of the 1,000 respondents who have experienced workplace harassment shared that they had sought treatment for psychosomatic conditions, whereas 20% had resigned from their jobs.
ALSO READ: POEA Warns Against Language Centres Offering Jobs Abroad