There are lots of job opportunities for OFWs wanting to work in Canada. Some work there as a nurse, others work in the engineering field, some go to study, but did you know that you can also be a dental technician in Canada if you have the skills and experience? In this article, we will take a look at how you can find that opportunity to work in an open country that is coveted by many foreign workers, not just Filipinos.
Also Read: How to Apply for Canada Work Permit in the Philippines
If you are a dental technician or even a dentist and would like to bring your skills to Canada for the lucrative pay, the wonderful lifestyle, and the friendly people, then you need to know what it takes to get there. In this article, we will find out that there's more than just one pathway to success; and in fact it may be better off if you can find the journey that works for you.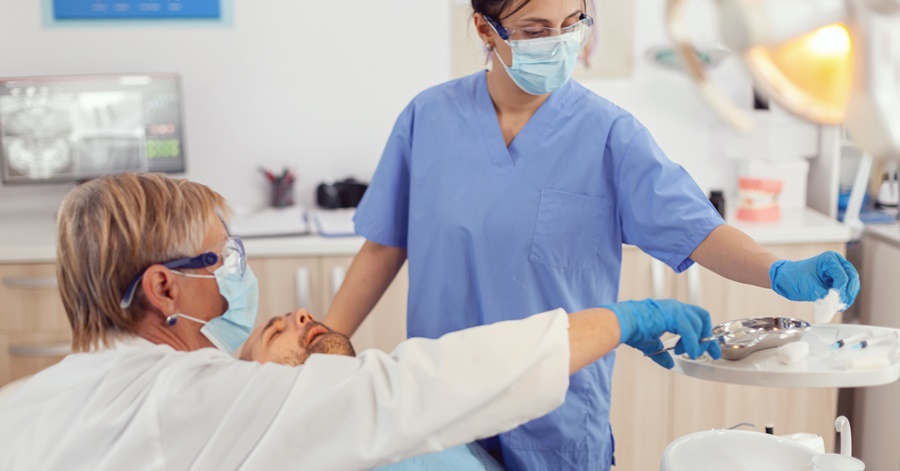 Disclaimer: The information posted here is based on the personal experiences shared by the OFW in the video below. Please let this post serve as a guide only. If you have specific questions, you may ask the OFW by commenting on their video on their accounts.
Experience of a Dental Technician Finding Work in Canada
In the video linked below, OFW YouTuber John Tigno interviews a dental technician working in Manitoba, Canada. They talked about a lot of things related to getting work in Canada, as well as some random stuff related to how she recognizes John and how the videos are informative. The YouTuber also talked about randomly meeting subscribers and learning from their individual experiences, particularly those related to finding work. If you are interested in watching the full video, then click on the link below:
The person being interviewed is a dental technician who has several years of experience working in both the Philippines and Singapore.
Her previous job before getting to Canada was in Singapore, where she worked as a dental technician for 4 years. She mentioned that she had no idea about Winnipeg before she saw videos on YouTube about life in Winnipeg, Canada made by the vlogger.
Getting from Singapore to Canada
The dental technician said that her journey from Singapore to Canada started way back; in fact she said she's been trying to get in Canada for 10 years. She decided to apply solo.
Here are some tips that you can get from her application experience:
Do lots of reading and research
Join lots of forums
Ask lots of questions, if possible, to people who are already in Canada
Don't confine yourself to a certain stream
Keep pushing and keep on applying
Just to emphasize what not confining yourself to a certain stream means, it means that there are many path ways to getting the dental technician job or any job for that matter you want.
That means, if some process works for somebody, that doesn't mean that's the only way you can get a job in Canada. Try to find your own way of getting there, and you will likely be just as or even more successful.
Getting a Job Through Sponsorship
Also, when it comes to constantly applying and constantly pushing yourself, you may do well to follow the example of the dental technician who said that she applied to all provinces in Canada.
Then, she got fortunate that one employer was willing to sponsor her. She just found this employer through a job listing on Facebook.
Apparently, one way to work as an employer in Canada is to find a sponsor through a work permit program. In the case of the dental technician featured in the video, her sponsor is a Hungarian and Filipina couple, but she didn't know it at that time. In fact, she was surprised when they later found out about their Filipino roots.
She also got lucky that she got in to Canada in 2020, exactly a day before the count down.
Getting a Work Permit and Permanent Residence
She says that the work permit she got was for a dental technician job. At the same time, her permanent residence was in the work, and she actually got the PR after 17 months.
One way to have a work permit in Canada is to have a job employer that will sponsor your application. According to the vlogger, one way this works is through the provincial nominee program, which also ultimately allows qualified workers to become permanent residents in a relatively short period of time.
Moreover, the dental technician said that when you have for yourself an employer willing to sponsor you, that makes you a lot more qualified to enter Canada to work.
Certification to work in Canada
Now, on the question of whether you need some certifications in order to work as a dental technician in Canada, the answer is yes in all provinces except Manitoba.
In general, in order to be accepted to work as a dental technician in the country, you need to have the following assets:
Skills – the dental technician mentioned that one of her assets is that she has been in this specific industry for around 10 – 12 years. She was a dental technician in the Philippines, Singapore and now in Canada.
Good resume – she also added that having a great resume is important as well. It should highlight all the important aspects in your work experience, skills and others that relate to being a dental technician.
Good cover letter – she also mentioned that you need to be intentional in your cover letter. In fact, she said that her employers told her the reason why they chose her is because they felt and saw that she really wanted to get the job.
Highlight not just your skills but also your personality – in her cover letter, she mentioned that she is a Filipina that is very hardworking, honest, specific, professional and more. You have to tailor your application to who you are, and what your strengths are.
Be patient and hopeful – if at first you don't succeed, try and try again. She said that she was very lucky because there were loads of applicants across many places around the world, including Ireland, Dubai, and more. And she was the only one who got the job.
Find your own stream
The dental technician shares more advice on how to get to Canada to work. Here they are:
It's better to find your own pathway than go where everyone else goes
Once the door opens, get in immediately
In the process of finding out how to go to Canada, you might do your own research online, and maybe even watch videos of how other people do it. You may also hear about how your friends and acquaintances do it, but never compare your status now to other people that got to Canada first.
If you want to go to Canada to work, there are multiple ways to do it, and each pathway has its own unique requirements.
This is good advice, since sometimes we feel the pressure from knowing why and how other people have entered the country while you haven't yet. Don't worry, if it is for you, then regardless of how it happens, it will get to you.
As such, the dental technician shares that once she started being less stressed and worried and just let go, everything fell into place.
She adds that oftentimes it is better to do it on your own. Networking is good and you can definitely get help from others through networking, but there are disadvantages to going where everyone goes or doing what others have done.
For example, if someone saw a pathway to Canada to work, what typically happens is that other people will try that pathway as well. If you follow suit, the chances of you getting in is lower, since there's lots of you. Basically, if you can find your own pathway then there will be less competition, and your chances of getting in are higher.
Moreover, it's good to watch videos and read comments and articles to increase your knowledge on the matter of going to Canada to work. But once you find something that you think might work, just do it. Do it right away. Take action, and your persistence will be rewarded.
Dentists becoming Dental Technicians
The vlogger also asked the technician if dentists can also work as dental technicians in Canada.
To this question, the dental technician shares that she has a colleague who comes from India. She was a dentist there, and she got a student visa to study in Toronto for two years. Eventually, she moved to Winnipeg and now she's a dental technician.
She studied for 2 years in Toronto, not to be a dental technician but for another course. This is just so that she can get in.
Her experience is definitely one that applies to finding your own stream. She didn't purposefully forge a strategy to work as a dental technician in Winnipeg on purpose, but it still worked for her. The dentist from India got a student visa to study in Toronto, and this led her to find an opportunity to work as a dental technician in another province.
Other job opportunities in Canada
The vlogger mentioned that the hotel and restaurant industry is hiring in Canada right now. In fact it is a very exciting development and a great opportunity for those in the field.
Canada is trying to open up most of the industries that closed due to the pandemic. It is trying to revive its businesses, and these businesses are specifically looking for workers coming from outside Canada.
If you are interested, then just know that these opportunities are open to all professionals around the world, so the competition is fierce. However, if you can tailor fit your application to who you are and what your skills specifically are, then you will stand out.
You have to show what you are capable of and show who you are, make the potential employers feel that you have the energy to fit into their culture.
Coming in from another country
Aside from the above-mentioned tips, here are more from the vlogger:
If you are an OFW from another country, then you have a great chance
Employers will appreciate you if you already have your papers ready
It also helps if you have a relative in Canada
The vlogger mentioned that perhaps one major reason why her successful application is relatively fast is because she came from Singapore, or basically another country but the Philippines.
He said that when employers find out that you are from the Philippines, that's no problem. In fact, some employers even prefer Filipinos who have a reputation of being hardworking and overall great employees.
However, the drawback is that there are lots of requirements from the Philippine government's end before you can go to Canada.
That's why if you are from outside the Philippines, like Singapore in the case of the vlooger, or in the Middle Eastern countries like UAE and Saudi Arabia, and even Taiwan or the United Kingdom, you can definitely easily grab this opportunity in Canada.
She also said that her employers also really like the fact that her papers are already ready. All of her credentials, such as her IELTS test results are prepared and all she has to do is submit them.
That, she says, gets her a few steps ahead of other competitors.
She also mentioned that having a relative or friends in Canada are an advantage for the following reasons:
Your relatives and friends will help you know how to go about doing things that are unfamiliar to you at first.
They can also provide you with warm and a support system.
Finally, they mentioned that if you are a dentist or dental assistant, now is the right time to apply in Canada, particularly in Manitoba. That's because for now, it's the only province that doesn't have strict regulatory board requirements.
To aid with your motivation, they also mentioned that if you just do a bit of Google on how much a dental technician earns, you may be shocked at how much you can earn. If you are ready for this career shift, then go ahead and figure out how you can get a Canadian work permit to be a dental technician.