Overseas Filipino workers who wish to activate their OWWA membership can schedule an appointment at the nearest OWWA office (in the Philippines or overseas) for either enrollment or renewal of membership. Please follow the guidelines on how you can book an appointment online via OWWA regional welfare office, POLO-OWWA office overseas, or via email.
Also Read: How to Renew Membership in OWWA Mobile App
The cost of OWWA membership is only 25 USD and once renewed, it is valid for 2 years. With this affordable Philippine government insurance policy, you will be able to avail yourself of a number of benefits and programs that are exclusively for OWWA members.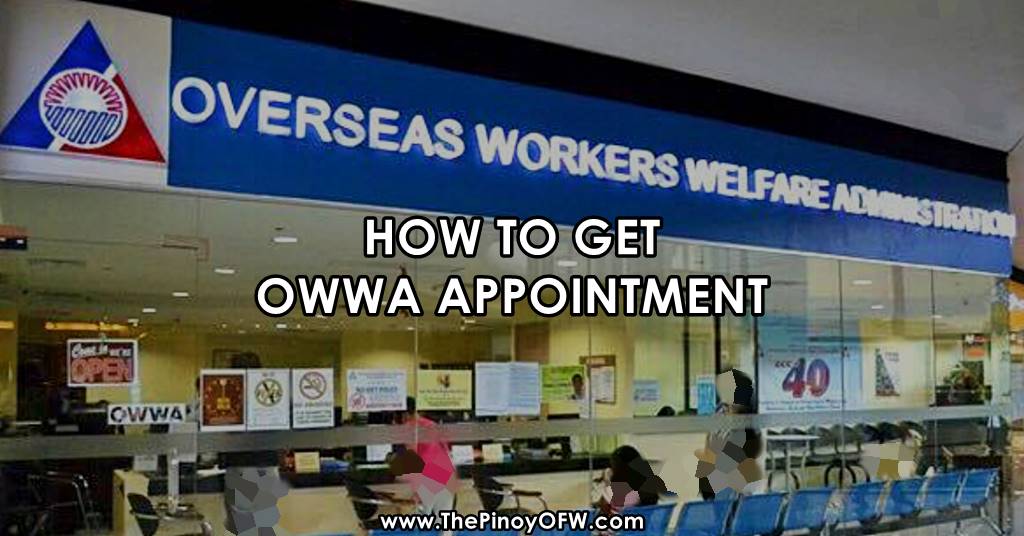 Overview
In June 2020, the Philippine Statistics Authority (PSA) reported an estimate of 2.2 million overseas Filipino workers (OFWs) who worked abroad at any time from April to September 2019 (Mapa, 2020). Government agencies like OWWA contribute to ensuring fair opportunities for overseas Filipino workers, bringing the country this feat.
The Overseas Workers Welfare Administration (OWWA) is a federal agency and an attached arm of the Department of Labor and Employment (DOLE). It is mandated to protect and promote the interests of overseas Filipino workers (OFWs) and their dependents by administering welfare programs and services across legal, employment, sociocultural, and business affairs.
Some of these programs include social benefits, country- or career-specific education and training programs, scholarships for direct OFW dependents, on-site and in-country welfare assistance, and reintegration and repatriation programs.
Requirements
Valid passport (data page)
Duly signed employment contract
Employment Pass or Work Permit
Membership fee
Visa valid for 90 days or more, for OFWs applying through their respective Philippine Overseas Labor Office (POLO) of OWWA
Booking an Appointment via OWWA Regional Welfare Office Website
OFWs based in Metro Manila, Kuwait, and Alkhobar may opt to book an appointment through the OWWA Regional Welfare Office website at https://appointment.owwa.gov.ph
Select your designated OWWA Regional Welfare Office.
Select the program you would like an appointment for (i.e: reintegration)
Select your preferred date of appointment in the calendar.
Fill up the OFW information sheet.
Click "Next" after completing your personal information.
Verify the submitted information.
Submit your appointment.
Booking an Appointment via OWWA Regional Welfare Office
OFWs residing outside Metro Manila may check their nearest OWWA Regional Welfare Office here for appointment scheduling procedures. Keep in mind to follow the specified guidelines of your respective satellite office. Some offices, for instance, may prefer inquiries sent thru email or in-person.
Booking through POLO-OWWA Offices Website
OFWs based in other countries may book their appointments through the website of the POLO-OWWA Office in their respective countries. A complete list of POLO-OWWA offices may be accessed here.
Each POLO-OWWA office has a specified guideline on processing appointments, so be sure to follow them carefully.
Open the website of your respective POLO-OWWA office.
Select a program from the given list.
Select your preferred date of appointment.
Fill up the information sheet.
Verify all given information, then take a screenshot of the webpage. This confirms that you have made a reservation.
Submit the form.
Keep in mind that some POLO-OWWA offices do not entertain appointments made with incomplete requirements. It is also important to wait for your confirmed appointment schedule before heading to the office in person.
Booking Appointment via POLO-OWWA Offices Email
Some POLO-OWWA offices process appointments made via email. For instance, OFWs in Singapore may apply or renew their membership at the Embassy of the Philippines, through designated windows for POLO offices.
Download and print the information sheet from your designated POLO office.
Fill in all the required information, including details of your employment contract, and details on your latest OWWA contribution.
Verify all submitted information before signing.
Some offices, such as that in Singapore, require supplementary documents such as:
List of qualified dependents (i.e: parent, child, etc.)
Proof of active employment, i.e: employment contract
Most recent payslip
Valid work permit
Employment pass
Copy of passport (data page)
Furthermore, if your OWWA appointment requires you to schedule through the Embassy of the Philippines in your base country, ensure that you do it in advance. However, appointments may not be required in other OWWA offices as there may be no definite procedures yet. Whatever the case, always check the website or email of your POLO office for details.
General Guidelines
Verify all written information for accuracy and completeness before submitting. You are making a transaction with the government, so any misrepresentation or false information presented in your official documents might put you in legal danger.
Always wear appropriate clothing when visiting OWWA Regional/Satellite Offices or POLO-OWWA Offices. No sleeveless tops, shorts, sandos, or open footwear such as slippers.
Only go to the respective OWWA or POLO office on your approved appointment.
Frequently Asked Questions (FAQs)
Please check out the following questions and answers about setting up an appointment for OWWA membership:
1. Who is eligible for enrollment/renewal of OWWA membership?
Enrollment or renewal of OWWA membership is open to the following:
OFWs of legal age who register as first-timers – must be employed overseas at the time of appointment.
OFWs who have achieved meaningful employment in their country of employment despite leaving without necessary documentation (i.e: OFWs from POEA)
OFWs with expired OWWA membership.
OFWs in possession of a valid working permit and visa, and;
OFWs who have obtained permanent residency status in their country of employment but have maintained their Filipino citizenship.
2. How much does the OWWA membership cost?
The OWWA membership contribution is US$25.00 or the equivalent in current foreign currency rates; in Philippine Peso, it amounts to around PhP1,000 to PhP1,500. Membership shall take effect upon payment of membership contribution. However, for certain professions, such as domestic helpers, additional fees may be incurred for contract verification.
3. How long is the validity of an OWWA membership?
The OWWA membership is valid for two years, regardless of the contract duration, change of employer, job site, or recruitment agency. Therefore, OWWA membership must be renewed as long as there is proof of active employment.
4. How do I check the validity of my OWWA membership?
To check the validity of your OWWA membership, you may download the OWWA mobile app here: How to Renew Membership in OWWA Mobile App
Register your information in the mobile app for a full guide on your membership, as well as more details and updates on OWWA services and projects.
5. Why do I need to book an appointment online?
POLO and OWWA offices implement online appointment procedures to ensure smooth transactions as well as the safety of all office personnel and visitors. You will also be given priority in handling your inquiries when you have a secured appointment prior to your visit.
6. Can I book an OWWA appointment while on vacation in the PH?
Yes, it is possible to schedule an appointment through Regional/Satellite Offices. For OFWs based in NCR, you may book an appointment through the online scheduler (https://appointment.owwa.gov.ph). For OFWs based outside NCR, you may refer to the Regional/Satellite Office nearest to you.
7. Can I book an OWWA appointment while employed overseas?
It is also an option to schedule an appointment to your country's designated office of OWWA. However, you must verify from the OWWA office whether or not they require an approved appointment.
8. Are OWWA appointments being processed while in the pandemic?
Yes, OWWA offices are operational as restrictions gradually decrease. However, in light of COVID-19 health restrictions, please follow these rules on your date of appointment:
Wear a face mask and face shield.
Step on the footbath.
Have your body temperature checked by the health personnel in-duty.
Sanitize your hands.
Sit on the assigned seats.
Observe physical distancing.
9. Where can I find my OWWA Regional/POLO-OWWA Office?
You may find contact details and locations OWWA Regional/Satellite Offices in the Philippines here: Complete List of OWWA Offices in the Philippines
You may access contact information of POLO-OWWA offices abroad through this link: Updated List of OWWA Offices Abroad
10. Where can I find information on OWWA programs and services?
You may find information on OWWA programs and services by downloading the OWWA mobile app, or by visiting their website at https://owwa.gov.ph/, or their official Facebook page at https://facebook.com/OWWAofficial.
Final Thoughts
These are but brief guidelines on scheduling an OWWA appointment online. Do take note that specific guidelines and procedures may vary across different offices, so always ensure that your requirements are complete before visiting the office. And while some countries have stricter policies regarding such, some countries need no prior appointment, so you can simply walk into the Embassy or Consulate of your country of employment to inquire about OWWA services.
You may refer to the website or social media page of your respective Regional/Satellite or POLO office for complete details. Lastly, do not miss out on renewing your OWWA application to ensure the government's assistance should you need them.
With the gradual return of businesses this year, many Filipinos are looking forward to returning to work, especially those who had been retrenched and forced to go back home due to the pandemic. With this quick guide, we hope you'll be able to make a safe return to work provided the genuine Filipino service – wherever you are – with OWWA.