The OFW Information Sheet is a document from the Overseas Workers Welfare Administration (OWWA) that you need to fill out when you are submitting your application for OWWA membership. This includes your personal details, work details, and beneficiary details. Here we share details about the purpose of this OWWA OFW Information Sheet (also known as OWWA Membership Form).
Becoming an OFW is not just a decision you make on a whim. It's a decision guided by a systematic process. That is if you want to be legally recognized by the government as an official Filipino migrant worker in your chosen place of work.
Also Read: How to Verify OWWA Membership Status Online
Of course, this is something you need to comply with, as an OFW. Because as you know, illegally working anywhere abroad has grave repercussions. Plus, you don't want to miss out on the benefits offered by relevant government agencies such as the POEA, OWWA, and DOLE, among others.  In this post, we will share how you can secure a membership form from OWWA, and other essential information you need to know about this important process for OFWs. Keep on reading to learn more.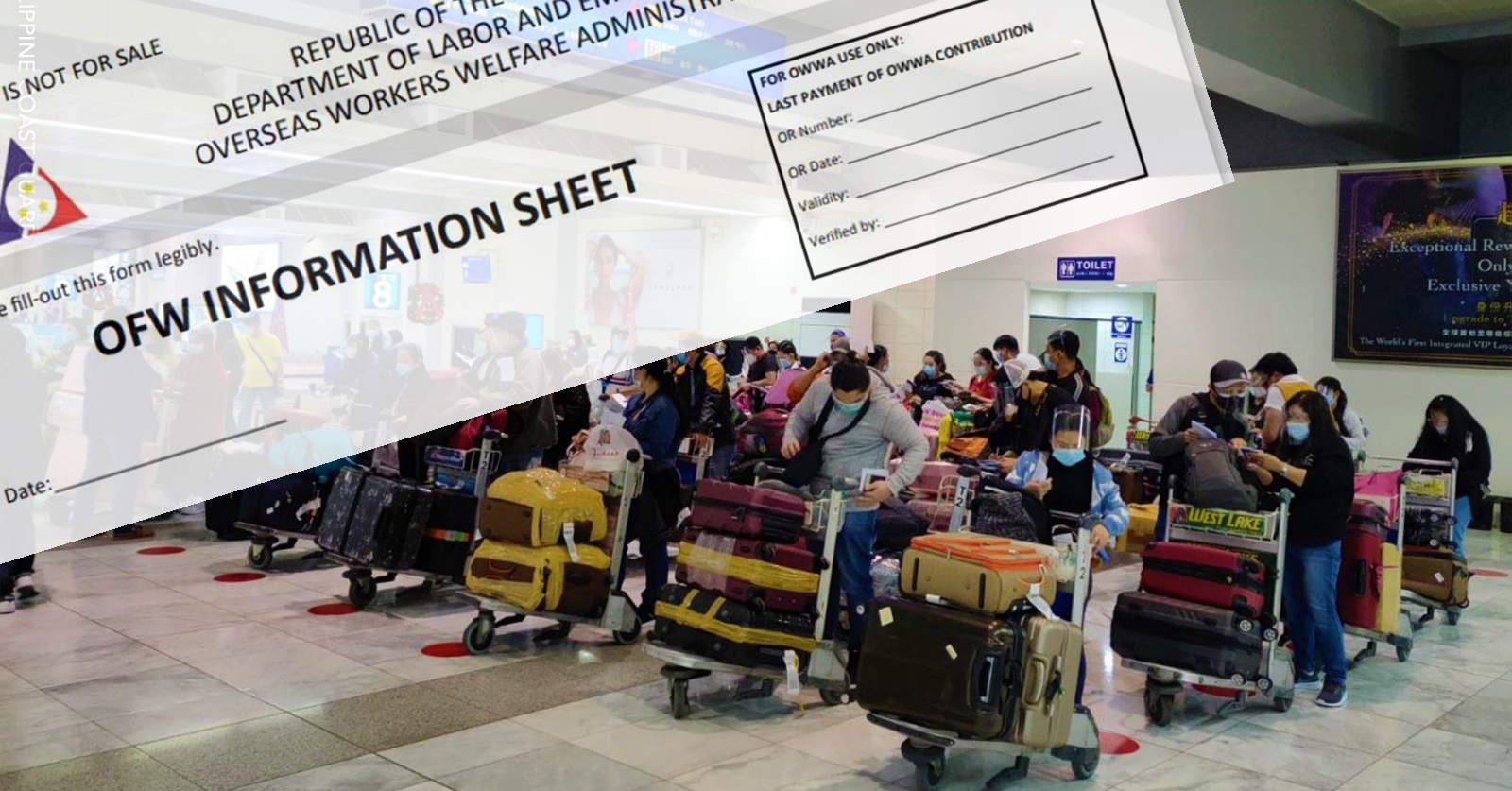 An OFW's Guide to OFW Information Sheet (OWWA Membership Form)
OWWA members receive not only protection but also several benefits from the agency. Even if you don't know what all of the benefits of being a member are, you still need to sign up as an OFW-member with the agency before you can fly abroad for work. That said, the first step to becoming an OWWA member is signing a membership form, which you will learn about in this short post.
What is the OWWA Information Sheet for OFWs?
As mentioned, OWWA membership is mandatory for all Filipinos who want to work overseas. The good news is applying for OWWA membership can be done easily – via two ways, in fact:
Through enrollment upon processing of the contract at the Philippine Overseas Employment Administration (POEA) office.
By filing an application with the OWWA's On-Site Membership Program
Eligibility for Application for OFWs:
Must be of legal age: First-time enrollees must be gainfully employed abroad upon application/ registration.
Membership must be expired.
Must have acquired regular or permanent residency in their host country, but their citizenship is still Filipino; or
Those who did not have the proper documentation from the POEA upon departure but have been hired for work overseas.
Note: In addition to the above-listed criteria for voluntary membership, OFWs who wish to apply for OWWA membership must submit the following documents:
Duly accomplished OWWA OSMP Information Sheet;
Proof of employment/ Standard Contract; and
Photocopy of passport showing photo and personal data.
Purpose of OFW Information Sheet – OWWA Application Form
To apply for OWWA membership, you need to submit an OWWA Application Form among other requirements to create/update your records in the agency. Without it, the agency will not have any information on your status as an OFW or OWWA member, and therefore will not qualify for most of the benefits the agency provides.
What details should I write in the OWWA Info Sheet?
If you're wondering what information is required in the OWWA application form, you'll need to provide basic and job-related information about you as an OFW. These include:
Personal Data

Complete name,
Residential Address in the Philippines,
Contact Information,
Birthdate,
Sex,
Civil Status, and
Educational Background

Contract Particulars

Employer Info
Job Role/ Site
Contract Specifics

Legal Beneficiaries

Name of Dependents
Birthdates
Your Relationship with them
Contact Information
OFW Information Sheet Sample
To give you a better idea, we have uploaded a sample of this membership form for your reference. Here's what the OFW Information Sheet looks like: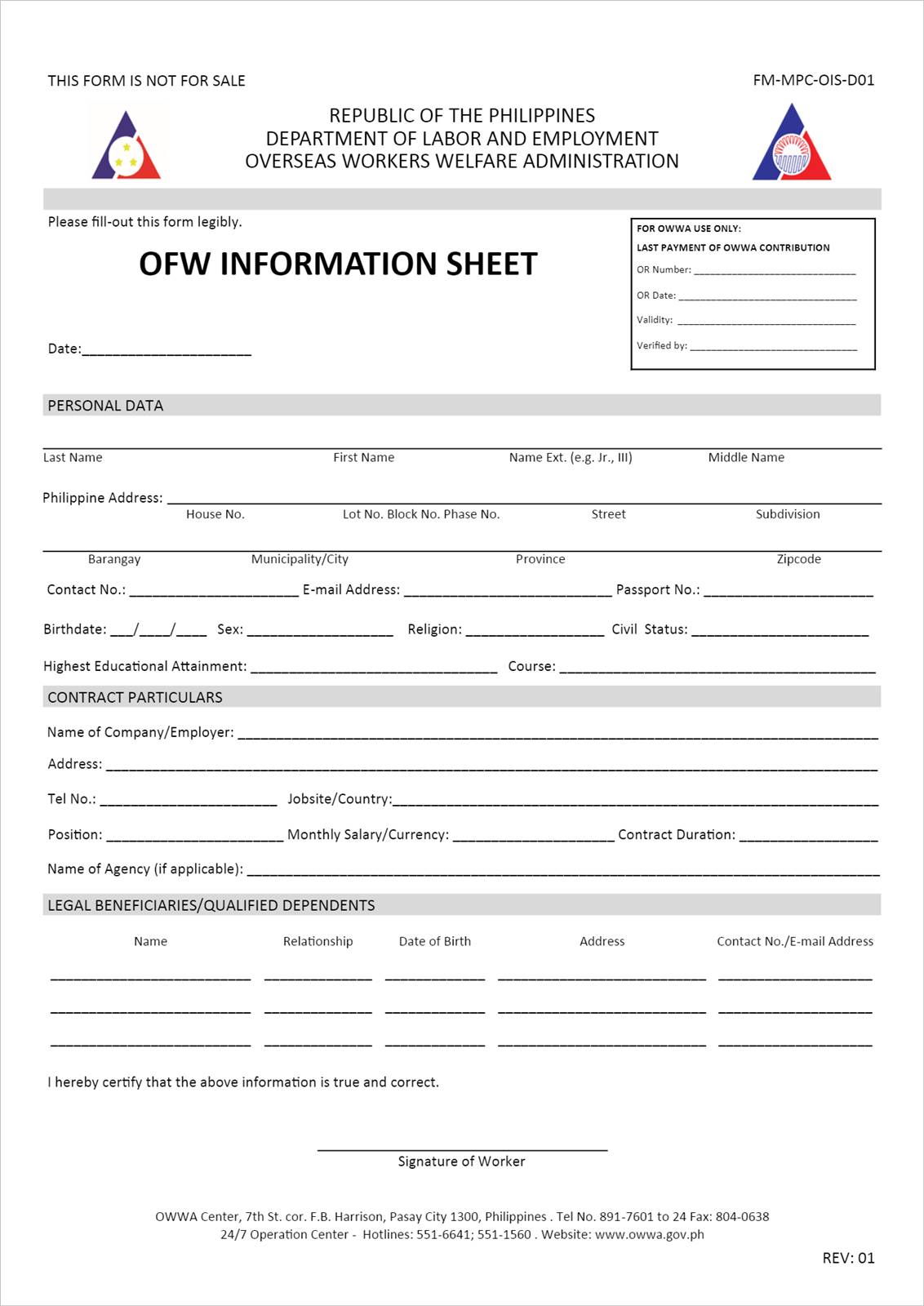 Note: Make sure to fill out this form as truthfully and comprehensively as you can. This will serve as your official record in the OFW database of the OWWA and POEA, so take the time to fill this out completely.
Where to get a copy of the OFW Information Sheet Online?
If you're wondering how you can get started with your application for OWWA membership, you'd be pleased to know that you can get a copy of the OFW information sheet online! You can just head over to this page and print a copy of the form you'll need to fill out then submit it to OWWA.
Frequently Asked Questions
Here are some common questions and answers about the OWWA information sheet and the OWWA membership guidelines:
1. What do I need to do to renew my OWWA membership?
Your OWWA membership will be valid for two years only. After which, you will need to renew your membership status under the On-Site Membership Program (OSMP). You can do this by sending an email to the OWWA desk in your country's respective Philippine consulate to briefly request your membership renewal or application, together with the following documents:
OWWA Information Sheet, duly accomplished;
Proof of employment such as work/residence permit, signed contract of employment, pay slip, company ID card, Application for Philippine insurance with employer's signature, or other relevant evidence of employment; and
Copy of passport showing photo and personal data
Note: In some cases, you will need to book an appointment for an OWWA membership application in your respective country's Philippine Consulate. Be sure to check your consulate's website to know whether this applies to you or not.
2. Is the OWWA Membership Application Form free of charge?
The application form is free and can be downloaded online. But to file your membership at OWWA whether, for first-time applications or renewals, you will have to pay a membership fee of USD 25.00 (Php 1,265). No other payments in regard to this matter will be charged to the OFW.
3. Where should I apply to renew my OWWA membership?
You may visit the nearest OWWA regional welfare office in your province, or head to the nearest POLO-OWWA office if living abroad in your work country. You can also apply for an OWWA membership online and have your family in the Philippines pay the fee in selected payment centers.
OWWA Contact Information
OWWA Center, 7th St. cor. F.B. Harrison, Pasay City 1300, Philippines
Tel. Number: 891-7601 to 24 Fax: 804-0638
24/7 Operation Center – Hotlines: 551-6641; 551-1560
Website: www.owwa.gov.ph
Google Maps Location:
Final Thoughts
Applying for an OWWA membership is mandatory for OFWs. Despite this, the process is fairly easy and straightforward. You just need to determine your qualifications, prepare the required documents, and then submit them in person to your respective OWWA office, whether in the Philippines or overseas.
After you have settled your payment for membership or renewal, your status will be active for two years. During this time, you are eligible and free to avail yourself of the programs and benefits of OWWA and the POEA. That said, it would also be best if you know what benefits are offered by OWWA for OFW members.