If you are an OFW and you are paying OWWA's membership fee for $25 valid for 2 years, you are entitled to a lot of benefits, including death and burial benefits, scholarship benefits, livelihood grants, and so on. The benefits you will get are actually more than what you are paying for. And, aside from your own good, your family and dependents also get benefits from your membership.
Also Read: Understanding OWWA Membership and Benefits
This is why it's important that you register yourself as an OFW when you work abroad. Without registering, you will be defined as unidentified OFW and you won't get your benefits.
If you are a member of OWWA, there are certain things that you can do to maximize your membership. We will share with you some tips in this article so you can ensure that you are receiving the benefits you are entitled to. As an OFW, you should be aware of the things you can get from your membership. The fact that you are paying money is something to consider so that you will get something in return. The good thing about OWWA is that it's not just there to provide educational training to prepare OFWs abroad. They also give financial assistance in specific circumstances.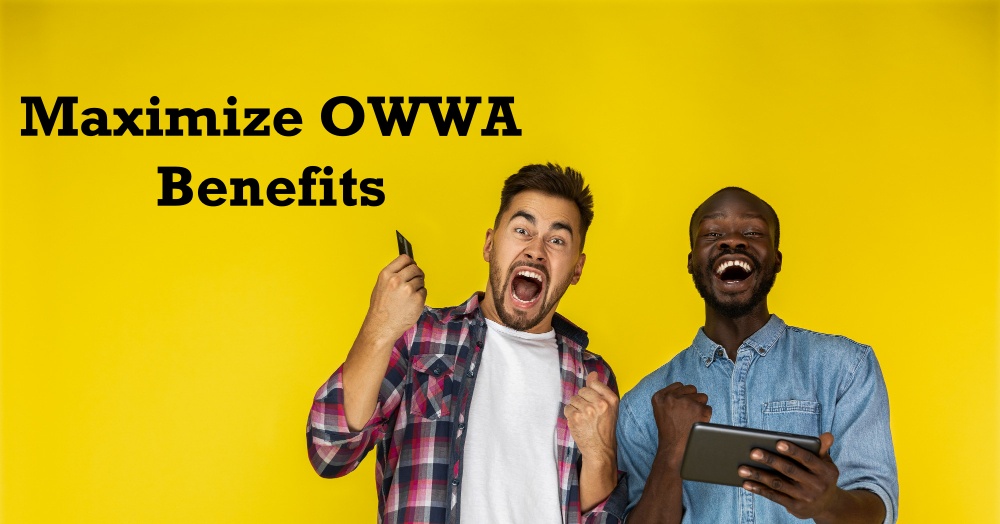 8 Ways to Take Advantage of your OWWA membership
Below are some important things you can in order to fully utilize your being an OWWA member:
1. Take out OWWA loans.
As you become a member of OWWA, you become entitled to borrow money from the agency. OWWA has a partnership with public banks like Land Bank, which helps the agency disburse the money to OFWs. This program is called OWWA OFW Loan or OFW-EDLP. This is ideal if you are planning to start a business after your return from working abroad.
To maximize this benefit, make sure you are a member of OWWA, whether inactive or not, has a feasible project, whether new or existing, has completed Enhanced Entrepreneurial Development Training (EEDT) or the training initiated by OWWA, or if you are about to leave abroad, you should have a representative.
2. Take advantage of OWWA's welfare assistance program in times of need.
Aside from a loan, there is a Welfare Assistance Program available for active OWWA members and dependents who may need assistance due to calamities, need medical attention, or relief assistance, as well as bereavement assistance.
To apply for this assistance program, you just need to go to an OWWA Regional Welfare office and request for the help you need.
3. Apply for Education and Scholarship Programs for you and your dependents.
Scholarships and training projects have been launched by OWWA to help OFWs and their dependents finish their studies or upgrade their skills.
There are OWWA scholarship programs including: OFW Dependent Scholarship Program (ODSP), Educational Development Scholarship Program (EDSP), Skills for Employment Scholarship Program (SESP), Seafarer's Upgrading Program (SUP), and Mariner's Dugtong Aral Program (MDA) for mariners.
There are plenty of these scholarship grants that you can take advantage of so you can get subsidized costs on your education.
4. Try OWWA Rebate Program.
If you have been a member of OWWA for a long time, you are entitled to join the OWWA rebate program wherein you can get some of the amounts of your membership fee as a rebate. This is not a refund or cash back but OWWA emphasized it as a rebate.
There are equivalent amounts per year of being a member in OWWA. For example, if you have been an OWWA member for 5 years, you will get back P941. If you're a member for 10 years, you will get P1,129.50 and so on. The table of amounts is set by OWWA until 70 years of membership.
To be eligible for this program, you need to be an OWWA member for 10 years with at least 5 contributions paid. You also need to make sure that you haven't availed of any of the benefits or services offered by OWWA. If your relative has died abroad, he/she needs a legal representative to claim this benefit.
5. Avail of OWWA's medical assistance.
OWWA's medical assistance is a one-time supplemental financial assistance given to OFWs who are hospitalized because of deadly diseases. Whether the OFW is hospitalized locally or abroad, they will be given financial assistance. This program is called MEDplus Program. Although it gives medical assistance, it's not considered HMO according to OWWA. The financial assistance under this program is up to P50,000 for dreaded diseases like hepatitis, heart disease, and chronic kidney disease.
To qualify for this program, an OFW needs to be hospitalized with a dreaded disease. He/she must also submit the requirements such as a medical certificate, proof of OWWA membership, and application form. As long as you are a member of OWWA, you can avail of medical assistance. OWWA also gives a 60-day extension to those whose membership is expired.
6. Get OWWA Disability benefits.
Another benefit you can get from OWWA is their disability benefit, which is given to those who have a partial or total disability. This is another cash assistance that you can avail of. If you have a partial disability, you can claim as much as P25,000 and as much as P100,000 for total disability. The minimum you can get from each type of disability is P5,000 and P50,000 respectively. To apply for this benefit, you can go to the nearest OWWA office.
7. Get your OFW relative's death and burial benefits
If you are an OFW and you have relatives in the Philippines, they can benefit from your membership by getting your death and burial benefits in case something happens to you while you are working abroad. This type of benefit is divided into two: for a natural cause and for the accidental cause. OWWA gives more financial benefits to those who died because of accidental causes.
To qualify for this benefit, there are a couple of requirements that your relative needs to submit, such as the medical certificate, proof that the OFW is a member of OWWA, and a death certificate.
8. Learn about OWWA Special Projects
So OWWA, aside from the regular programs and benefits, also has special projects depending on the current situation and season. Some of these projects involve additional scholarship programs like the Project EASE or the Tabang OFW which provide assistance for dependents of OFWs who lost their jobs due to the COVID-19 pandemic. Another program is a livelihood program called Tulong PUSO – which is a livelihood business project. There is also a one-time cash assistance called DOLE-AKAP.
So as you can see, these are special projects that have been given approval by the Philippine government in order to provide help to OFWs in times of need so do check out these special projects from time to time.
Summary
Your membership with OWWA must be renewed so you can get the maximum benefits available. There's a way to maximize your OWWA benefits if you are aware of them. To effectively maximize what you are entitled to, the first thing you need to do is to know all the benefits you can get.
When you know all of those benefits already, you can then ensure that every time you qualify for a program, you can join for the benefit of yourself and your dependents.