Overseas Filipino workers' organizations can now look forward to the livelihood program financial assistance allocated by the Overseas Workers Welfare Administration (OWWA). This is one of the reintegration projects that will help provided cash assistance to the OFWs. Take note that Tulong PUSO is NOT a loan – this is a cash grant!
According to the Philippine Information Agency website, the program known as "Tulong Pangkabuhayan sa Pag-Unlad ng Samahang OFWs" (Tulong PUSO) aims to provide the needed capital, raw materials, tools, equipment, and support to qualified OFW organizations who are aiming to start up, enhance or restore their businesses and/or livelihood projects.
Also Read: OWWA Enterprise Development and Business Loan Program OFWs
The assistance is given one-time and will range from Php150,000 to Php1,000,000 depending on the enterprise with maximum grant amount at Php250,000 for organizations with 15 to 25 members, Php500,000 for 26 to 50 members and Php1,000,000 for organizations with 51 or more members.
In this article, we've collected some information that might help you in discovering this program. You'll never know, maybe you are qualified to be a part of such program so you can start your new life in the country after working for some time abroad.
We listed here some basic information about the Tulong PUSO, who are qualified, what are the requirements needed and how you can apply for such a program. You may use this as a guide. You may also share this with your family and friends who are or were once OFWs.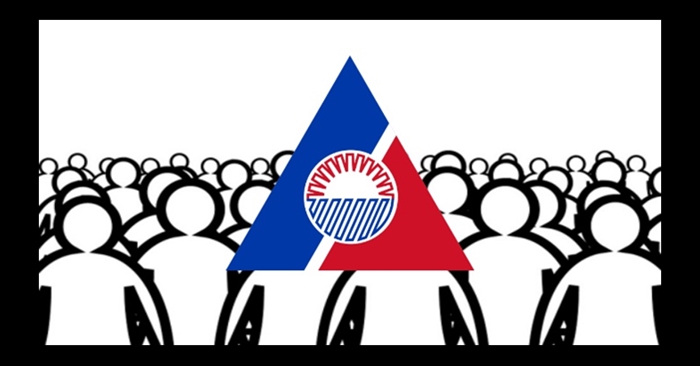 Opportunities to Engage in Livelihood "Negosyo" Projects Expected Thru OWWA's Tulong PUSO Program
Eligible projects can come from different sectors, which include agriculture, tourism, manufacturing, wholesale and retail trade, and locally based industries on priority products and tourism.
In order to qualify, the organizations need to be accredited first by these three government offices: Department of Labor of Employment (DOLE), the Securities and Exchange Commission (SEC), and Cooperative Development Authority (CDA).
What is OWWA Tulong PUSO?
Tulong PUSO is a livelihood assistance program initiated by DOLE and OWWA to help OFWs have their own business in the country. According to DOLE, this program aims to give assistance to OFW organizations so they can successfully help in enhancing, forming, and restoring livelihood projects in the form of equipment, raw materials, tools and jigs, and other support services.
This assistance is a one-time grant that allows OFWs to borrow P250,000 to P1,000,000 related to the requirements of the business project and how many OFW organizations are applying for the grant.
The administrator said that "The Tulong PUSO is one of DOLE-OWWA's mechanisms to encourage OFW organizations to engage in viable and sustainable livelihood undertakings. Together with partner agencies like the Department of Trade and Industry (DTI) and Department of Agriculture (DA), we will be conducting enterprise development training and other social preparation interventions to equip the OFW groups with the right knowledge and skills to ensure the success of their chosen livelihood projects."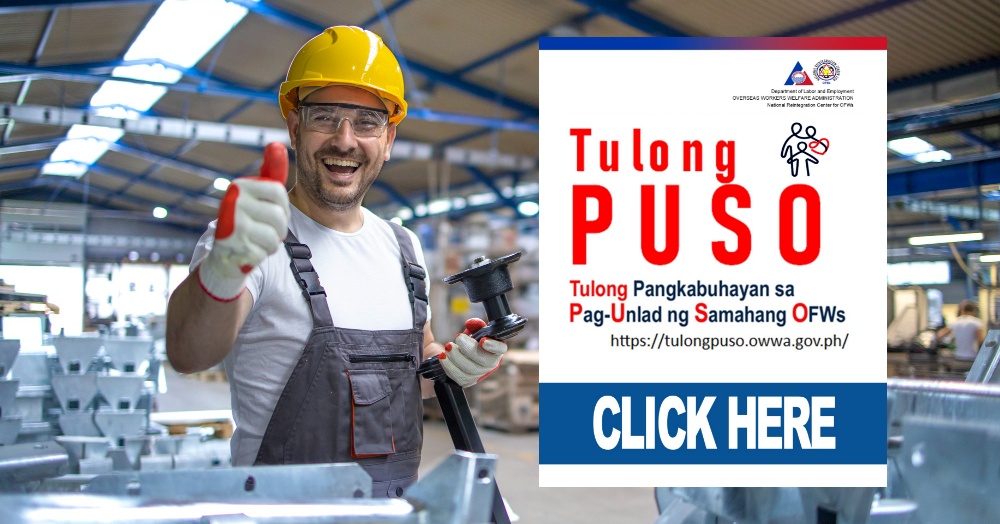 Those OFWs who have complete requirements can apply for the said program. They just need to complete the requirements and submit them to DOLE or OWWA's office.
Both DOLE and OWWA believe that Tulong PUSO can encourage Filipinos to be productive and venture into business, rather than being just a part of the society. They are optimistic that this program will help not just OFWs but the economy as well because the priority projects needed are aligned with what the government needs.
What are the benefits of Tulong PUSO?
Basically, this Tulong PUSO is helping Filipinos avail of the livelihood assistance of DOLE and OWWA, which include P250,000 to P1,000,000 assistance which may be in form of raw materials, equipment, support services, tool, and jigs, and other things related.
So, if an OFW wants to have his own business when he return to the Philippines, he can avail this program.
Who can apply for Tulong PUSO for OFWs?
Tulong PUSO is open to any OFW who has completed the training required by OWWA. This training is called the Entrepreneurial Development Training, which is usually given to start-up or forming businesses. An OFW needs to submit his EDT certificate upon applying for the program. So, if you haven't passed this training, you might need to undergo such first before you can qualify.
Aside from the EDT Certification, the OFW must be registered to OWWA, CDA, and SEC. These are needed since they are basically connected to running a business in the country.
What are the requirements of Tulong PUSO?
To apply for this program, you need a couple of documents that you need to submit to OWWA or DOLE. According to OWWA's website, the following are the requirements to apply for Tulong PUSO.
Documents Needed
Application Form, which can be found here: https://tulongpuso.owwa.gov.ph/
Certificate of Entrepreneurial Development Training for start-up or forming businesses
Copy of DOLE/SEC/CDA Registration
Certification from the Regional Welfare Office (RWO) Director that the OFC-applicant is a bonafide OFW group recognized by OWWA
Business permit
Beneficiary Prole
Business Plan/Proposal (indication/showing that the proponent has an equity equivalent to at least 20% of the total project cost)
Board Resolution designating a Business Manage who is authorized to file/apply on behalf of the group/organization.
The project aims to encourage OFW organizations to venture into economically feasible business activities and DOLE-OWWA is prepared to complete the necessary training and social preparation intervention to ensure the success of the OFW groups' chosen enterprise.
Aside from the training certificates, you also need to come up with a business plan. This is needed to be reviewed by OWWA so they can carefully select those who are truly qualified for the program. Once you have these requirements, you can now go to the step by step procedure to apply for the program.
How to Apply for DOLE-OWWA Tulong PUSO Project
To apply for Tulong PUSO, here is the step-by-step procedure. You may follow these steps for a hassle-free process.
Step 1: Prepare the requirements.
Before you can apply for the program, remember that you need the complete list of requirements. The first thing you have to do is to prepare the requirements before you submit your application. Ensure that you have all the documents listed above.
Step 2: Submit the application form online.
You don't need to go to OWWA or DOLE office before you fill out the application form. You can actually find it online. This is where you can find the online application form: https://tulongpuso.owwa.gov.ph/
Make sure to fill out the spaces with an asterisk (*) as they are basically the mandatory information to be submitted. Once you are done with the first page, go to the next page by clicking the button below.
Step 3: Submit the document requirements to OWWA.
You may go to the nearest OWWA office to submit the requirements. If you are given a receipt, acknowledgment, or a reference number when you submitted your application form, make sure to save it and present it when asked by an OWWA officer.
Step 4: Present your business plan to the OWWA Regional Review Committee.
Applicants will present their Business Plan in front of the OWWA authorities.
Step 5: Wait for the approval. Once approved, you will get cash assistance from OWWA.
That's how you can apply for Tulong Puso. If you have other concerns regarding the program, you may ask when you submit the application.
Note: Please be advised that the cash assistance will be given in tranches or in partial payments. This is to ensure that the money will be used directly for the actual business plan. But the amount will be handed over within a 1-month period.
Tulong PUSO Application Form Online
Below is the form for the Tulong PUSO project. You may simply visit the website to fill out the application form online – https://tulongpuso.owwa.gov.ph/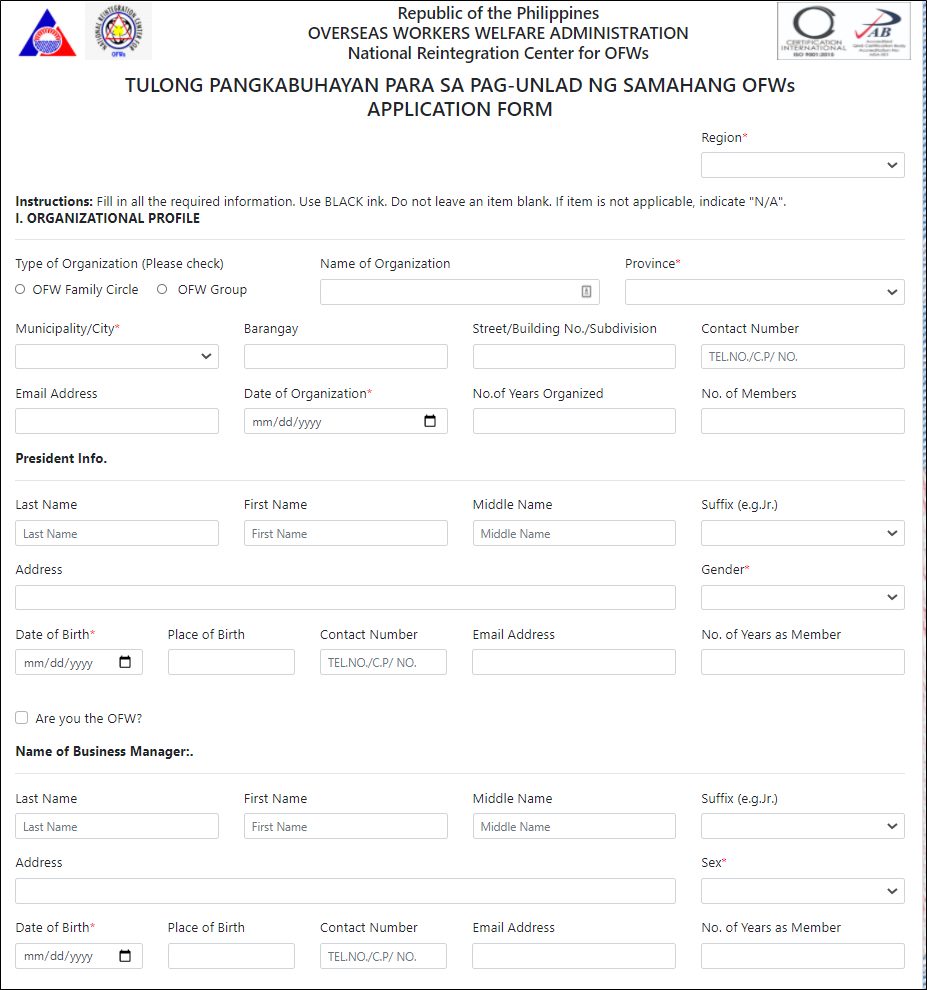 Video: Tulong PUSO One-Time Financial Assistance
Here's a video overview of what you can expect from the Tulong PUSO livelihood grant:
Here is the latest update from OWWA at Your Service regarding the number of applicants of this Tulong PUSO program:
Summary
If you are an OFW and a duly associated member of OWWA, then you can avail of OWWA's reintegration program called Tulong PUSO. Tulong Pangkabuhayan sa Pag-unlad ng Samahang OFWs (PUSO) is one of the programs of OWWA to help OFWs get reintegrated when they return to the Philippines. Most OFWs who benefit from this program are those repatriated, distressed, or can't work abroad anymore due to some reasons like a crisis or employment problems. This Tulong PUSO is just one of the many programs of OWWA that are currently helping a lot of OFWs right now.
Check out these other OWWA livelihood programs where you can take advantage and set up your own business as you are reintegrated back to the Philippines