The Department of Trade Industry (DTI) and the Overseas Workers Welfare Administration (OWWA), in partnership with Land Bank of the Philippines (LBP) and the Development Bank of the Philippines (DBP), are teaming up to help qualified Overseas Filipino Worker OWWA members and their families start their own business through the Enterprise Development and Loan Program (EDLP).
Whether you are working abroad or have returned to the Philippines after completing your employment abroad, you are entitled to Overseas Filipino Workers – Enterprise Development and Loan Program or OFW-EDLP. This is another reintegration program initiated by OWWA to help OFWs and ensure that they become stable regardless of whether they are abroad or not.
Also Read: OWWA to Launch Livelihood Programs for Repatriated OFWs this Sept
In this article, we will share some essential information about OFW-EDLP so you can determine whether you are qualified or not, how you can apply, and what the requirements are when you apply. You may use this as a guide. You can also share this with your family and friends who are working abroad.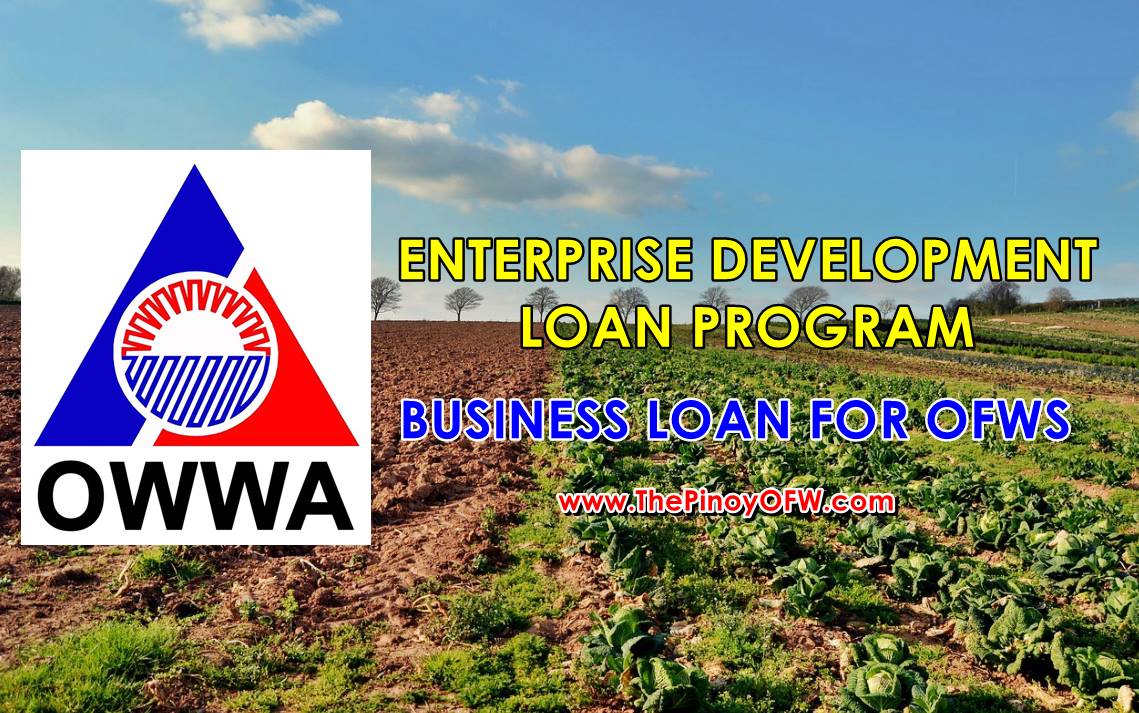 Guide to Loan Program of OWWA for Filipinos who Want to Set up a Home Business – Up to PHP 2 Million Loan Grant
Previously known as OFW-Reintegration Program (ORP) and more popularly known as OWWA loan, the OFW-EDLP aims to help Filipino migrant workers stay in the country with their loved ones by helping them establish a business enterprise.
What is Overseas Filipino Workers – Enterprise Development and Loan Program (OFW-EDLP)?
OFW-EDLP is a program that helps OFWs. It is defined as an enterprise development intervention and loan facility by OWWA. To implement this program, OWWA is in partnership with the Landbank of the Philippines and the Development Bank of the Philippines.
The program is basically a financing program. It allows OFWs to take out loans for their businesses. This is a good alternative if you want to start your own business but you don't have enough capital to start. The partnership of OWWA with the two banks also allows the agency to have enough funds for those who are qualified for the program.
What are the benefits of the OFW EDLP?
The program is solely for monetary and financial benefits. Since it is a loan scheme, OFWs will benefit from the loans they can avail of from OWWA and be able to use the money to start a business or expand what they already have.
So, if you are an OFW who has been repatriated because of a crisis abroad, this program allows you to take out loans and use them to start again in the country. With this loan, you can borrow a minimum of P100,000 up to a maximum of 2 million pesos if you pass all the requirements.
Who can apply for the EDLP Loan and What are the qualifications?
OFWs can now apply for this loan program provided that they qualify. The following are the eligible OFWs who can avail of EDLP.
Certified OWWA members, regardless of whether active or non-active
Completed Enhanced Entrepreneurial Development Training
For OFWs working abroad, they can be represented by the following:

If OFW is married, by the legal spouse
If OFW is single, widow, widower, or separated-in-fact:
Parents not more than sixty (60) years old
Children who are at least eighteen (18) years old
Eligible Borrowers
OWWA member, active or non-active;
Has completed Enhanced Entrepreneurial Development Training (EEDT);
OFWs working abroad, or about to leave may be represented by the following: If OFW is married, by the legal spouse;
If OFW is single, widow, widower, or separated-in-fact;
Parents not more than sixty (60) years old; or
Children who are at least eighteen (18) years old.
Eligible Projects
There are specific projects that can be covered under the EDLP like:
Franchising business;
Contract tie-up with top 1000 corporations;
Agri and non-agri production/manufacturing/ Construction/rental business/ Service/trading business/ Transport service; or
Any viable project, whether existing or new.
The basic requirement is for the enterprise to at least be able to generate sufficient cash to take care of the projected amortization of the loan.
Loan Security/Collateral
The loan can be availed with the following as collateral:
Object that needed financing;
Mortgage-able project assets (machines or equipment); and
Other assets owned by the borrower.
Interest Rate
The OFW-EDLP has an interest rate of 7.5% per annum for the entire duration of the loan.
Loan Purpose
The loan can be applied towards a business' Working Capital and Fixed Asset Acquisition.
Project Cost-Sharing
The borrower's equity is at a minimum of 20% of the Total Project Cost (TPC).
Loan Amount
The loanable amount depends on the project needs and the amount of equity participation of the borrower.
For Individual Loan Borrowers (single proprietorship)
a. Minimum – Php100,000.00
b. Maximum – Php2,000,000.00
For Group Loan Borrowers (partnerships, corporations, cooperatives)
a. Minimum- Php100,000.00
b. Maximum – Php5,000,000.00
Loan Repayment
The loan can either be short-term with a maximum of one (1) year; or based on cash flow but not more than 7 years, inclusive of a 2-year grace period.
What are the OFW-EDLP Loan Requirements?
Before you can apply for this program, you need to prepare certain requirements. You need to comply with these requirements so that by the time you go to OWWA, there won't be any inconvenience as to the documents needed.
To comply with the requirements, here are the documents you need to bring:
Your bio-data or your curriculum vitae whichever is available.
Your income tax return for the last 3 years if you have
Mayor's permit for your business
Financial statement for the last 3 years if you have been filing with the BIR
Your latest interim financial statements
Statement of Assets and Liabilities
Certification of registration with DTI
In addition to these documents, you will also need to come up with a business plan that will generate income for you and your family. This will be reviewed as well by OWWA.
Also, you will need to submit evidence that you are a bonafide OFW along with your completed EDT or Enterprise Development Training conducted by OWWA.
Lastly, if you have a contract growing agreement, a service contract, or a purchase order, you will need to submit them as well to the OWWA if applicable.
How to apply for OWWA OFW Enterprise Development Loan Program??
Now, the question is how you can apply to the program. If you are qualified based on OWWA's qualification requirement and have the complete requirements already, you may follow these steps to apply:
The first step to applying to the program is to verify with OWWA.
If you are an OFW outside the Philippines, you can send an email to the welfare officer in the embassy in the country where you are located or where is your country covered. Then, the officer will verify you're your registration with OWWA.
After verification, you will be referred to an OWWA office in the Philippines. This is where you will get your certification once you return to the Philippines. You will then present the certification to Landbank.
If you are outside the Philippines on the other hand, you can go to any OWWA office ask them for the certification. You will present this certification to Landbank afterward.
Step 2: Finish the Enterprise Development Training (EDT)
After verification with OWWA, you will be advised to personally attend the training called Enterprise Development Training (EDT). This is usually conducted by OWWA, Landbank, and DTI.
Once you are done with the training, you will receive a certificate stating that you have completed such. You will have to present this to Landbank as well.
EDT is a good opportunity to raise your questions about the loan. This training also focuses on helping OFWs figure out how to manage a business.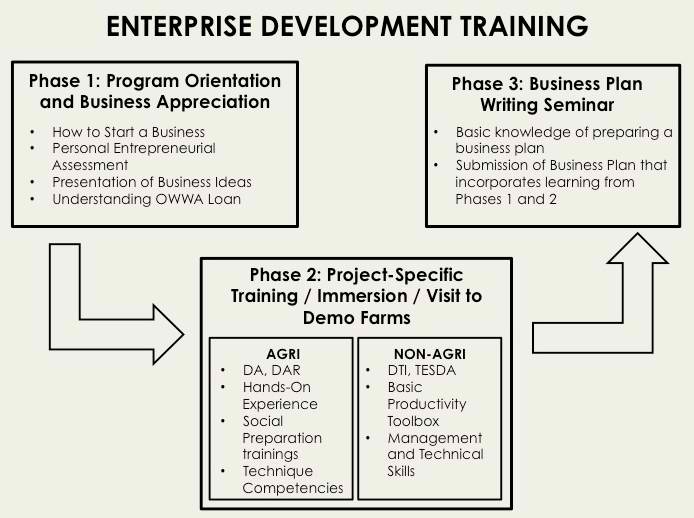 Step 3: Prepare the requirements and your business plan.
As mentioned above, there are certain documents that you need to submit to OWWA for their processing. Don't forget that you need a business plan to submit too so that the agency can check the business you have in mind or in case you already have a business, they can review how you would like to expand it.
Step 4: Submission and approval of the loan.
The final steps are submission and approval. You will need to submit your documents to Landbank for processing. They will review the documents. If you get approved, you can now take out loans and Landbank will release the funds to you. Just wait for the call.
Here's a useful video you can watch regarding OFW-EDLP:
For more information and for further evaluation of your project proposal, visit the nearest Landbank Lending Center or Landbank Branch.
Check out these other OWWA livelihood programs where you can take advantage and set up your own business as you are reintegrated back to the Philippines