Earlier this month, the Department of Labor and Employment (DOLE) announced that it will be providing financial assistance to overseas Filipino workers (OFWs) whose work and livelihood have been affected by the pandemic.  
Here's a step by step guide to applying for DOLE-AKAP for OFWs.
The special program developed under extraordinary circumstances (pandemic) is called DOLE-AKAP, which will provide USD 200 or PHP 10,000 (or the equivalent to the local currency where the OFW resides) to help them get through the crisis. Be advised that for OFWs and seafarers, you can head to the nearest POLO-OWWA office or OWWA Regional Welfare office in order to apply for this AKAP program.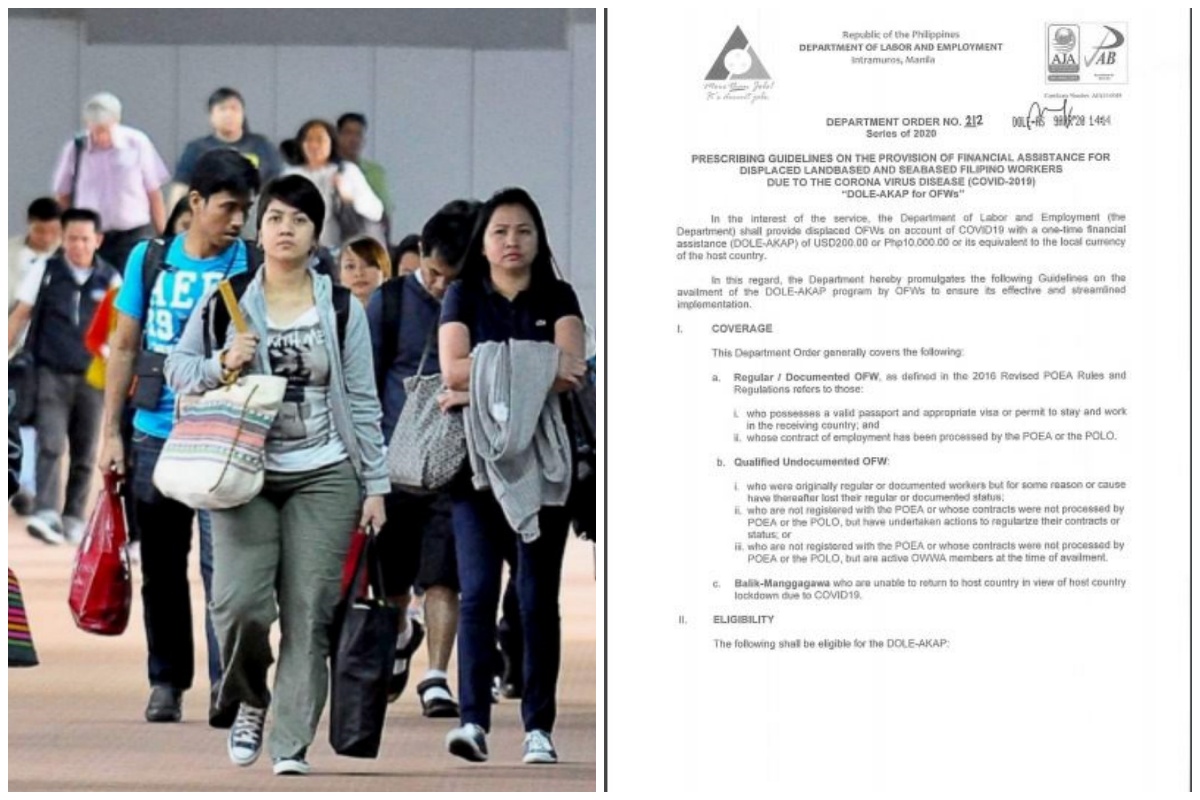 Guide: Applying for OWWA DOLE's One-Time Financial Assistance for OFWs Affected by Pandemic
In this post, we will share the guidelines set by the DOLE and OWWA for OFWs seeking assistance during this time:
OFWs eligible for this program include the following:
Regular/documented OFWs

 (those with valid passports, work permits, and whose contract of employment was processed by the POEA or POLO).

Qualified undocumented OFWs 

or those who were once classified as regular/documented, but lost their status, those unregistered or with unprocessed work permits with POEA or POLO but have either taken actions to regularize their contracts/status OR are active OWWA members); and

Balik-Manggagawa

 who are unable to return home from their host country due to the lockdown.
To qualify for the DOLE-AKAP program, the OFW must:
have been displaced from their jobs due to their host country's community quarantine or lockdown;

still be based overseas, or in the Philippines as Balik-Manggagawa, or have already been repatriated; and

not have received any financial support or assistance from receiving countries or their employers.
Meanwhile, according to the DOLE, OFWs from the following countries with POLO presence and/or are heavily affected by COVID-19 will be prioritized:
Asia and the Pacific:

 Australia, Brunei, Hong Kong, Japan, Korea, Macau, Singapore, Taiwan, Malaysia, New Zealand.

The Middle East and North Africa (MENA)

: Bahrain, Israel, Jordan, Kuwait, Lebanon, Libya, Oman, Qatar, Saudi Arabia, United Arab Emirates

Europe and the Americas: 

Canada, Cyprus, Italy, Germany, Greece, Spain, Switzerland, United Kingdom of Great Britain, United States of America
How to Apply for the DOLE-AKAP Program
Eligible OFWs need to submit the following requirements to their respective POLOs:
Completely filled-out Application Form for Special Cash Assistance which is downloadable at their respective POLO website or social media account; 

A copy of passport or travel document

Proof of Overseas Employment (i.e. valid OEC, residence ID, visa/re-entry visa, etc.)

Proof of Loss of Employment due to Coronavirus Pandemic 

For undocumented OFWs: proof that the separation was not because of a grievance or gross misconduct on their part, and that they are involved in an ongoing case (like case reference number or case endorsement stamp by POLO).
Upon submission of the documents, the POLO will evaluate the application within 5 working days and will update the OFW with the status of his or her application within 5 working days.
On the other hand, the Balik Manggagawa, or repatriated OFWs are required to submit the following documents to their respective regional or local OWWA offices:
Completely filled-out Application Form for Special Cash Assistance 

Copy of passport or travel document

Proof of overseas employment (i.e valid OEC, residence ID, visa/re-entry visa, etc.)

Proof of Loss of Employment due to Coronavirus Pandemic  
According to the OWWA, the PHP 10,000 cash assistance will be given by the concerned DOLE regional office via money remittance or Peso Net once approved.
In the meantime, check out the other programs set up by the government for Filipino workers affected by the coronavirus pandemic in our 2-part post here: