An OFW has a couple of benefits once he/she becomes a member of OWWA. There are training programs, scholarship programs, and other similar educational and rewarding benefits. One of the benefits you can get from being an OWWA member is a rebate. This means that you will get a portion of your membership fee back.
Also Read: What is OWWA? Things to Know for OWWA OFW Members
You should maximize your benefits as an OWWA member by availing of this rebate program. Your membership fee when you become a member of OWWA is $25, which is $25 good for two years. This is actually a big amount of money. If you get a portion of it back, it will be a big help to your family.
So, what is OWWA's rebate program and how does it work? In this blog, we will share with you some helpful insights about the rebate program of OWWA, how it works, and how you can qualify for it. You may use this as a guide.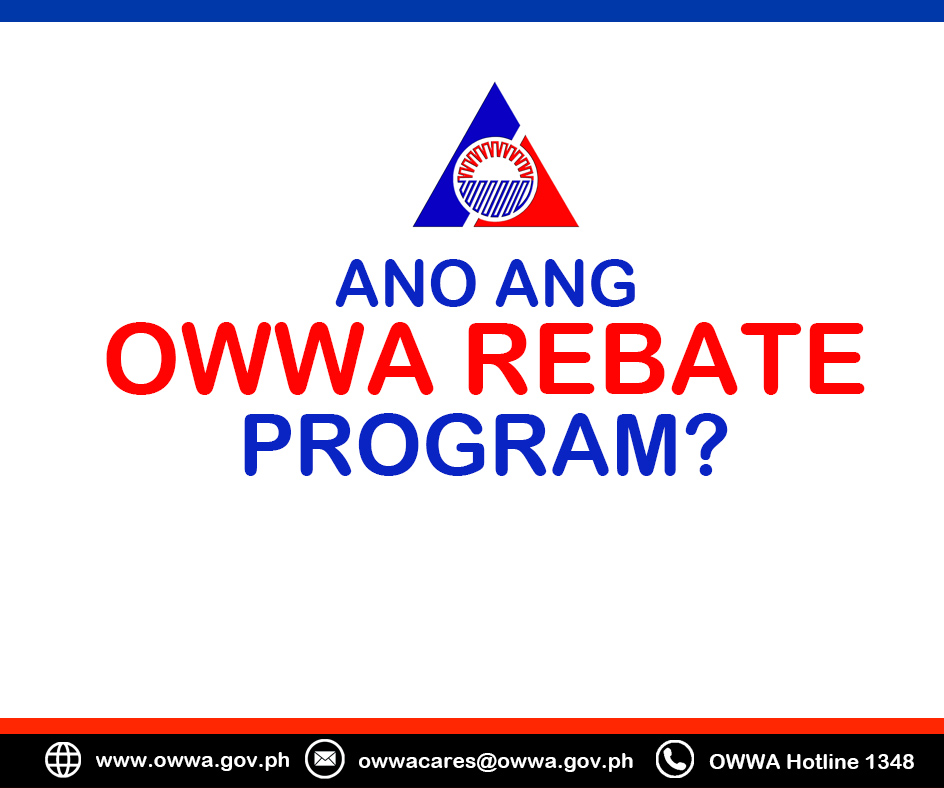 What is OWWA Rebate Program?
The OWWA rebate program is actually in compliance with the OWWA Act with regard to giving long-term OWWA members the opportunity to get a portion of their membership fees back. Although OWWA stresses out that this is not some kind of refund or cashback, you can actually benefit from this program by being a long-time member of the agency.
What are the benefits of OWWA Rebates Program?
OWWA has many programs with different benefits. However, this rebate program is different. This benefit is directly given to OFWs rather than their beneficiaries or dependents. It's not a training program but rather a rebate that allows OFWs to get a portion of their membership fees back depending on the years of their membership.
OWWA Rebate Table
According to OWWA, the following are the equivalent rebates per number of years of membership. Please check out the table below:
5 years – P941.25
6 years – P1,129.50
7 years – P1,317.75
8 years – P1,506.00
9 years – P1,694.25
10 years – P1,882.50
20 years – P3,765.00
30 years – P5,674.50
40 years – 7,530.00
50 years – P9,412.50
60 years – P11,295.00
70 years – P13,177.50
An OFW will receive benefits from P941.25 to P13,177.50 depending on the number of years he/she is a member of OWWA. If you are an OFW who has been a member of OWWA for more than 5 years, then you are entitled to receive this benefit. Just make sure to inform OWWA of the number of years of your membership and follow the step-by-step procedure when claiming it.
Who can apply for OWWA Rebate?
Since the computation of rebates only starts at 5 years, OFWs who are members of the said agency for 5 years and above can apply for this program. OWWA specifically stated that the qualifications for this program are the following:
OFWs who have been members of OWWA for at least ten years with at least five or more contributions made as of December 31, 2017, and
OFW-member or his/her family has not availed of any program or benefit from OWWA.
If you are a member of OWWA for more than 5 years already and this is your first time availing of any programs by the agency, then you are entitled to rebates equivalent to your membership years.
Per OWWA, the amounts in this rebate program are based on the actuarial study commissioned by OWWA. This is the strategy performed to determine the capability of OWWA to pay rebates without affecting its other programs and services. The actual study stated that P1 billion was earmarked for this program and is supposed to be distributed to about 556,000 beneficiaries of OWWA.
What are the requirements to bring?
When it comes to requirements, you don't need a lot of documents to claim this rebate. OWWA only requires you to have your
membership ID for inquiry,
a valid ID to claim your benefits, and
a bank account where OWWA can deposit the money.
With these requirements, you can already claim your rebates without a hassle. Just ensure that you qualify for the said rebates by either remembering the years you have been a member of OWWA or inquiring from OWWA online. We will emphasize this more in the next section of this blog where you can check how to claim your rebates.
How to Claim OWWA Rebate Online – Step by Step Guide
Now that you have the OWWA rebate qualifications and requirements to bring, what's next?
In this section, we will share with you the step-by-step guide to claim your rebates.
The first thing you have to do to claim your rebates is to inquire about the amount you can actually claim. Just go to rebate.owwa.gov.ph.
Step 2: Fill out the rebate verification form.
When you click the website, you will be redirected to a rebate verification form, which you need to fill out. The form consists of boxes where you need to input your First Name, Middle Name, Last Name, Extension Name, Birthdate, and Mobile No. Click the "Inquire" button after you input that information.
Step 3: Check the amount you can receive.
After you click the inquire button, you will see the amount you will receive as a rebate.
Step 4: Make an appointment with OWWA.
To make an appointment, you may go to the nearest OWWA branch. If you are not familiar with the nearest office to you, you may go to https://www.owwa.gov.ph/index.php/contact-us to check the branches. Make sure you have a working phone number when you schedule your appointment as you will need them on your actual appointment date.
Step 5: Proceed to your chosen OWWA branch and bring your valid ID.
During this step, make sure you still have the appointment code sent to your phone number by OWWA. Without this code, you won't be able to make an appointment and book your rebate claims.
Step 6: Make sure to provide your bank details during your appointment.
Your rebates claim will be deposited into your bank account. Ensure that your bank details are correct to avoid issues in the future. Also, this is so you can receive your claims and avoid delaying the deposit.
OWWA Rebate Application Form
Below is a photo screenshot of the OWWA rebate application form to get an idea where to download it or fill it out online: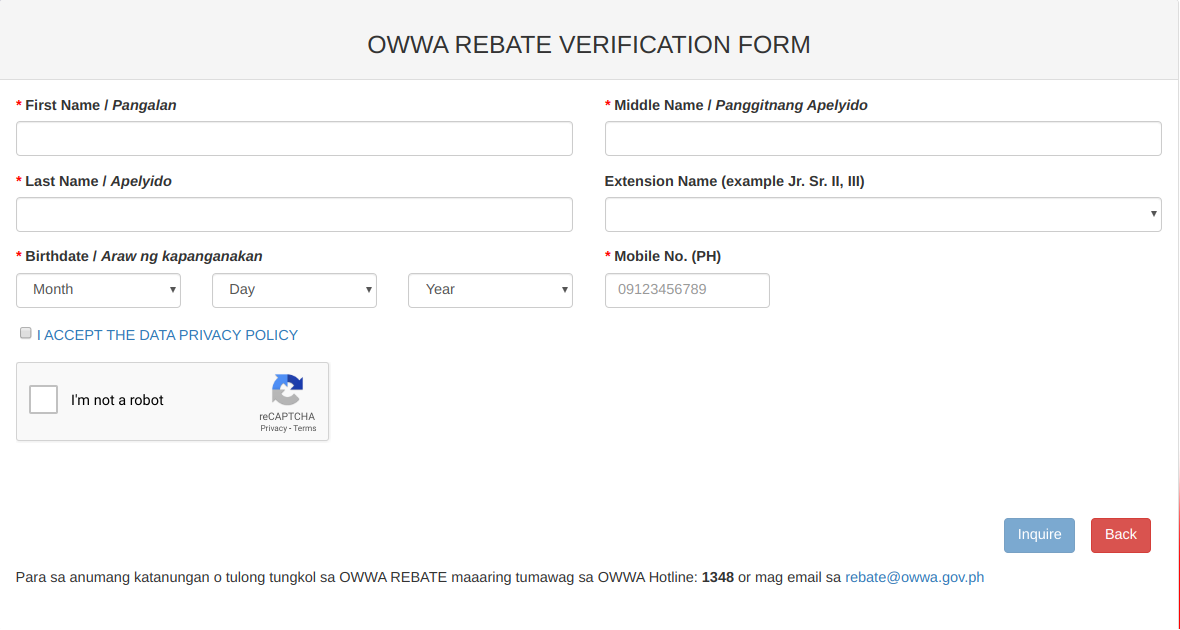 The Overseas Workers Welfare Association (OWWA) has already released funds amounting to a total of P26 million to 10,512 long-time members under the OWWA Rebate Program, says OWWA Administrator Hans Leo Cacdac. With the OWWA rebate portal now live, we have listed a step-by-step procedure that OWWA members can take to check for eligibility and claim their rebates.
Also Read: How to Verify OWWA Membership Status Online
The rebate was necessitated by the Republic Act 10801, otherwise known as the OWWA Act of 2016, which was meant to institutionalize and strengthen the wide range of services and benefits for Filipino migrant workers. The rebate program is funded by the $25 OWWA membership fee collected from both land-based and sea-based OFWs every two years.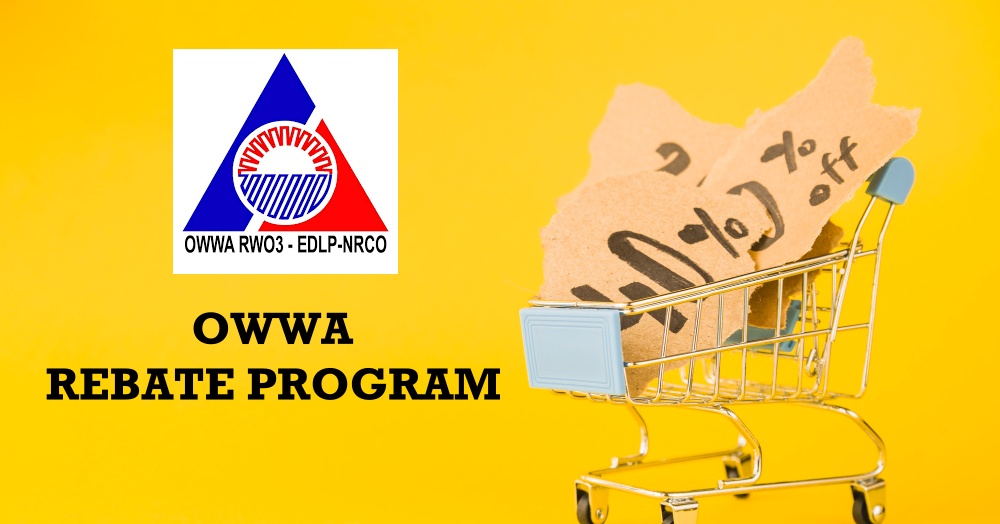 OFWs who have been OWWA members for at least 10 years with five or more contributions as of December 31, 2017, and have never taken advantage of any OWWA program are qualified to get a rebate.
Those who qualified for the rebate program can receive P941.25 to up to P13, 177.50, depending on the number of contributions. This compuation was based on an actuarial study commissioned by OWWA which determined the capability of the OWWA Fund. Data from the actuarial study allowed for a total of P1 billion to be earmarked for distribution to the 556,000 beneficiaries of the program per OWWA database. A total of P2 billion is also alloted for release to the next batches of qualified OWWA members.
Rebate release has already started but in an effort facilitate its distribution to the qualified members, OWWA opened the OWWA Rebate Portal, an online system for OFWs to verify their eligibility and set appointment to visit the nearest OWWA office. The portal was opened on September 1st.
Important Notes to Remember about OWWA Rebate
First, visit www.owwa.gov.ph, then click on the OWWA Rebate Program banner. Another way is to visit the OWWA Rebate Verification Form at http://rebate.owwa.gov.ph/.
Fill out the form and confirm  you are eligible to receive the rebate. If you are eligible based on your entered data, you will see the rebate amount displayed on screen.
Reserve an appointment by picking the date, time and office where you can claim your rebate. Upon confirmation you will receive an appointment code via SMS on your nominated mobile phone.
On the day of appointment, show your appointment code sent as text message on your mobile phone.
Share your bank account where the OWWA rebate will be credited.
How to Contact OWWA Rebate Hotline?
For those of you who want more information about this program, OFWs can contact the hotline at 1348 (in the Philippines).
Alternatively, you may visit the nearest OWWA office in the Philippines, or the nearest POLO-OWWA office where the OFW is working.