The UAE has been a land of opportunity for healthcare providers from the Philippines. That includes nurses, caregivers, and much more. In this article, we will look into OFW pharmacists working in the UAE, how much they earn, the benefits they get, and other information.
Also Read: Working as a Nurse in UAE: Nurse Salary Benefits in Dubai, Abu Dhabi
If you are a pharmacist, then you should seriously consider applying for a job in the UAE. There is truly an ongoing demand for your expertise not just in the UAE but all over the world. Each year, for example, more and more prescriptions are being filled, and more medicines are becoming available in the market.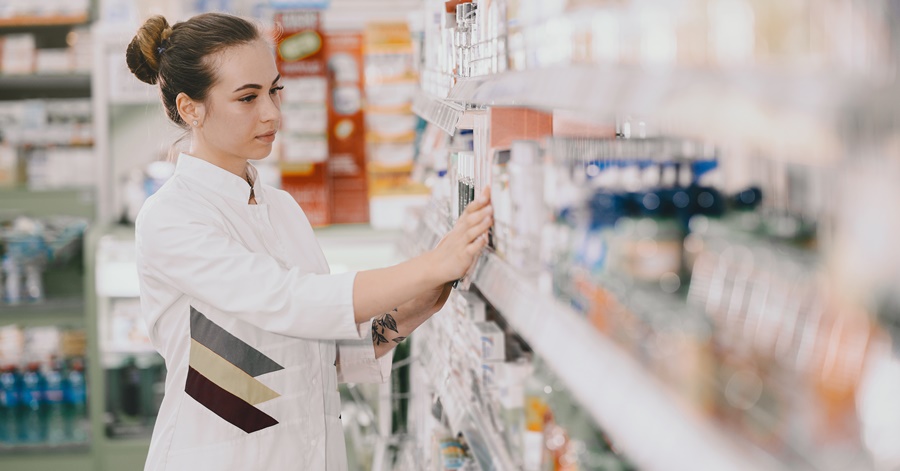 Disclaimer: The information posted here is based on the personal experiences shared by the OFW in the video below. Please let this post serve as a guide only. If you have specific questions, you may ask the OFW by commenting on their video on their accounts.
How Much Can You Earn as a UAE-based Pharmacist?
The information presented in this article is from a YouTube video from an OFW pharmacist working in the UAE. The name of the channel is Christine Joy Saber, and in the video, she talks about what benefits you can get working as a pharmacist in the UAE. To watch the full episode, click on the link below:
The vlogger mentioned that it took her quite sometime before fully deciding to create this video about the salary of pharmacists in the UAE. That's because she admits she's only been working for two years when she published this video, and so she doesn't have much experience when it comes to all the processes and information related to the salary of pharmacists in the UAE, particularly in Dubai.
As a result, she decided to do some research to share accurate information to her viewers. Moreover, as an added disclaimer, the vlogger emphasizes that she is not an agent nor is she an expert. She is just sharing information through her YouTube channel for her audience if they are interested.
She also said that all of the salary amounts mentioned in the video are approximates only, meaning they can be higher or lower, depending on several factors.
So what is the salary of a pharmacist in UAE. Well, it depends on the kind of pharmacist. According to the vlogger, here are the types of pharmacists working in the UAE:
Trainee pharmacist
Pharmacy assistant
DHA pharmacist (Fresher)
DHa pharmacist (With UAE experience)
In the following sections, we will look into what distinguishes each type of pharmacist from the others, and then talk about their expected salary rates.
Trainee pharmacists
The career of any pharmacist begins with the first stepping stone. For pharmacists working in the UAE, that is the trainee pharmacist.
So how does one qualify to be a trainee pharmacist? Well, here are the requirements:
You are a fresh graduate of a Pharmacy course / degree
You have no work experience in your home country, or
You could have experience but it is less than 2 years, or
You could have more than 2 years of experience but you don't have a license
What is the salary of a trainee pharmacist? Well, according to the vlogger, that ranges from 2000 to 3000 AED, which in Philippine pesos is 26,000 to 40,000 PhP per month.
Now some of you may say that the salary is unexpectedly low. However, you must understand that this is the salary for a fresh graduate from the Philippines who is just starting out their career, or one that has not enough work experience, or one that doesn't have a license.
The thing is, in this industry and in practically any industry, everyone starts from the bottom, so its alright that the salary is not that high at the beginning.
Later on, all of your hard work, patience and sacrifices will be paid off.
Pharmacy Assistant or Assistant Pharmacist
The second kind of pharmacist is a pharmacy assistant. So what are the qualifications of this kind of work? Well, here they are:
They have a pharmacy assistant license
They are a graduate of a diploma in pharmacy, but not a bachelors, masters or doctorate degree
The salary of a pharmacy assistant depends on several factors, including their experience whether in the Philippines or in UAE.
Having said that, if you have experience in UAE as a pharmacy assistant or a pharmacist in general, then you will definitely get a higher salary.
The starting salary of a pharmacy assistant ranges from 2500 to 3000 AED. In Philippine pesos that is 32,500 to 40,000 PhP.
The vlogger mentioned that only a few, if none, from the Philippines apply to become a pharmacy assistant in the UAE. She says that its probably because only a few schools offer a diploma in Pharmacy in our country.
She says that most of the degrees in Pharmacy in the Philippines are bachelors degree, although she did mention that she doesn't really know if there are schools that offer diploma in pharmacy.
DHA Pharmacist salary
What is a DHA pharmacist? Well, DHA stands for Dubai Health Authority. The pharmacist in the video works in Dubai, and to be a licensed medical professional, you need to take and pass the DHA exam.
Under DHA pharmacist, there are two kinds pointed out by the vlogger:
DHA Pharmacist (Fresher)
DHA Pharmacist (with UAE experience)
What are the qualifications needed to become a fresher DHA-licensed pharmacist? Well, here they are:
You need to pass the DHA exam
You need to have a DHA license
You just recently arrived in the UAE and don't have UAE experience yet.
You may have experience working in the Philippines
Getting a DHA license means not just passing the exam, but also finishing the training flow and getting an eligibility letter.
If you have all these, then you can now apply in Dubai as a DHA pharmacist.
The starting salary of a Fresher DHA pharmacist is 4,000 to 5,000 AED. The range largely depends on the company. But of course, there are other factors that determine the exact salary, and these will be discussed below.
In Philippine pesos, the starting salary of a fresher is around 52,000 to 65,000 PhP.
It is also mentioned in the list above that if you have experience working in the Philippines but none in UAE, you may still be considered a fresher, since what matters is the time you spent as a pharmacist in UAE.
Tips for Getting into the UAE
The following tips are shared by the vlogger on how you can best enter the UAE as a pharmacist:
Take the DHA exam first before going to the UAE
UAE experience matters a lot more than Philippine experience
Perform well in the interview
Expect interviewers to ask you how much you would like to earn
The vlogger encourages everyone to take the exam and pass it first before going to the UAE. If you pass the DHA exam first, it will then be easier for you to find a job. Having a DHA license definitely helps you land a job as quickly as possible.
In addition, if you have a DHA license before going to Dubai, that means you won't have to work as a trainee first. This further implies that you will have a much higher starting salary.
If you have experience working as a pharmacist in the Philippines, or in your home country if you're not Filipino, employers will typically not look at your experience in your home country.
In fact, one of the first questions they will ask is if you have experience working in the UAE. Apparently, that matters more than whatever work you did in the Philippines.
For example, if your friend has a higher position as a pharmacist in the Philippines than you, and you both decide to apply for work in the UAE, and both of you don't have work experience in that country, then what happens is that both of you will receive the same starting salary.
Another factor mentioned by the vlogger is interview performance. If you perform well during the interview, there's a higher chance that you will get the salary that you want and told them.
In the Philippines, employers don't usually ask you what salary you want, but in the UAE it's a lot more common. They can ask, for example, how much salary are you expecting from us?
DHA pharmacist (with UAE experience) salary
Now, if you have already gained some experience working in the UAE, like 1-2 years or more, then your starting salary is now 5000 AED or higher.
Now this salary depends on a lot of factors which will be mentioned below. In Philippine currency, this is equivalent to a salary of 65,000 upwards, with a typical upper limit of around 100,000 PhP.
Retail versus Hospital Pharmacist
The vlogger mentioned that the rates mentioned above are based on numbers for retail pharmacists.
For hospital pharmacists, in general, they get a higher salary than those in retail. The vlogger says that the typical starting salary of pharmacists working in the hospital is around 6,000 to 7,000 AED, while some get as high as 10,000 AED.
In order to be a hospital pharmacist, the primary requirement is to have work experience in the hospital as well.
In addition, the vlogger adds that if you work for the government of UAE, you will also receive a much higher salary than those working in private institutions.
Factors that affect salary of a pharmacist in the UAE
The vlogger enumerates the following factors that dictate how much you can earn:
Experience – if you have more experience, you will most definitely get a higher salary.
Performance on the interview – even if you have lots of experience as a pharmacist, but you didn't do well in your interview, chances are you will not get the salary that you are expecting from your employer.
Educational background – is this a factor? Will you get a higher salary if you have a masters degree or a doctoral degree? Well, anecdotally at least, the vlogger mentioned that she has a colleague that has a masters degree, but they have the same salary as those that only graduated with a bachelor's degree. Perhaps this is depends more on the company.
Benefits you can get as a pharmacist working in the UAE
The vlogger shares the following benefits, which may vary depending on the company and other factors. Other than the salary, you will also receive incentives:
Reaching the sales target – you will receive extra pay if you achieve this within a set time.
Push list – There's a list of products that earn more compared to other items, so you get incentives if more of these products are sold.
In-house products – there are products as well that are of your company or work place, so if you can push for the sale of these products and be successful then there are incentives.
Health insurance – some companies provide health insurance which will cover your check up, medicines, laboratory tests and others.
Free accommodation – again, not all companies provide this.
Free air ticket after you 2 year contract
In general, different companies have different policies regarding salary and benefits, so it is best if you can ask your potential employer. This will help you decided what direction to go into.
Summary
To summarize, here are the different types of pharmacists in UAE and their corresponding rates:
Trainee pharmacist – 2000 -3000 AED, or Php 26,000 – 40,000
Pharmacy assistant – 2500 – 3000 AED, or Php 32,500 – 40,000
DHA pharmacist (fresher) – 4000 – 5000 AED, or Php 52,000 to 65000
DHA pharmacist (With UAE experience) – 5000 upwards, or PhP 65,000 upwards
Again, these values can be higher or lower depending on the factors mentioned above.
So there it is. Working as a pharmacist in the UAE can be a lucrative job. The UAE is also a great place to live in, and by using your knowledge and skills, you can enter this country and eventually sponsor your family to join you.