Do you have the skills and experience necessary to work as a factory worker abroad? If so, you may want to consider applying in Canada. There are many perks to working in Canada, and it is a well-known fact that the country is encouraging hundreds and thousands of migrants to live and work there. To the government, this move can only help further enhance their economy, and it is a win-win situation for both employers and employees.
Indeed, Canada has one of the lowest unemployment rates in the world. Even if people continue to come into the country, there are stills lots of jobs available. There are thousands of factories continually looking to hire workers. Basically, if you are a factory worker looking for a better life, Canada has its doors wide open for you.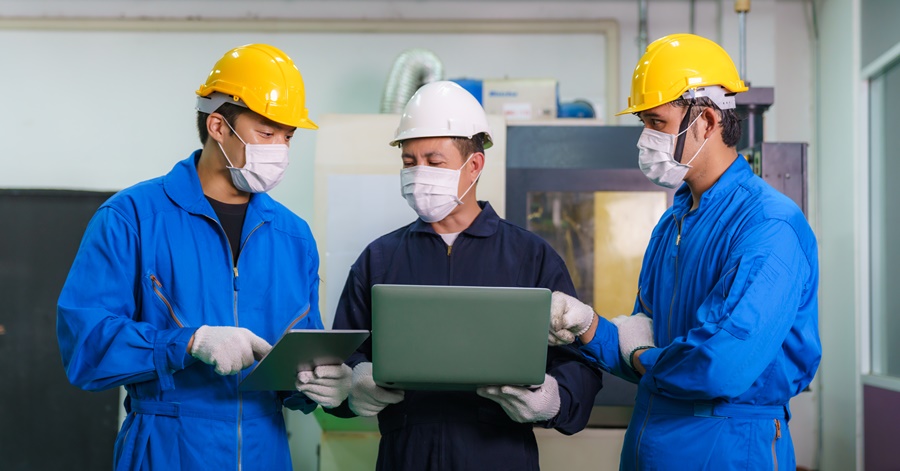 Disclaimer: The information posted here is based on the personal experiences shared by the OFW in the video below. Please let this post serve as a guide only. If you have specific questions, you may ask the OFW by commenting on their video on their accounts.
Step-by-step Guide to Applying as a Factory Worker in Canada
This article talks about how to apply in Canada in general. It is based on a YouTube video by an OFW content creator with the YouTube channel named Daddy Lou Vlogs. Aside from talking about applying for factory worker jobs in Canada, he also highlights a particular agency that doesn't require a placement fee. You can watch the full video below:
Working as a Factory Worker in Canada
Before we dive into the application steps, let's first discuss why it's great to be a factory worker in Canada. One can think of a factory worker job as an ordinary job that requires extraordinary skill. In truth, ordinary jobs get paid more in Canada than in the Philippines. In addition, there are more benefits as well.
Therefore, if you are an ordinary worker, you are better off working in Canada, where you have a better chance of saving money and having a better life in general.
So how much does a factory worker earn in Canada? Well, it depends on several factors, including where you are in Canada and how long you've been working for in the job. For minimum wages, it can be as low as 11.95 CAD to as high as 15.70 CAD.
A typical factory worker in Canada can earn around more than 1,000 CAD per hour, but this is just gross pay. You can earn a net pay of around 800 CAD or around 25,000 to 30,000 pesos in conversion.
The amazing thing is that this is a weekly pay! Imagine receiving this weekly salary in the Philippines. Having said that, the cost of living in Canada is much higher, so if you don't take care of your money, you could fall prey to just evening out the Philippines – Canada lifestyle comparison by ratio.
As you can see, working as a factory worker in Canada is really a blessing. This should convince you to learn more about the first steps towards realizing that dream, and the following paragraphs show a summary of those steps.
There are many job opportunities for factory work in Canada. So which jobs are considered to belong in the factory worker position? Here are some of them:
Machine operator
General assembly
Assembly line helper
Production food worker… and more!
Doing Initial Research
While looking for a factory worker position in Canada, it may very well be good practice to do your own research online. The first thing you can do is go to the Job Bank (jobbank.ca) and Indeed (indeed.ca) websites and look for openings.
After doing some research online, and finding a job opening that matches your skills and work experience, the next step is to check if that company is accepting foreign workers.
You can usually see that information from the requirements or description section. In fact, there are jobs that only hire those that are either Canadian citizens, permanent residents, or holders of valid work permits.
That means that those jobs only accept citizens or residents within Canada, or holders of work visas which are temporary foreign workers that are currently in the country.
5 Steps in Applying for a Factory Worker Job in Canada
Daddy Lou shared the following steps for applicants who are having a hard time understanding the process of applying for a job in Canada through an agency.
These 5 steps show the system that most agencies use to accept applicants and guide them through the application process.
Before you go through these steps though, you need to learn a bit more about your prospect agencies. The first question you can ask is, "Does the agency have a partner?" Some agencies, for example, are affiliated with TESDA or other government agencies.
If, indeed, the agency has these government affiliations, then that is recognized by the Canadian government. It actually gives you an added advantage to getting a job in Canada if your agency has these connections.
The following steps fall under what is called the New Normal Application Process.
Step 1. Register online.
Go to the IPAMS website, and specifically the job seekers page. You can click the link here. IPAMS is short for Industrial Personnel and Management Services, Inc.
If you are using a device instead, like a tablet or a smart phone, you can actually download an IPAMS app and process your application from there. The app is available through the Apple store or Google play, meaning you can download it through an iOS or an Android device.
If you have already registered in this website but you can't login, one possible reason is that you forgot your password. When that happens, what you can do is to use your own e-mail after clicking forgot password. This is the usual step which is similar to most other websites.
Step 2. Be sure that you have a PEOS ID.
Another reason for not being able to login is that you don't have a PEOS. PEOS, or Pre-Employment Orientation Seminar is mandatory.
To those who haven't undertaken the PEOS yet, you can do this online. It is for free and it helps prepare you with crucial knowledge before working overseas. In particular, the PEOS is a campaign from the government mainly aimed at safe guarding overseas Filipino workers from being victims of illegal recruiters.
You can join the free pre-employment orientation seminar through the PEOS POEA website.
Step 3. Evaluation of application by the agency.
When the agency finally receives your application, they will evaluate it and determine if you are qualified or not qualified to apply for jobs in Canada.
If you are qualified, then you will receive a notification through text, as well as instructions for your next steps.
On the other hand, if you are not qualified, your application will be stored in the agency's database for 6 months for possible matching with other client requirements. Therefore, if you get rejected on your first try, don't lose hope just yet.
The agency will notify you if within those 6 months, they find a match for a company who wants to hire you.
Here's one important tip: you have to constantly update the resume in your account in the agency's website. This is especially true if during your waiting time, you landed a new job while waiting for that dream job in Canada. You should put that in your resume.
It is also important to update your account for other relevant information, such as your address, contact number, or email if you changed any of these.
Just a side note; that's why it's really important to apply to more than just one agency at a time, if you can. If you are really decided on moving to Canada, or any other country for that matter, then you will try to open as many doors of opportunity as possible.
Step 4. Getting notified by recruiters.
Recruiters will send qualified applicants an email, setting an appointment for initial screening via video call.
After this, initial screening, you will receive a notification via text or email, stating that you qualified for the final interview.
If the opposite happens, they will also notify you if you didn't make it to the final interview.
Step 5. Final interview and job offer.
The final interview will still be done via video call. This is, of course, a result of the current pandemic.
If you passed this interview, they will then give you a job offer. This will then be your happiest moment.
It is really important that we look at all the regulations of an agency before you start applying. You can do this by going to their website. That way, when you submit documents as per their requirement, they will not see any fault in it, and this initial success can go a long way into reaching your goal.
There you have it. The video and article above just illustrated the new normal system that most agencies operate on these days. Through this new system, you can still pursue your dream of becoming a factory worker in Canada, even if the current global health crisis is not ideal.