Are you one of the millions of Filipinos who aspire to work and eventually settle in Canada? You may know a relative of a friend who's now based in this country and are very pleased with this big move they made for their career and their family.
Also Read: How to Become a Teacher in Canada
If you're considering this as an option, too – there's really no shame there. It is generally known that the Philippines has long been embattled in too much politics, with very few career prospects remaining for those who truly put in the effort.
So what's keeping you from trying your chances here, too? After all, Canada is considered an open country, inviting foreign nationals to take advantage of their immigration and employment programs.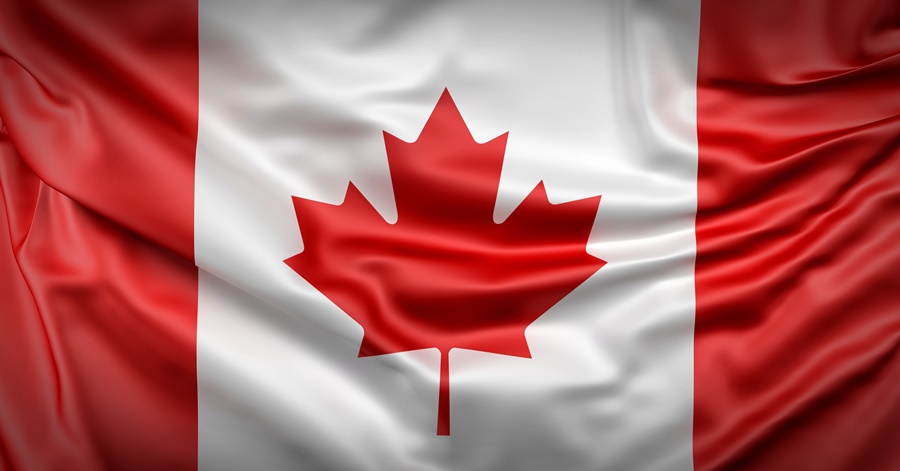 Everything You Need to Know About Working in Canada this 2021
For most immigrants, Canada is the country of milk and honey. And it's never a bad idea to plan for a bright future for yourself and your family.
This thorough guide will teach you how to acquire a job in Canada from the Philippines, as well as tips and methods to help you come one step closer to realizing your Canadian dream. With this in mind, make sure to read until the end of this guide.
An Overview of Filipinos in Canada
Many Filipinos have chosen to live in Canada since the 1930s. As of April 2018, there were 901,218 Filipinos in Canada (about 2.6 per cent of the national population) who arrived as temporary foreign workers (TFWs), permanent residents, or naturalized Canadians.
The Philippines is still the top source of immigrants to Canada today, followed by India, China, and Iran.
Most Filipinos come to Canada as temporary foreign workers and subsequently apply for permanent resident status when the opportunity arises.
As a Canadian citizen/permanent resident, you receive a plethora of benefits. These include the possibility to sponsor your family members for Canadian immigration, including your parents and grandparents.
By working in Canada, you are not only helping to better your social level, but you are also indirectly helping to save the Philippine economy. Indeed, remittances from Filipinos in Canada climbed by 12.6 percent in 2017 (from USD 572,820,000 in 2016 to USD 644,754,000 in 2017).
Why Do Filipinos Choose to Work in Canada?
Because of its superb healthcare system, amazing natural beauty, stable economy, plentiful job opportunities, and generally high quality of life, Canada has continuously ranked among the finest countries in the world for immigration.
Also Read: How to Apply as a Factory Worker in Canada
The country is also perfect for Filipinos who want to study first before looking for work. Unlike its neighboring country, the United States, Canada allows students to work 20 hours per week on or off school.
In addition, you can bring your spouse with you and have him or her work full-time for the duration of your studies, which is something that international students with F-2 status in the United States are not permitted to do.
Working in Canada: A Step-by-Step Guide
So in case you are wondering about the step by step process, here's an outline of the procedure of getting a job in Canada for soon-to-be Overseas Filipino Workers:
1. Know your options and eligibility.
Two factors may make it difficult for you to get work in Canada: Either you
(1) lack the essential qualifications, skills, and work experience, or
(2) you are "inadmissible," which means you are not permitted to enter Canada under Canadian immigration law.
If you do not fall into the second category, you may be able to work in Canada if you have the necessary abilities.
Canada has numerous programs for immigrants, and it is up to you whether you want to be a permanent resident or work as a temporary foreign worker when you arrive.
Express Entry
If you wish to work and live in Canada permanently, you must be a skilled worker who is eligible for one of three Express Entry programs:
Federal Skilled Worker (FSW) program
This mandates that Filipino applicants have the necessary education, language skills, and skilled job experience in one of Canada's 300+ qualifying occupations. Because this is a point-based system, after you are accepted into the Express Entry pool, you will be ranked based on the number of points you earn. Typically, only the highest-ranking applicants are invited to apply for permanent residence.
Federal Skilled Trades Program (FSTP)
This program, which began in January 2013, places a higher focus on practical experience than academic study. To be qualified for FSTP, the applicant must have at least 2 years of work experience in one of the authorized skilled trades within the last five years.
Canadian Experience Class
This applies to those who have prior competent employment experience in Canada.
In addition to the three Express Entry categories mentioned above, you may be chosen through the Provincial Nominee Program (PNP), which is for persons who have the prerequisites and have been nominated to immigrate to Canada by a specific Canadian province/territory.
Fill out this form to see if you are eligible for any of the three Express Entry programs mentioned above.
Based on your responses, the system will assess whether you are eligible for any of the programs and, if so, what you should do next. You will also be added to the pool of immigration hopefuls and may receive an invitation to immigrate.
Here's the catch: If you apply for any of the above-mentioned programs, it could take a long time for your application to be approved–especially if you don't have a qualified job offer.
This is where the TFW (Temporary Foreign Worker) program comes into play.
Temporary Foreign Worker (TFW) program
Under this program, Filipinos are hired by firms that can demonstrate a scarcity of workers in Canada with the skills and experience they require.
TFW is viewed by hardworking Filipinos as a stepping stone to obtaining a Canadian citizen. This is due to the fact that after earning sufficient experience, individuals are eligible to apply for permanent residence status under the Canadian Experience Class.
2. Search for a job.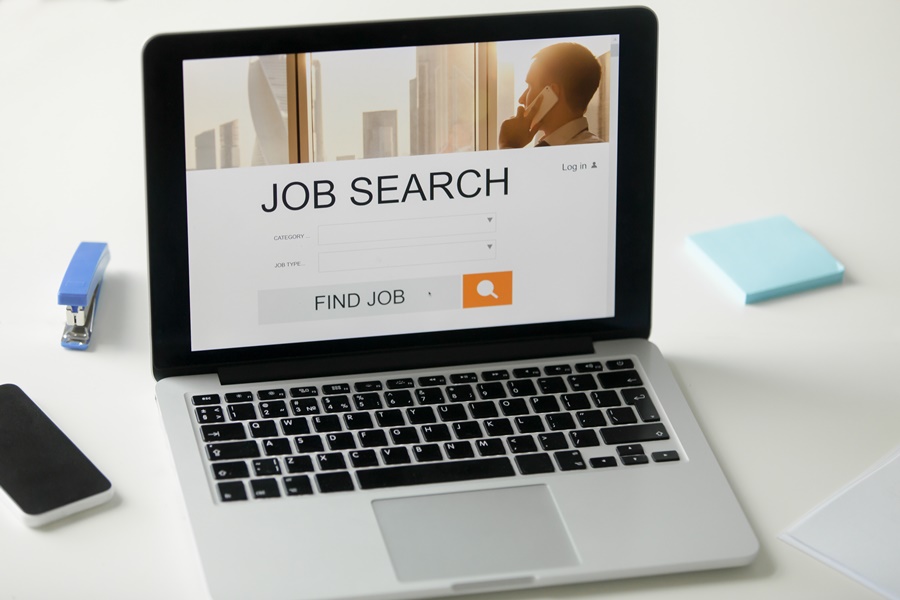 You've probably determined which method to finding a job in Canada is ideal for you at this time. Of course, the next step is to locate an employer willing to hire you.
If you are eligible for the Express Entry programs and wish to become a permanent resident as soon as possible, you might want to look for openings at the Job Bank.
The Job Bank is Canada's official job platform that connects Express Entry applicants with qualified companies. Candidates for Express Entry who have job offers gain more points, not to mention the convenience of arriving in Canada with a job already waiting for you.
Caregivers and blue-collar employees from the Philippines who want to work in Canada under the Temporary Foreign Worker (TFW) program can find work at recruitment companies approved by the Philippine Overseas Employment Administration (POEA).
How to Use the POEA Website to Look for POEA-Approved Recruitment Agencies
Go to this link and click "All Agencies With Valid License" to find out which agencies in the Philippines have a valid license.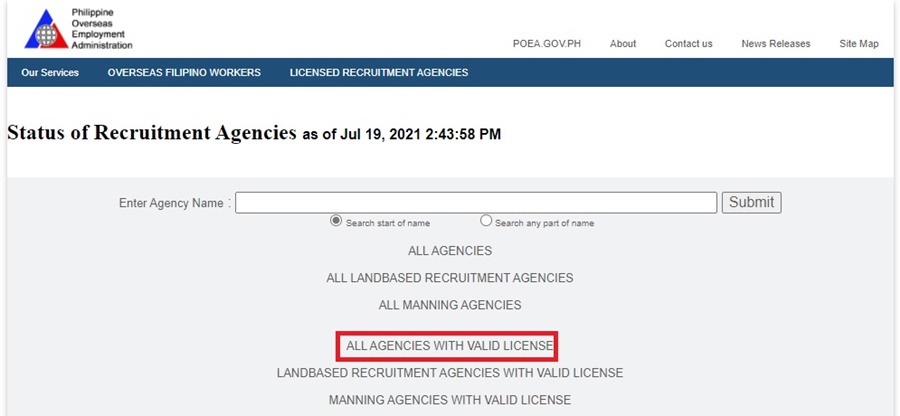 Take notice that the license has a four-year validity duration. The list of recruitment agencies with a valid license is subject to change without notice, therefore verify this link before applying to any job posting.
How to Search for Canada Jobs via POEA Website
Go to this site and select Canada from the "Select Country" drop-down menu to find the most recent job openings in Canada. The results can be sorted by agency, role, or the date the job order was accepted.
Click Submit to see the most recent list of Canada job openings for Filipinos.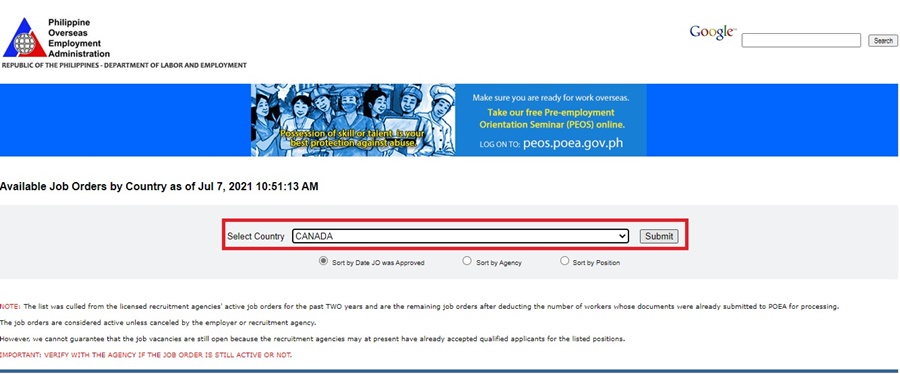 List of the In-Demand Job Openings in Canada for Filipinos
Caregiver
Hairstylist
Butcher
Food Service Supervisor
Welder
Fast Food Restaurant Staff/Manager
Assembler
Nanny
Apiary Worker
Mechanic
Machinist
Cook
Cleaner
Seamstress
Sawmill Operator
Laborer
Farm Worker
Plater
The list above only includes a subset of the job orders that were active at the time I was writing this post. POEA does not guarantee whether or not the job orders are still active, so check with the agency to confirm the job's availability.
Contact the recruitment agency via their website or Facebook page after checking that they have a legal license. Otherwise, phone them and ask if the task order is still available before submitting your application.
Important:  In case you encounter illegal recruiters, you may report it to POEA through the following:
POEA Hotline: 722-11-44/722-11-55
Email address: info@poea.gov.ph
Office address: Blas F. Ople Building, Ortigas Ave. corner EDSA, Mandaluyong City
3. Wait for the documentary requirements to arrive.
Disclaimer: This section (and the succeeding one) applies only to professionals who are applying for any one of the Express Entry programs and who have luckily found an employer on one of the legit Canadian job sites. If you have applied through a manpower agency in the Philippines, you're basically dealing with a "middleman" so you need to wait for their instructions on what to do next.
All you have to do after locating a prospective company who is eager to hire you is wait for the relevant documents to come.
Employers in Canada who are unable to find a Canadian candidate for a post must file for a Labor Market Impact Assessment (LMIA).
A positive LMIA indicates that there are no Canadians available to execute the job and that a foreign worker (in this case, a Filipino) is required to fill the position. A confirmation letter is also referred to as a positive LMIA.
When the employer receives a favorable result, he or she will send you the LMIA, as well as the employment offer and contract.
When it comes to the employment offer, make sure to go over the specifics as soon as you receive it. Salary and Benefits, Job Description, and Working Hours are all critical areas to study.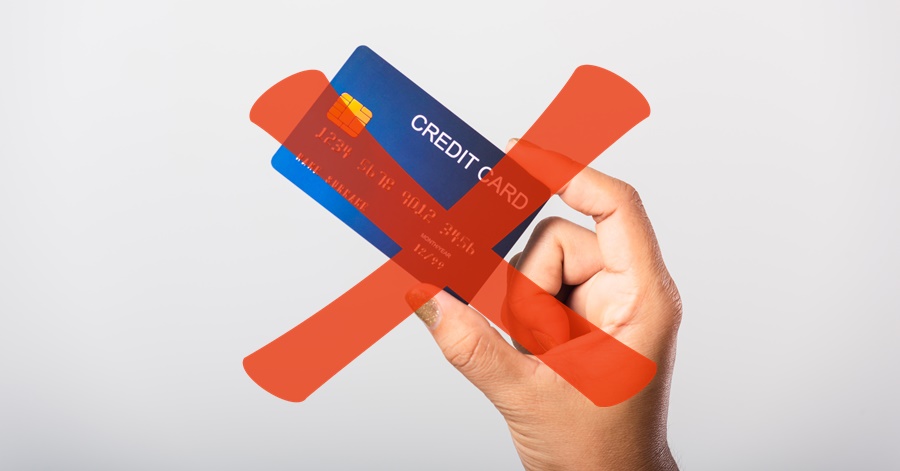 You can now apply for a work permit after getting the necessary paperwork from your employer (and a temporary resident visa, if required).
4. Apply for a Work Permit
You can apply for your work permit at approved visa application centers now that you have the LMIA and a job offer from your company.
To apply for a work permit, you will need all of the following:
Contract
Job Offer Letter
Copy of the Labor Market Impact Assessment (LMIA).
LMIA Number
Important: Keep in mind that not all jobs necessitate a work permit. Refer to this page for a complete list of jobs that do not require a work visa. Even if you do not require such a permit, you are still required by law to apply for a visa before visiting Canada.
In Canada, there are two categories of work permits:
An employer-specific work permit prevents you from working for anybody other than the company that hired you.
As the name implies, an open-work permit allows you to work for any employer in Canada. An open-work permit, on the other hand, is only granted to a small number of candidates.
Are you unsure which type of work visa you qualify for? To find out, answer the questions on this page.
Keep posted on this page as we will share with you next the steps in applying for a work permit in Canada from the Philippines.
Note: It is important to understand that a work visa cannot be used to immigrate to Canada. It will only let you to stay in Canada for a limited time while you satisfy your contractual commitments.
There you have it! Now that you pretty much have an idea as to the best route you should take to land a job in Canada, the next step is to apply for one and comply with their requirements. Canada is a fairly regulated country, and strict compliance to their work requirements for migrant applicants will be your key to successfully entering this country as a foreign worker, and hopefully, become one of its permanent residents soon.
READ NEXT:  Canada Rolls Out Permanent Residence Schemes to Qualified Caregivers