Have you ever experienced difficulty with transactions as a result of a low balance on your Autosweep RFID? Having an issue with not having enough currency in your RFID wallet is certainly something that has happened to a lot of you.
In a previous post, we compared the RFID services provided by Autosweep and Easytrip and explored the key differences between the two. Having said that, checking the RFID balance is a usual challenge for drivers, since a significant number of them do not yet know how to verify the Autosweep RFID balance inquiries in the correct manner. Lucky for you, we will discuss just that in this guide! Keep reading to learn more.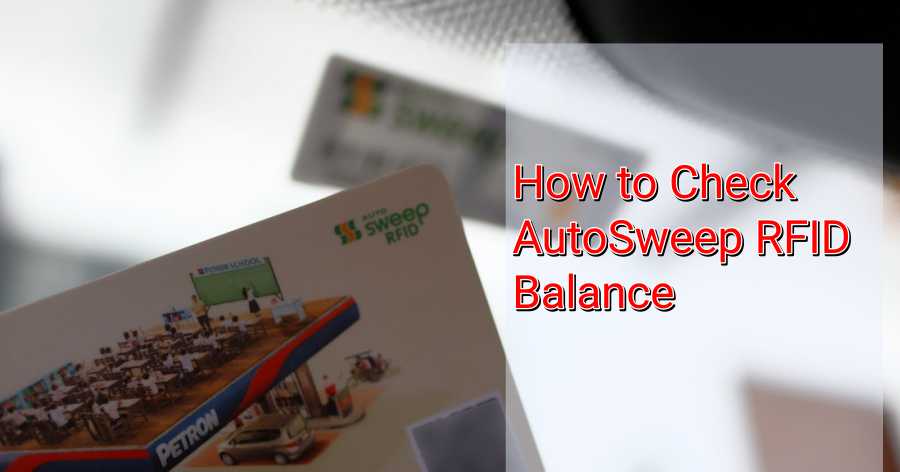 Overview
It's easy to check your AutoSweep RFID balance! You can do it online, through the app, or by calling customer service. To check your balance online, simply log in to your account and navigate to the "My Balance" page. Here you'll see your current balance and a history of your transactions. To check your balance through the app, open the app and sign in. Then, go to the "My Account" section and select "Balance." Your current balance will be displayed here.
What is Autosweep RFID?
The Autosweep RFID is a toll road that was created with the purpose of making transactions for automobiles both secure and quick. The Toll Regulatory Board has mandated that beginning in the month of December 2020, all drivers and motorists will be required to employ cashless transactions when passing through any and all toll gates.
As a direct consequence of this, Autosweep RFID makes it possible for motorcyclists to pay tolls using a card rather than cash. After signing up for an account, each and every driver will be required to affix an RFID sticker on their vehicle.
The San Miguel Corporation (SMC) and the Metro Pacific Tollways Corporation are the companies that operate the RFID system (MPTC). MPTC is in charge of managing the Easytrip expressways, while SMC is in charge of managing the Autosweep expressways.
You are able to pay on different expressways by creating a second account, which gives you the ability to utilise two accounts. This is true regardless of the type of RFID that you use (one for Autosweep and one for Easytrip with just one sticker).
How To Check Autosweep RFID Balance?
There are a few different approaches to taking on the task of knowing your account's balance. It can be obtained at the toll booths, through short message service (SMS), and on the website.
Customers of Autosweep have a number of different options available to them for checking the amount of their accounts.
Autosweep Toll Gates
The vast majority of drivers are going to agree that this is the most convenient approach to check the amount that is stored on their RFID. Be sure to keep an eye on the monitors that are located on the left-hand side of an AutoSweep expressway as you are going through a toll gate. The machine will display the total amount that you've spent in addition to the balance that is still available on the card.
When the monitor examines your account, if there is less than PHP 300 in it, they will ask you to make a contribution of funds in order to keep your membership. Autosweep estimates that 100 Philippine Pesos is the least amount of money that will be left over after paying for tolls.
SMS
This method is the quickest way to acquire the information you need because it allows you to check the remaining amount at any moment with only one text message. Moreover, you may verify the amount at any time.
Checking the current amount of your Autosweep account may be done by sending an SMS with the phrase "AUTOSWEEP BALINQ Plate Number" to either the Globe Autosweep number (0917) 860-8655 or the Smart Autosweep number (0918) 860-8655.
After that, an automated notification will be delivered to your device, informing you of the total amount of unused credit that is still stored on your Autosweep RFID.
Autosweep Website
Because you will need an active internet connection to use this option, we strongly advise that you do so if you will be going somewhere other than your usual residence during your trip.
The steps that you need to carry out in order to check your RFID balance on the Autosweep website are outlined in the following list below for your reference.
In order to register an account, you will need to go to the website autosweeprfidapps.com. You will be required to submit your name, phone number, and any other information that is sought by the website, in addition to filling in the areas with the appropriate information.
You are now free to do whatever you wish when it comes to checking the current balance of your account. Once you have successfully logged in, look for a button on the bottom left of the page labelled "Balance" that is located under the heading "Enrolled Accounts."
If you have more than one car, you can add them to your online Autosweep account by selecting the "Add New Account" option, then entering the licence plate number for each vehicle along with the account number for that vehicle. If you do not have more than one car, you cannot add additional cars to your online Autosweep account.
How to Reload Autosweep RFID Balance?
You can top off your balance by using the website, just like you can with checking. At addition, the CLIQQ machine found in 7-Eleven outlets can provide assistance with a few fundamental steps of the data entry process. You can also top off your balance at any one of the many Autosweep partner banks, such as Bank of Commerce, BPI, Chinabank, or Maybank.
When you are at home, you should use GCash. Launch the application, then navigate to the "Pay Bills" component of the "Transportation" section to locate the "Autosweep RFID" option. You just need to input the amount you want to reload in addition to a service fee of 10 PHP.
Video: AUTOSWEEP RFID LOAD BALANCE INQUIRY IN 3 DIFFERENT WAYS!
Are you tired of waiting in line at the Autosweep RFID load balancing inquiry? Well, there are three different ways that you can go about checking your balance! You can either go online, through the mobile app, or by calling the customer service hotline.
Frequently Asked Questions
Here are some common questions about Eastrip RFID:
1. What is the difference between Autosweep and Easytrip?
Each and every one of them serves as a mechanism for the collection of tolls. The only area where you'll find them going in different directions are on the expressways that are kept up.
2. How much Autosweep RFID cost?
Taxis, other motorised vehicles, and motorcycles with engines that are more powerful than 400 cc are required to pay a fee of PHP 500. One sticker in any of the other categories will cost you back one thousand Philippine Pesos.
3. Can Autosweep RFID be used on Easytrip expressways?
If you want to use Easytrip, you will first have to register your Autosweep RFID reader. This is required.
4. Does the Autosweep RFID load expire?
The Autosweep RFID load does not run out and hence does not have a time limit on how long it can be used for.
5. How do I get my Statement of Account (SOA)?
You will be able to generate and download a Statement of Account for your account once you have successfully logged in to the customer website (https://autosweeprfidapps.com/balanceinquiry).
6. Do I also get an official receipt if I reload through the Autosweep RFID Merchant Partners?
Yes. All top-ups that are purchased from the retailers who are also our partners will be issued official receipts for their transactions (OR). The OR will be delivered the next day to the email address that was provided while enrolling for the course. In the event that you have not been given an OR, you are required to call the Autosweep RFID Customer Care Hotline in order to receive one.
7. Can I enroll all my cars in one account? What is the advantage?
You are able to enrol all of your vehicles in a single Autosweep Premium account, and the load will be split proportionally over all of them. This functionality is available to you. The number of vehicles that can be registered under a single Autosweep RFID To-Go (ATG) account is limited to one.
8. Can I enroll my account to Auto Debit Arrangement (ADA)?
Before sending in the Authority to Charge form, you need to make sure that a photocopy of your valid photo identity and the front of your credit card are attached to it.
Please send a copy of the OR and CR for the vehicle you will be using if you have an Autosweep To Go (ATG) account. This applies only if you have an ATG account. You can get the application at any of the Autosweep RFID stations that are currently in operation, or you can download it from our website at www.autosweeprfid.com. Both options are available to you. In addition, you have the option of sending an email to customercare@autosweeprfid.com with the criteria and the forms.
Please keep in mind that if there is any change made to your ADA enrollment, including the adjustment of the expiration date that is printed on your card, you will be needed to submit a new ADA form. This is something that you should keep in mind at all times.
Summary
We have covered everything there is to know about checking the balance of your Autosweep in the Philippines, so you don't have to worry about a thing. It is essential to keep in mind that having insufficient funds can result in a variety of inconvenient circumstances.
The conventional method of paying tolls has been replaced by one that is somewhat more convoluted in its procedures. On the other hand, if you are familiar with how to interact with the most recent technology found in toll gates, you will have an easier time paying for your travels.
READ NEXT: How to Apply for an International Driving Permit (IDP)