Persons with Disabilities (PWD) and senior citizens are entitled to various privileges and benefits that help ease their burden and get by with the same dignity and respect as everyone else. This blog is for PWDs and those who care for one in their home.
The privileges and benefits of persons with disabilities are mandated by law. This means that all establishments and offices, whether government- or private-run, must provide them with the necessary resources and services. These laws are:
RA 7277 – An Act Providing For The Rehabilitation, Self-Development And Self-Reliance Of Disabled Person And Their Integration Into The Mainstream Of Society And For Other Purposes.
RA 10754 – An Act Expanding The Benefits And Privileges Of Persons With Disability (PWD)
RA 11228 – An Act Providing For The Mandatory Philhealth Coverage For All Persons With Disability (PWDs), Amending For The Purpose Republic Act No. 7277, As Amended, Otherwise Known As The "Magna Carta For Persons With Disability"
PWDs in the Philippines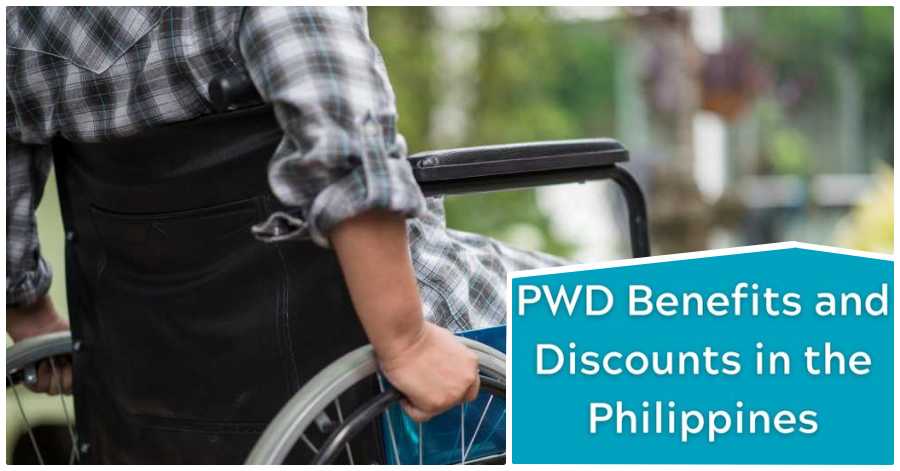 According to the 2010 census results, out of the household population of about 92.1 million people in the Philippines around 1.57% or 1.443 million people, have a disability. In Region IV-A, there are around 200 thousand people with a disability, while in the CAR, there were only 26 thousand PWDs.
In 2010, there were more males than females with a disability, comprising 50.9% of the total PWD population. One in five PWDs was under 14 years old. Three were in the working age group (15-64 years old), while one was over 65 years old.
With this in mind, there's a significant need to promote the rights and welfare of PWDs in the country. The Philippine government has taken a number of steps to ensure that PWDs are able to live with dignity and respect.
Here is the complete list of benefits and privileges that PWDs may enjoy according to the law.
1. Transportation Privileges
20% discount on the following:
Domestic air travel including tickets booked online
Public railways, including LRT, MRT, PNR
Public utility buses, jeepneys, taxis, and Transportation Network Vehicle Services (TNVS)
Toll fees of skyways and expressways provided the PWD owns the vehicle.
Guidelines when availing of PUV privileges:
Presentation of the PWD ID is required to avail of the discounts.
Full 20% discount on TNVS and taxi rides shall be given regardless of the number of companions of the PWD.
For promotional fares, the PWD can only avail of either the establishment's offered discount or the 20% discount — whichever is higher.
PUV operators must designate seats in their vehicles for PWDs.
Online booking fees of PWD for any land, air, or sea travel services are subject to a 20% discount and VAT exemption privileges.
2. Basic and Prime Commodities
5% discount on the following:
Rice, corn, bread, fresh or dried and canned fish and other marine products, fresh pork, beef, and poultry meat, fresh eggs, fresh and processed milk, infant formula, fresh vegetables, root crops, coffee, sugar, cooking oil, salt, laundry soap, detergents, firewood, charcoal, candles and other commodities as classified by the DTI and DA.
Fresh fruits, dried or processed or canned pork, beef, and poultry meat, dairy products not falling under basic necessities, noodles, onions, garlic, diapers, herbicides, poultry, swine and cattle feeds, veterinary products for poultry, swine and cattle feeds, veterinary products for poultry, swine, and cattle, paper, school supplies, nipa shingle, plyboard, constructions nails, batteries, electrical supplies, light bulbs, steel wire, and other commodities that the DTI and DA may classify.
Purchases should not exceed P1,300 a week to avail of the 5% discount.
3. Accommodations, Medicines, and Recreational Facilities
20% discount and VAT exemption on the following:
Hotels and similar lodging establishments
Restaurants
Recreation centers
Theaters, cinema houses, concert hall, circuses, carnivals, and other similar places of culture, leisure, and amusement.
Medicines
Medical and dental services, including diagnostic and laboratory fees and professional fees of attending doctors in all private hospitals and medical facilities.
Funeral and burial services for the death of the PWD.
4. Mandatory Full PhilHealth Coverage
All PWDs, regardless of gender, age, or ethnicity, registered in the DOH Philippine Registry of Persons with Disability are automatically covered by PhilHealth.
5. Equal Employment Opportunities
All PWDs are granted equal employment opportunities under the law. They are entitled to reasonable accommodations in the workplace and shall not be discriminated against on account of their disability.
6. Other Benefits and Privileges
Educational assistance to pursue primary (nursery and kindergarten), secondary, tertiary, post-tertiary, as well as vocational or technical education, in both public and private schools, provided the PWD meets admission requirements
Continuance of the same benefits and privileges given by the GSIS, SSS, and Pag-IBIG.
Express lanes for PWD in all commercial and government establishments
Protection against verbal and non-verbal ridicule and vilification
VIDEO: Benefits and Privileges For Persons With Disabilities (PWD) In The Philippines
In this video clip, you will learn more about how the government tries to ensure that every Filipino with a disability is given the same benefits and privileges as those who do not have one. The government also has laws in place to protect PWD from being harassed or ridiculed so that they can live their lives in peace and harmony with everyone else.
By understanding what these laws are and what they mean, especially to the PWD community, you can be a part of the solution. As a Filipino citizen and someone who cares about your fellow Filipinos, you should make sure that they are treated fairly and equally under the law.
Final Thoughts
Everyone may know or are living with a PWD in the household; thus, we need to understand their rights and how we can assist them. We hope this article helps you gain a better understanding of what the law says about PWDs and how you can be more helpful to them. By taking this simple step, we are moving toward a more inclusive society.
Share this blog with your friends and family to help them understand what PWDs need from the government and from us. This is a good start for us to learn about the rights of our fellow Filipinos.
Disclaimer: This post is intended to provide general information and is not legal advice. You should consult with a lawyer if you have any legal questions or concerns. For more information on disability advocacy and resources, you may visit the official website or Facebook page of the National Council on Disability Affairs (NCDA), the primary government agency tasked with promoting the rights of PWDs.
READ NEXT: Virtualahan Offers Scholarships for Displaced OFWs for Online Job Skills Training