For many years, many PWDs or persons with disabilities have struggled with access to and safe use of transportation channels here in the Philippines.
However, there are a few people who possess the talent and skills to create customized vehicles that can especially accommodate persons with disabilities (PWDs) for their transportation needs.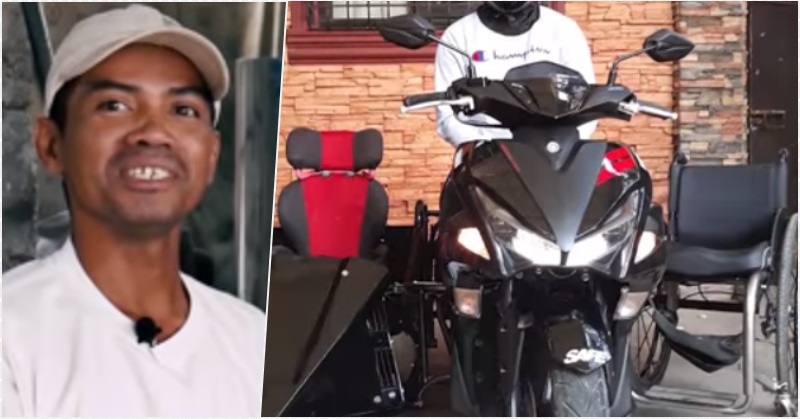 [VIDEO] Ex-Japan OFW Builds Amazing Customized Motorcycle Sidecars and Small Vehicles for PWDs
Such is the case of Mr. Rogelio Baldo, a welder/fabricator who hails from Arayat, Pampanga.
 Rogelio, who used to work as a mechanic in a shipyard in Tagawa, Japan, returned to his hometown after his contract expired. He shared that he was fortunate enough to save enough money to put up a small shop for a business in case he could no longer work abroad, and that's exactly what he focused on when he returned to the Philippines. 
Sharing about his experiences growing up, Rogelio said that he has always been fascinated with toys that have unique designs. 
This fascination though only became his craft of choice when he first got his own motorbike. He started creating unique designs on his bike, to which many of his neighbors and friends started to appreciate it. 
Since then, he began creating customized sidecars, especially for persons with disabilities (PWDs), and he also got into creating custom-made accessories for motorbikes – whatever his customers need, he creates.
For his PWD clients who are using wheelchairs, Rogelio helps them by attaching a sidecar to their bike where they can dock their wheelchair, and allowing them to drive on their own.
He also offers services to his able-bodied clients by attaching sidewheels to their single bikes for better balance. 
Rogelio also proudly shared that he is working on a special project for another PWD client who wishes to have a car-type vehicle where they can fit in their wheelchair so they can drive without having to transfer in and out of these devices.
Aside from these special projects that Rogelio was able to create to support his PWD kababayan, he also shared that he was able to create his "dream (private) vehicle," a homemade T-Rex, after he returned from Japan.  
However, he shared that it was not an easy feat to accomplish. Rogelio detailed how his project required him to experiment several times to get his machine humming and driving the way he wants it to. 
But after several attempts, Rogelio now proudly sports his homemade T-Rex on the road, which never fails to captivate the attention of bystanders and his fellow motorists even while on the road. 
Because he dedicated all of his time in sourcing and building the engine, parts, as well as design, there's no doubt that Rogelio's T-Rex is something that we can call "proudly Filipino-made."
Right now, Rogelio is mostly taking job orders from PWD clients to help them get the vehicle that they need, and at the same time, to get them back on the road as safely and conveniently as possible. 
Here is a video clip on the amazing work that Rogelio does for the PWD community, as well as a look on his famed private and homemade (Philippine) T-Rex as shared by All About Wheels Manila Facebook Page:
ALSO READ: [WATCH] Former Fish Vendor is Now Owner of a College in London