The COVID-19 pandemic continues to affect our daily lives. Fortunately, even amid these troubling times, stories of heroism and positivity abound — inspiring everyone around us and starting a widespread movement of hope, compassion, and generosity.
One such story is about the "community pantry," which serves as a venue for people to give as well as to receive. Starting from a simple community pantry in Maginhawa, Quezon City, the idea spread quickly, with many Filipinos putting up community pantries all over the country.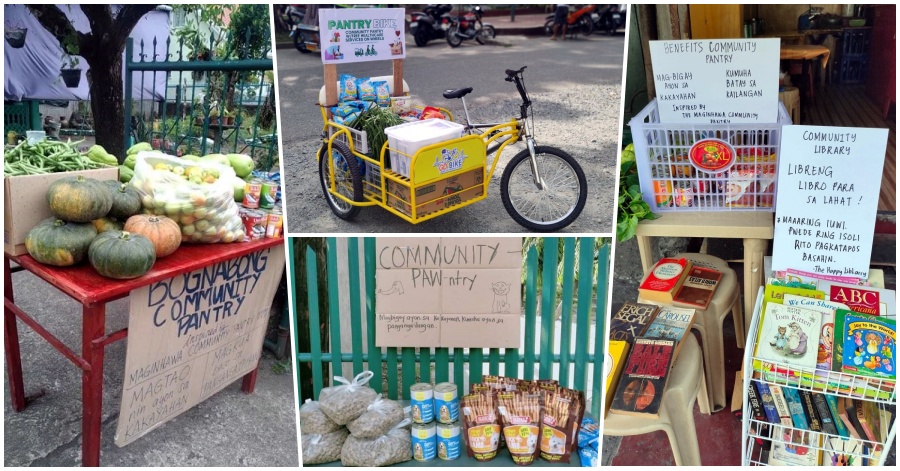 Community Pantries Open All Over the Philippines
The idea began with Ana Patricia Non, who set up the "Maginhawa Community Pantry" in Quezon City, Rappler reported. Her pantry is a bamboo cart containing basic goods like rice, canned food, alcohol, and face masks. The concept is simple: "Magbigay ayon sa kakayahan; kumuha batay sa pangangailangan (Give according to your ability; receive according to your need)."
Pretty soon, the community pantry became viral on social media, with many people giving and receiving donations. It has also inspired many Filipinos to set up a pantry in their own communities. Below are some great examples that you can visit and also give some donations:
Project 8, Quezon City
This community pantry is known not only for offering food, but books, too. It was set up by Lorna Zaragosa along Benefit St. in Barangay Sangandaan, Project 8, Quezon City. She was happy to see people become interested in the food as well as the books!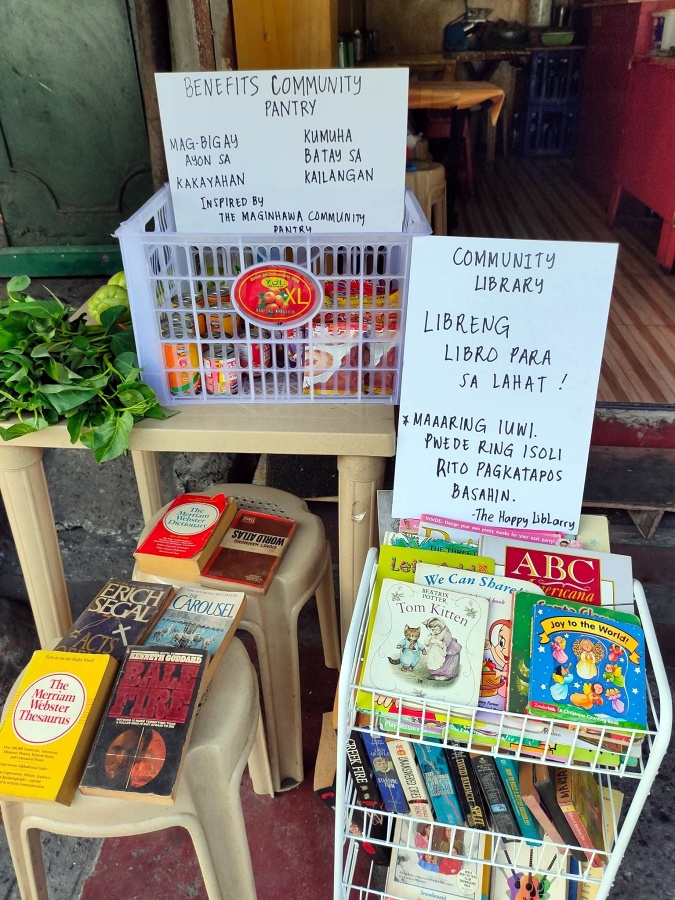 Bugallon, Pangasinan
The "Community Pantry with Free Healthcare Services on Wheels" is is an initiative of the GO BIKE Project in Bugallon, Pangasinan. Aside from offering food, the "pantry bike" also provides healthcare services to everyone. Awesome!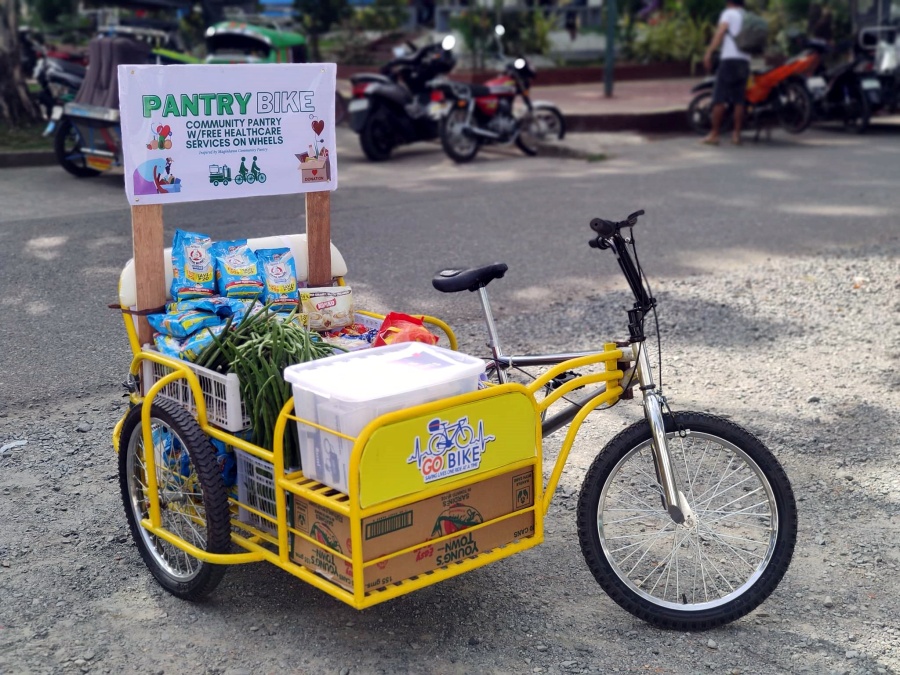 Tabaco City, Albay
This community pantry was set up by Sheila Brobio in Barangay Bogñabong in Tabaco City, Albay. Using the money she earned from creating artworks, Sheila bought fresh vegetables, canned goods, noodles — and placed them on a table in front of their house. According to Sheila, people from her neighborhood and nearby barangays benefited from the project.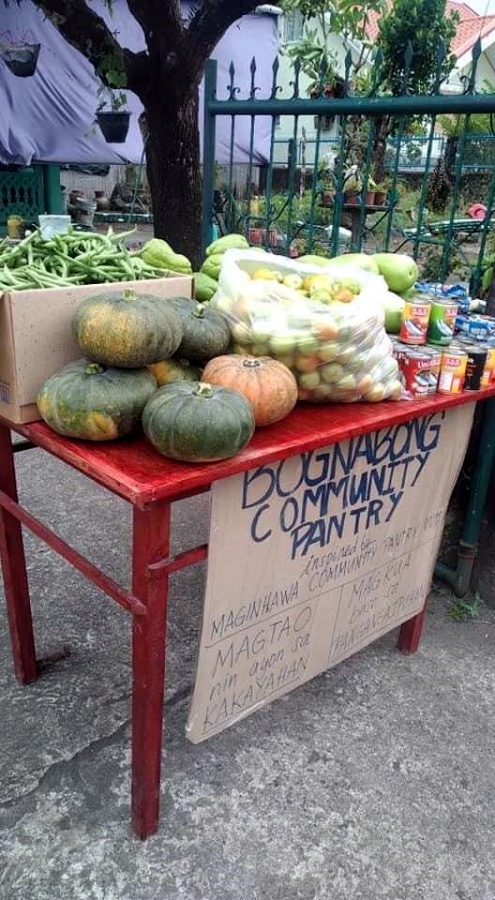 Barangay Guadalupe, Cebu City
This community pantry was set up by a youth organization, One Guadalupe – Cebu City, and the Sangguniang Kabataan of Barangay Guadalupe in Cebu City.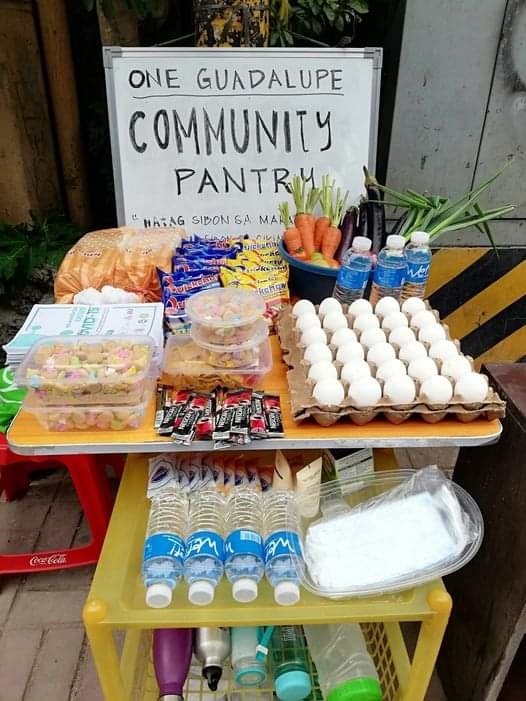 Barangay Kauswagan, Cagayan de Oro City
This community pantry is located along Pasil-Bonbon Road in Barangay Kauswagan, Cagayan de Oro City. It was set up by Rene Principe, Jr., a graduate of University of the Philippines – Diliman.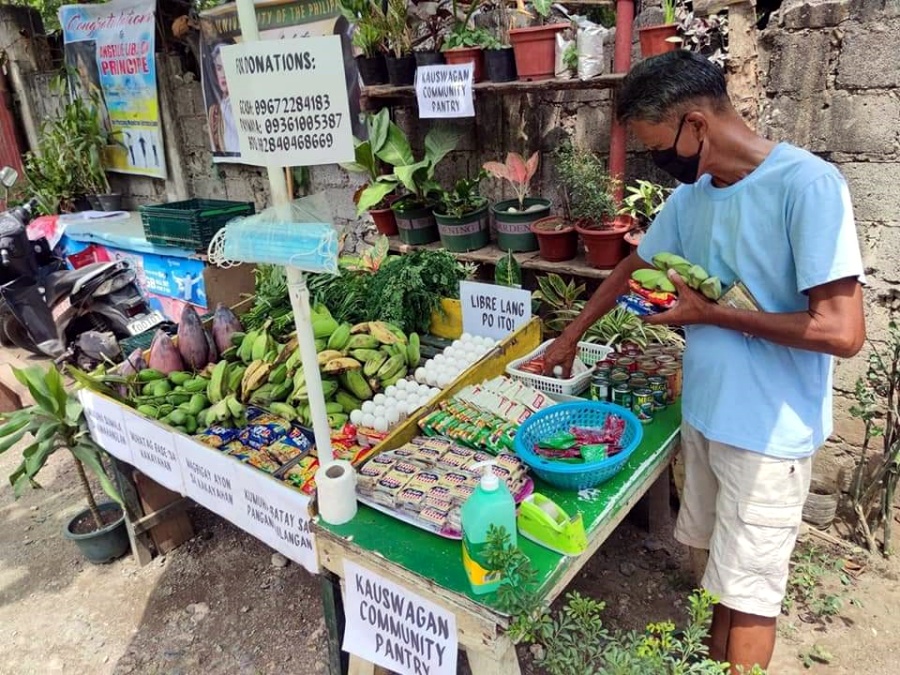 "Community PAW-ntry," Quezon City
Donated food are not just for people, but for our furry friends, too! The "Community PAW-ntry" was set up by the Philippine Animal Welfare Society (PAWS) in front of the PAWS Animal Rehabilitation Center (PARC) along Aurora Boulevard in Katipunan Valley, Loyola Heights, Quezon City. It is accepting dog food, cat food, and other donations.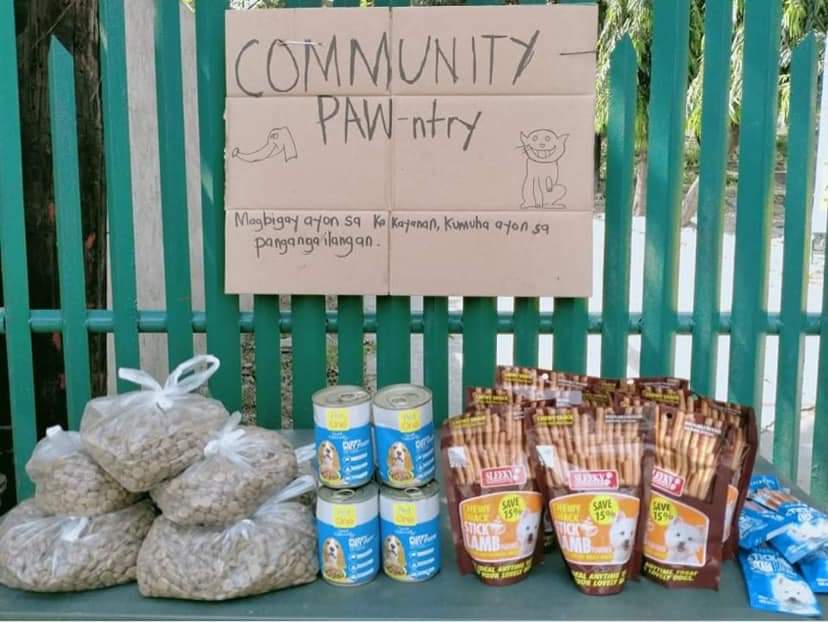 These are just some of the community pantries that have sprung up; there are many more in different barangays, municipalities, and cities across the country. Indeed, these pantries are a sign of the Filipinos' bayanihan spirit, which shines as a beacon of hope during these times.
READ NEXT: OFW in UAE Shares Bags of Rice and Relief Goods to Those in Need