Over the years, travel has become more than a luxury. A quick search of the Internet, and you'll have all the reasons travel has become an essential part of modern-day living. But, considering the coronavirus pandemic and the risks it poses, "non-essential" travel has been banned, and the travel and tourism industry have all but shut down.
In light of this situation, several airlines, including Cebu Pacific Air, have announced changes to their booking policies to accommodate the situation and appease anxious passengers.
Cebu Pacific, in particular, has taken to posting the free re-booking and travel fund on Facebook, for a wider audience. The post reads,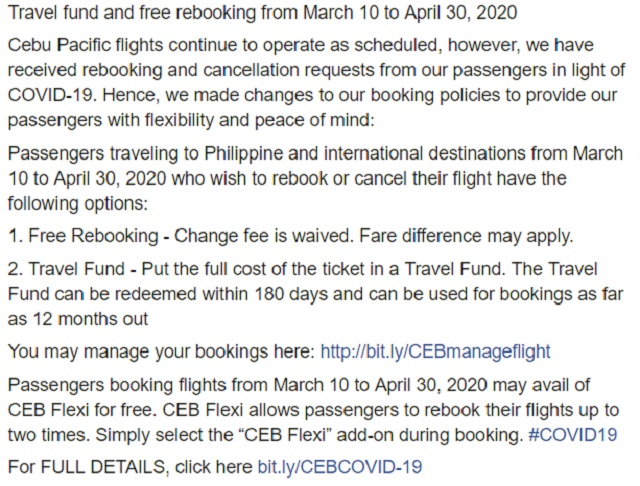 If you are one who had to cancel travel plans because of the global outbreak, then this is an option you can check.
Steps in Converting Cebu Pacific Tickets to Travel Fund
If you haven't yet, you can convert your Cebu Pacific tickets into your travel fund by following the following steps shared on Facebook by Eat, Travel, and Play:
Step 1. Start by logging in to your Cebu Pacific account.
Step 2. Once in, look for Itinerary, then click on Manage Booking.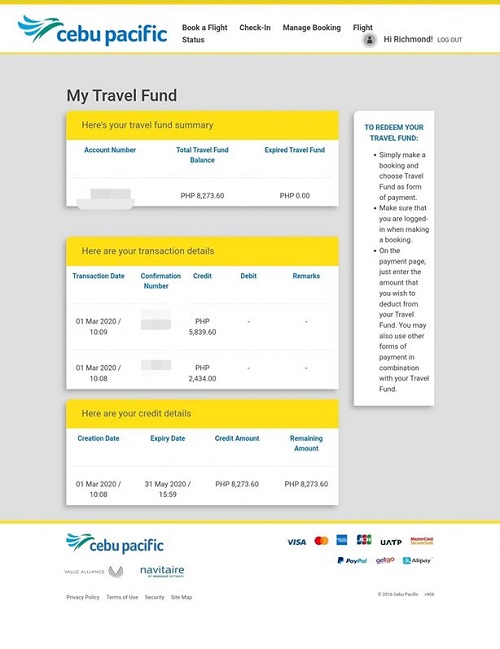 Step 3. Then, click on Purchase Add-ons, Change or Cancel Flights tab.
Step 4. Tap Select, then Cancel Flights.
Step 5. Select the flight schedule you wish to Cancel. Some flights may have certain fees, so you would want to check first before you click Continue.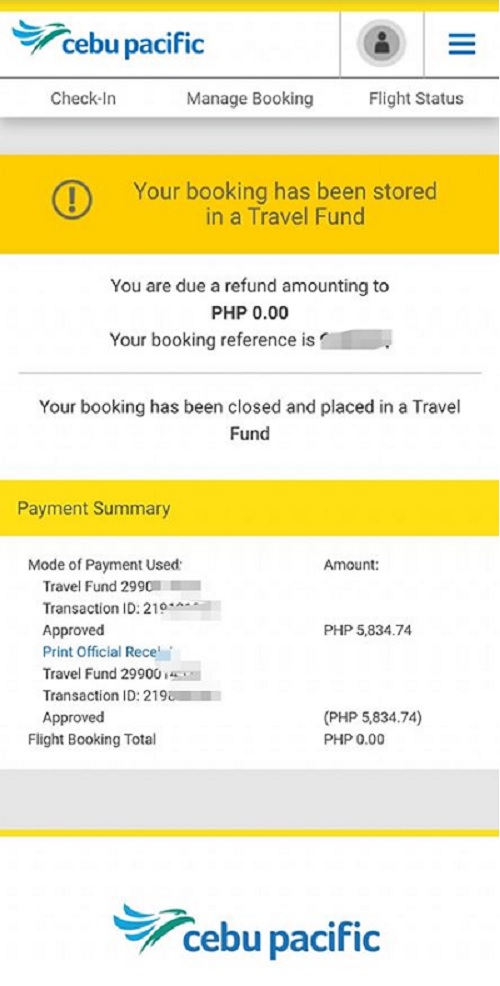 Once done, the ticket cost will automatically convert into your travel fund.
Travel Fund Terms Worth Taking Note
Naturally, there are some things you would want to check before working to convert your ticket costs into your travel fund. You should be able to find these detailed in a list on the Terms and Conditions page of Cebu Pacific Travel Fund.
Here are some of them:
The Travel Fund conversion is only possible for cancelled flights. In light of the outbreak of COVID-19, this applies to all flight scheduled for March 10 to April 30, 2020.
You need a GetGo account before you process your Travel Fund conversion.
If you have already paid for Travel Tax when you file for a TRAVEL FUND conversion of tickets you have already paid for, you will need to file for a separate refund request addressed to Tourism Infrastructure and Enterprise Zone Authority (TIEZA).
The Travel Fund is associated with the guest booking reference, not the passenger's name.
That said, only a single Travel Fund claim can be processed per booking. If the booking is for multiple guests and you wish to split the fund to create an individual Travel Fund per person, call Cebu Pacific Customer Service to have it processed.
Guidelines in Using Travel Fund
The Travel Fund is valid for 180 days and can be used for up to 12 months travel period.
The travel fund can only be used by anyone in the record or by the individual under whose name the travel fund is credited.
It may be used to pay for either ancillary products or other fees, penalties, or taxes.
Multiple Travel Funds can be combined and used in a single transaction.
If the fund is greater than the amount to be paid, the remaining credits can be used to pay for another transaction as long as it is still valid.
If the Travel is not enough to pay for the fees, the balance can be paid via other payment methods.
Travel Fund redemption can be done through:

Cebu Pacific Call Center
Organic ticketing offices
Organic airport service desks
International general sales agents and wholesalers
For additional concerns not detailed in this guide, you may reach out to Cebu Pacific directly.