On February 11, 2020, the World Health Organization had a meeting with scientists in its headquarters in Geneva, Switzerland and in a statement by WHO Director General Dr. Tedros Adhanom Ghebreyesus, the vaccine for the COVID19 disease could take 18 months to be ready.
Also Read: 10 Myths & Facts About Novel Coronavirus
This newly named coronavirus disease is reported to have had over 42,708 confirmed cases in China with 1017 who have tragically lost their lives. In the rest of the world, there has been 393 cases in over 24 countries, and 1 life lost.
The meeting organized by WHO includes plans and discussions on bringing the world together to coordinate the response to the outbreak.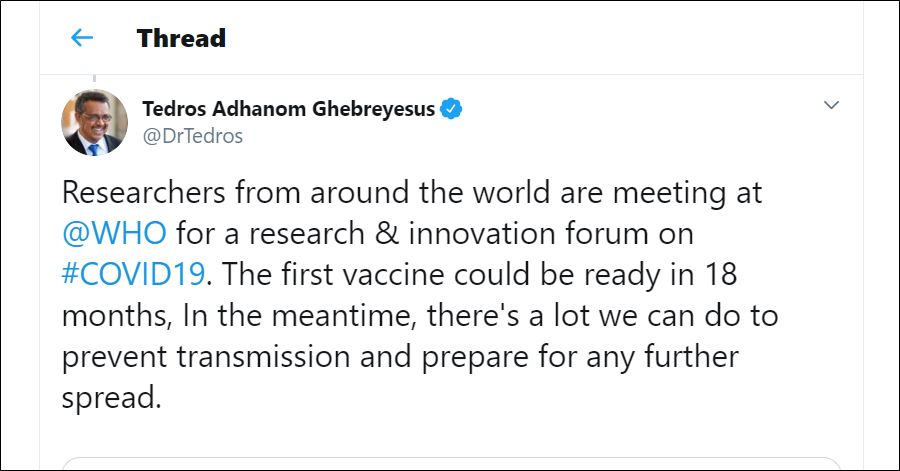 Dr. Tedros said that it could take 18 months for a vaccine to be ready.
"The first vaccine could be ready in 18 months, so we have to do everything today using the available weapons to fight this virus, while preparing for the long-term." – Dr. Tedros
Below is a Tweet from the official account of Dr. Tedros:
Researchers from around the world are meeting at @WHO for a research & innovation forum on #COVID19. The first vaccine could be ready in 18 months, In the meantime, there's a lot we can do to prevent transmission and prepare for any further spread.https://t.co/7uXYj2KxF3

— Tedros Adhanom Ghebreyesus (@DrTedros) February 11, 2020
In the same statement, WHO also mentioned about its call for $675 million for the support preparedness and response operations in countries.
——————–
It is important that we stay alert and keep proper hygiene to prevent the contraction of the disease. The health advisory from the Department of Health Philippines include steps to take:
Wash your hands regularly.
Avoid contact with animals.
Avoid people who have symptoms of cough and colds.
Always cover your mouth when coughing and sneezing.
Drink plenty of water.
Ensure that food is cooked properly.
Consult a health facility if symptoms of cough and colds persist (especially if you traveled from Wuhan, China).
It is also important that we are aware of the symptoms so we can seek assistance from medical professionals when needed. Some of the symptoms of the disease include:
Cough
Colds
Fever
Difficulty breathing
Shortness of breath
It cannot be stressed enough that we take the necessary precautions in order to prevent the outbreak. We hope everyone remains vigilant as we continue sharing updates about the COVID-19 disease.