Foreign Affairs Secretary Teodoro Locsin Jr. confirmed that QRS (Quick Reliable Service) will no longer be the Department of Foreign Affairs' official service provider for passport delivery (DFA).
The decision by Locsin to relax QRS occurred in response to significant complaints about delays and ambiguity in the distribution of passports to applicants who paid an extra fee to get services in the comfort of their own homes.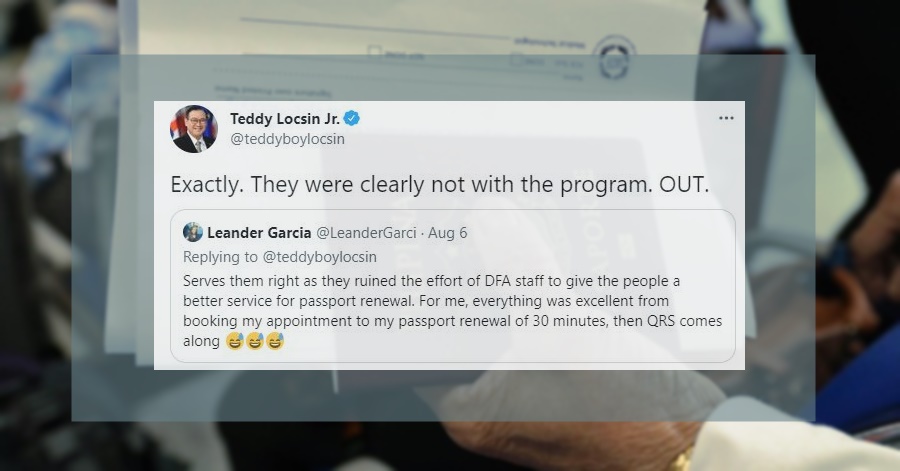 DFA Sacks QRS as Official Passport Delivery Services Amid Mounting Complaints due to Delays
According to Assistant Secretary for Strategic Communications Eduardo Meez of the Department of Foreign Affairs, the department is currently examining the matter and will soon announce the replacement of QRS, the Manila Bulletin reported.
"(The) Office of Consular Affairs is trying to arrange a new courier service, and address the issue of passports already in the pipeline. There should be an announcement on this soon," Meñez said.
QRS is associated with APO Printing, the same company that produces and personalizes Philippine passports.
Exactly. They were clearly not with the program. OUT. https://t.co/Akd6HVnPs4

— Teddy Locsin Jr. (@teddyboylocsin) August 6, 2021
Last year, at the height of the COVID-19 outbreak, QRS unexpectedly entered the picture and took over as the official passport courier from the LBC-DFA Multi-Purpose Cooperative (DFAMPC).
Given LBC's solid track record in the courier service sector, this move is said to have aroused some questions within the department's ranks.
"We never had that problem when the courier service was handled by DFAMPC. Until suddenly this job was handed to APO against the objection of career officers who are members of DFAMPC," said a veteran diplomat who was privy to the conceptualization of the passport delivery system.
Apart from the delivery mess, the DFA is also facing rising criticism for its online passport application scheduling system, despite its recent efforts to create more slots to accommodate hundreds of applicants around the country.
Locsin had previously directed the Office of Consular Affairs, a division of the Department of Foreign Affairs under the supervision of Undersecretary Brigido Dulay, to look into the proliferation of social media sites, particularly on Facebook, that are openly selling online schedules for as much as P3,800 per slot.
READ NEXT: Complete Guide to One-Stop-Shop Centers for OFWs (OSSCO) and Where to Find Them