Many people are still confused which is which: Dubai or UAE? Are they just the same city? Or country? To clear things up (hopefully once and for all), the United Arab Emirates (UAE) is the country which is composed of seven smaller 'emirates' or states, one of which is Dubai.
(ALSO READ: UAE Implements Changes in Visa Rules)
Perhaps one of the reasons why most people think Dubai is a country is due to the fact that it has been one of the top destinations for work among migrant workers (not just Filipinos) from all around the globe.  However, not everyone there is staying for work. Many people visit Dubai to see one of the world's tallest buildings – the Burj Khalifa, or go on a 4×4 off-road adventure in the desert of Dubai. While others simply look to experience the high-end amenities and activities uniquely offered in the UAE. If those are just some of the things you want to experience on your next travel, then you will need to know how to get a Dubai/UAE tourist visa. Here's how: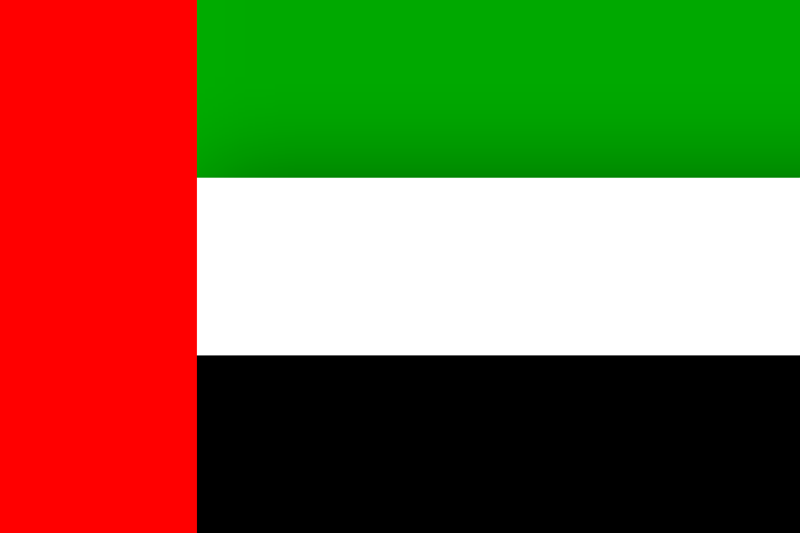 Guide to Applying for a Dubai/UAE Tourist Visa
Obtaining a Dubai/UAE tourist visa is quite simple because after your visa has been approved, it will only take a few days for you to receive your document. However, others may find the process a little daunting because of the requirement of a sponsor.
Here are some of the things that you'll need to consider preparing for before you apply for a Dubai tourist visa:
A sponsor: is a person who currently resides in the UAE. He/she could either be a friend, colleague, family, or an acquaintance.
Hotel booking
Air tickets from any of the following airlines: Emirates, Etihad, and Qatar Airways
A travel agency
Note: Items 2-4 are pretty easy to get so you don't really need to stress out even if you don't have any contact person living there.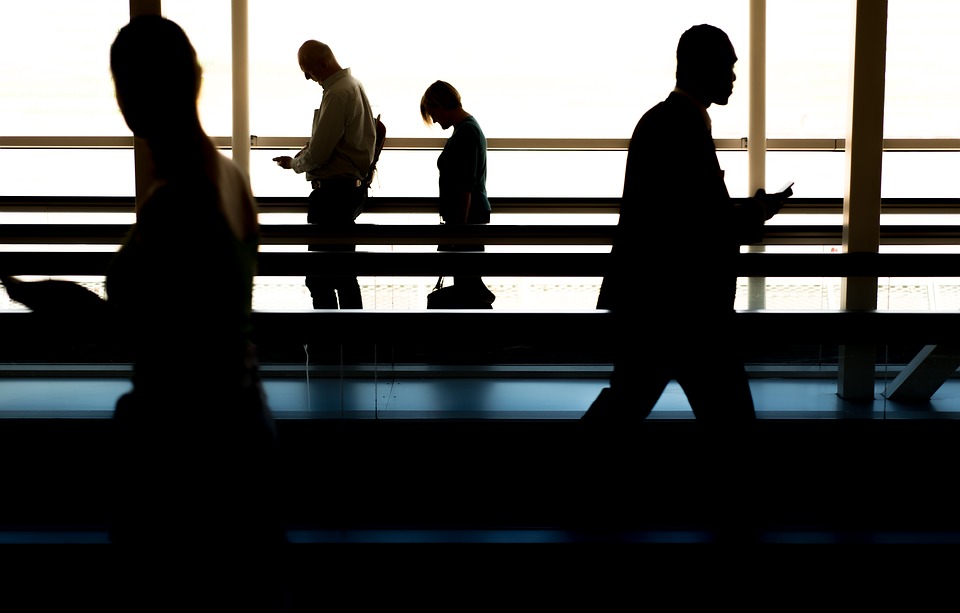 Different Types of UAE Visa
Before you get right onto the application process, you first need to know which type of visa applies to you. You should also have an idea of the length of your stay in Dubai, and who shall act as your sponsor so you will know which visa type you're going to get. For more information on Dubai Visa types and other relevant information, you may check the UAE government's official website as there may be new updates regarding this process every now and then.
Transit Visa: You can get this from the airline you'll book with for your travel to the UAE. This type of visa is effective only for 96 hours of stay/transit in the country. This is also valid for 14 days from the date of issuance on the following conditions:
You possess a valid passport and a confirmed connecting flight to your third (onward) travel destination.
You must not stay in the UAE beyond 96 hours upon entry in the country or 14 days after the issuance of your visa.
You must have a confirmed hotel booking in the UAE.
Visit Visa (short- or long-term): This type of visa works on the basis of sponsorship of a family member, relative, or friends. This can be obtained by the sponsor residing in the UAE. A short-term visit visa is valid for up to 30 days whereas a long-term visa is valid up to 90 days.
Tourist Visa: This is a special type of a visit visa, which can be obtained by qualified tourists from anywhere in the world. Under this visa type, tourists can stay in the UAE for up to 30 days. This type of visa requires sponsorship from UAE airlines, hotels, and tour agencies that bring in tourists to the country.
General Requirements for your Dubai/UAE Tourist Visa Application
The application process for a UAE tourist visa is fairly simple and straightforward. After you've covered the requirements listed below, all you need to do is to forward them to your sponsor, and they will handle everything from there.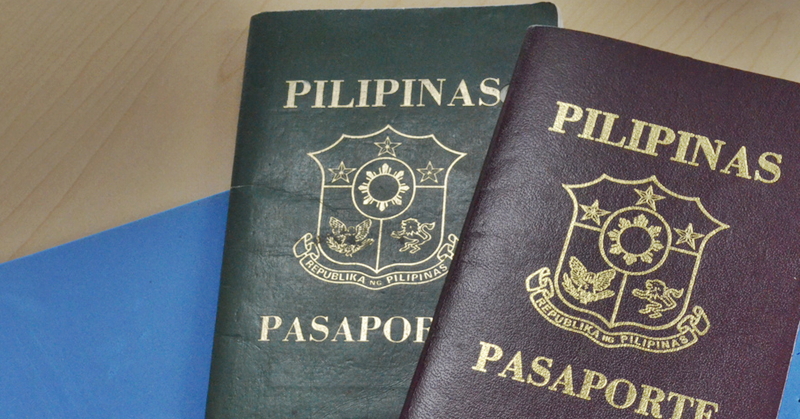 A copy of the bio and last page of your valid passport. The passport has to be valid six months after the time of your intended travel date.
A scanned colour passport-size photograph in white background.
A duly accomplished UAE Visa Application Form as shown in a screenshot below: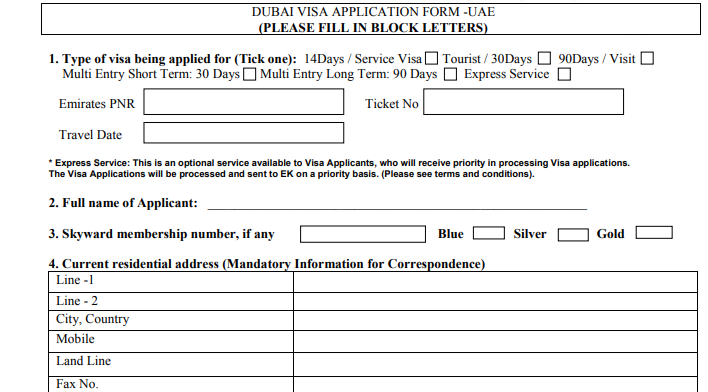 Payment for the visa fees; and
A copy of your sponsor's Resident Visa and Emirates ID Card.
Other Supporting Documents:
Your round-trip flight ticket. You will need this when you're applying for a visa through a particular airline.
Your hotel booking/s. You will need this when you're applying for a visa through a particular hotel company.
If traveling with a minor, you will also need to provide a copy of the minor's birth certificate.
Note:  If you opt to book your trip with a travel agency, you may be required to provide additional documents. Request for careful assistance regarding this.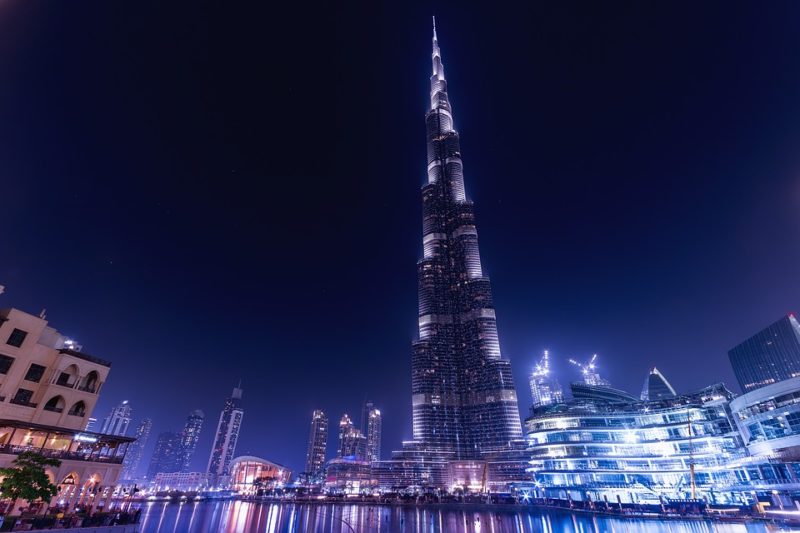 Here are Some FAQs on Getting a UAE Tourist Visa:
1. How do I know if a hotel can sponsor my visa?
You may check this information by visiting the hotel's website or by e-mailing them directly.
2. How much does the visa fee cost?
This depends on who your sponsor is and the type of visa that you will apply for. You may check the rates for Emirates and Etihad to have an idea before you plan your trip.
3. Can I extend or renew my visit visa?
Unfortunately, you can't. The idea for getting a tourist visa is based on the presumption that you have already planned out your trip before flying to the country. Therefore, you need to exit UAE and re-enter with another type of visa, should you meet the requirements.
4. Would it be better to go through a travel agency for my visa application?
If you do not have a direct contact living in the UAE, such as a friend or family who can sponsor your trip, and if you do not want to apply through a hotel or an airline, then you are only left with the option to go with a travel booking company.
Note: Travel agencies may have a different set of requirements for the visa application process, so be duly informed.
5.  Should I have travel insurance to apply for a visa in the UAE?
This is not part of the requirements, but it's better if you do simply because you never know what could happen in your travels. Also, always check your flight bookings if a travel insurance fee is already included, as you may be paying more when you already have your personal travel insurance at hand.
The visa application for Dubai/UAE can either be simple or a little challenging, depending on your circumstances. Therefore, it's important that you look into the visa type that would best fit your case to have an easier time with your application process. (ALSO READ: It is Illegal to Work While on a Tourist Visa, Secure an Employment Visa First)