With the application and processing of the National ID already in place after the Republic Act 11055, otherwise known as the Philippine Identification System Act, was enacted, we have rounded everything you need to know about securing the National ID, as detailed by its Implementing Rules and Regulations.
To help you, here are the detailed procedures in getting the new National ID.

Steps in securing the new National ID in the Philippines
Prepare all the documentary requirements.
Among the requirements that the applicant need to prepare include the following:
Duly-accomplished PhilSys Registration form (Form No. 1).
Original copy of any of the following:

PSA-issued birth certificate plus 1 government-issued identification document with full name, photo, and signature or thumb mark
Philippine e-passport issued by the Department of Foreign Affairs (DFA)
Unified Multi-Purpose Identification (UMID) Card issued by either Social Security System (SSS) of Government Service Insurance System (GSIS)
For resident aliens: the Alien Certificate of Registration (ACR) ID shall be required.
For married woman whose identification reflects her maiden name: a PSA-issued marriage certificate is required if she opts to use her husband's surname.

If the above-mentioned documents are not available, the following may be submitted:

PSA-issued birth certificate
Any government-issued identification bearing the applicant's full name, photo, and signature or thumb mark
Identification documents issued by the private sector that satisfies the requirements set by the PSA
Visit any of the designated registration centers.

PSA Regional and Provincial Offices
Local Civil Registry Offices (LCROs)
Government Service Insurance System (GSIS)
Philippine Health Insurance Corporation (PhilHealth)
Home Development Mutual Fund (HDMF)
Commission on Elections (COMELEC)
Philippine Postal Corporation (PHLPost)
Other government agencies and GOCCS as may be assigned by PSA
For Filipino citizens residing abroad: Registration shall be done in the nearest Philippine Embassy or Philippine Foreign Service post or any other registration center designated by PSA.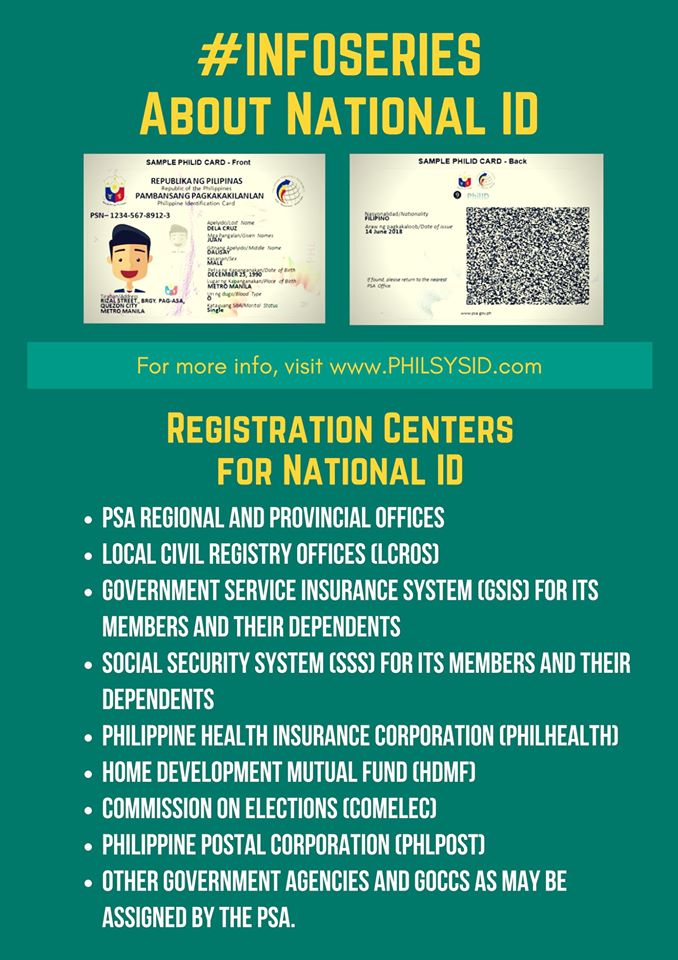 Personal appearance at any of the designated registration centers to verify that the information on the registration form is consistent with the documentary requirements presented.
Once the required documents are presented and authenticity is confirmed, the biometric information (photograph, fingerprint and iris scan) will be recorded except for applicants below five (5) years of age – which will be captured when they reach the age of fifteen (15).
Unique biographic and demographic information will result in the release of a PhilSys Number (PSN) and a confirmation of registration, whereas any hit will mean further authentication.