A Lebanese business owner has been receiving positive feedback from netizens not just for the food they sell but more so for his eagerness to help those who lack money to buy food in their neighbourhood.
The Pinoy-at-heart expat, Rabih Hassounhe earned the admiration of Filipinos after he was seen willingly giving his store's products to residents who do not have enough to buy from his store amid the health crisis.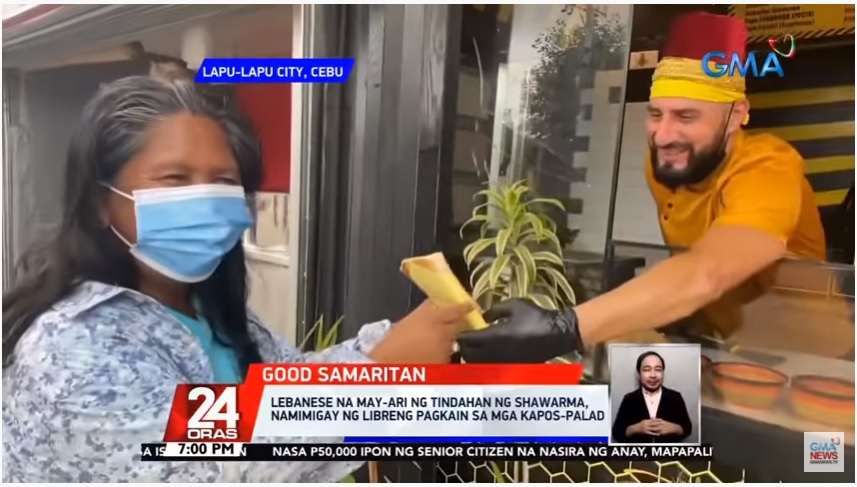 Lebanese Store Owner Gives Free Shawarma to Residents who Can't Pay for It
Rabih, who runs Papa Rony in Lapu-Lapu said that those who do not have any money to buy their food, can come inside and receive food for free, GMA News Online reported.
"If any people don't have money, come inside I will give it for free," Rabih said.
"I don't have money to give people but I have food," he added.
Rabih has been living in the Philippines for two years now. But he started out with little to no money on him that he couldn't buy delicious food for himself back then.
He shared that he even had to sell his bike to have the capital for his shawarma business.
When he first opened his business, he was only earning around Php 500 to Php 700 per day.
Despite these early challenges, Rabih did not back down. Eventually, his food products became more popular to the people of Lapu-Lapu City, until the pandemic happened.
"I love Philippines, I love the people here. They are very good and all the people love me also," Rabih said.
Watch the video report here shared by 24 Oras via GMA News Online / YouTube:
READ NEXT: [VIDEO] Syrian YouTuber Gives Free Food to Drivers