They say you can't prove to others (or yourself) what you're made of unless you go through several challenges in life. And for some, these trials might be at the cost of their lives. But those who get to outlive these trials are often considered 'heroes' for their bravery and selfless acts of kindness.
READ NEXT: Filipina Nurse Hero: Ex-Dubai OFW Delivers Baby Onboard Emirate Flight from Dubai to Philippines
Such is the story of this Filipina nanny based in Toronto, Canada, and that one fateful morning when she squared with death, and put the two kids under her care first, over her safety.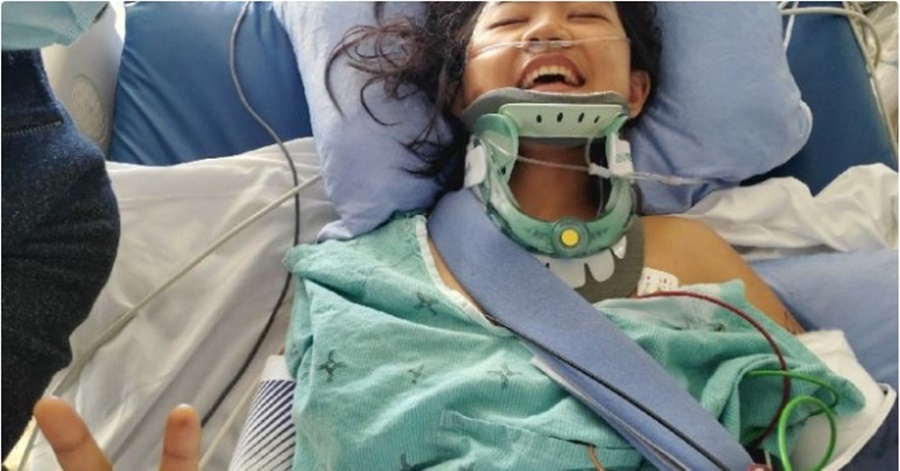 Pinay Nanny in Canada Draws Praise and Admiration for Her Heroic Act of Saving Two Kids from A Fatal Road Accident
On February 24, Jillian Mendoza, a Filipino nanny in Canada, was out taking the two kids under her care, aged two and five, in their stroller. It was just like any other day when suddenly, a black SUV backed up on them at a fast speed, hitting Mendoza and a parking meter in the process.
With her presence of mind, Mendoza pushed the two children in the stroller, just before the SUV crashed onto the sidewalk where they were in.
According to CTV News, "When officers arrived at the scene, the stroller was actually partially pinned between the vehicle and the wall, which is unbelievably lucky, and everyone here is thankful that she actually took the actions that she did."
At that moment, authorities came rushing on the spot and immediately rushed Mendoza to a local trauma centre with life-threatening injuries after the incident. The two young children, meanwhile, sustained minor injuries.
In line with this, a GoFundMe fundraiser has been set up to help Mendoza recover.
A friend of hers, Anney Anna Gonzales, wrote on Jillian's GoFunMe page: "Jillian is a Filipina nanny who came to Canada a few years ago. She is a single mom working hard to sustain her daughter's and parents' needs."
Anney also shared, "She is just in the process of obtaining her residency here in Canada and has so many plans and dreams for her daughter, Ohana.  She is also the sole provider of her family. It will be a long road to recovery and I hope that we can help support her financially and through prayers."
Jillian, despite the incident, kept her positivity and reassured her family and friends in Canada and the Philippines that she's doing okay and that her recovery is turning out as expected.
Catch the full video report shared by ABS-CBN News / YouTube:
Because of her courageous act, many employers reached out to Anney, and expressed their admiration and gratitude for caregivers such as Jillian, who would so willingly go over and beyond their duty to
As of March 7, more than $165,000 has been raised in support of Jillian's medical needs and recovery. If you haven't given yet, you can still extend your help.
They are still accepting donations through Jillian's GoFundMe page at https://www.gofundme.com/f/help-jillian-hero-nanny-recover.
READ NEXT: 9 Reasons OFWs are Tagged as Modern-Day Heroes