When you feel that all hope is lost and when you think life won't get any better, think again and pray twice as much. 
ALSO READ: Here are Some Helpful Advice for OFWs Dealing with Depression
This has what kept a Filipino nurse based in the UK alive and proud to share his story of victory today in his ongoing battle against cancer and recently, COVID-19.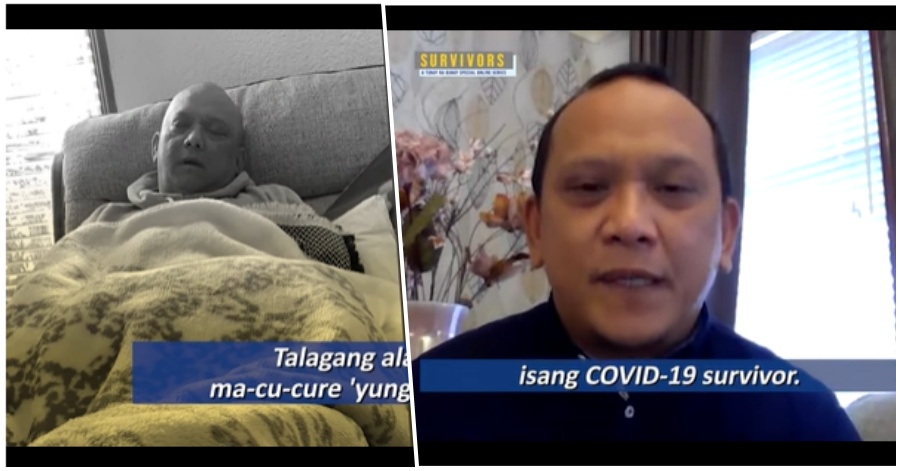 Through Prayers, Pinoy Nurse in UK Overcomes 'Double Jeopardy' Against Cancer and COVID-19
In GMA News and Public Affairs' segment 'Survivors', Gregorio "Greg" Samson, who has worked as a nurse in the UK for over 18 years, shared his story of faith and hope as he faced, perhaps, the lowest and darkest point of his life. 
Greg shared that in 2003 and 2004, he was able to bring his wife and two children to live with him in the UK where he works as a nurse in a private hospital in Essex, which is also one of the biggest health providers in the country. 
However, a year before his seemingly stable and fulfilled life with his family in the UK, Greg spent his vacation with his family in the Philippines. It was also then that he found out that there was something different from his body. He noticed a lump on the right side of his stomach.
After his vacation in the Philippines, he went back to the UK and had his body checked. The doctors confirmed what he had been dreading, Greg was diagnosed with Stage 2 gastroesophageal cancer.
He had to undergo chemotherapy every two months before undergoing surgery and then continue with his chemotherapy.
Recently, after Greg's family had returned from a vacation in the Philippines, his wife started to show symptoms of COVID-19, and then one of his children, as well.
At that time, Greg experienced recurring fever. Then after he had it checked by his doctor, he tested positive for COVID-19. 
During this time, Greg decided to self-isolate himself inside his home. When he noticed that his health wasn't improving, his family called for an ambulance to have him checked in the hospital.
Greg shared, "If you want to experience it, sabi ko nga sa kanila, takpan mo 'yung ulo ng unan tapos try to breathe. Ganoon ang feeling nu'ng gusto mong huminga pero hindi ka makahinga (If you want to experience it [COVID-19], as I've told them, stuff your face with a pillow then try to breathe. That's how it felt – you're trying so hard to catch your breath but can't seem to get any air to go into your lungs." 
"Talagang alam ko maku-cure 'yung cancer ko. Pero itong COVID-19, talagang halos nag-give up na ako (Although I knew that it's possible to recover from my cancer, COVID-19 was entirely different – I almost gave up.)" Greg, who was tagged as a high-risk case, explained. 
However, as he was about to fall into depression and giving up, he experienced a strange joy when he met the nurse who was assigned to him. 
"Na-shock akong ganoon, binuksan ko 'yung mata ko pagtingin ko 'yung mukha ng nurse, mukha ng nanay ko (I was so shocked, when I opened my eyes and saw the nurse, she looked like my mother.)" said Greg, who had lost his mother six years ago.
"So 'yun nga parang naiyak ako. Sinabi ko sa kaniya, 'Nakita ko kayo para kayong nanay ko (So then I started to cry. I told her [the nurse], when I first saw you, I thought you were my mother.'" Greg told his nurse, Nanette.
Meanwhile, Greg's wife, Sharon, remained calm and composed for her husband and the kids despite their situation. 
Friends and family from the Philippines offered their support and prayers through an online prayer brigade. 
"Ang twisting point ko is 'yung noong sinabihan ako ng doctor na DNR ako, 'yung Do Not Resuscitate. Although covered ako sa age ko pero dahil sa medical situation ko like cancer, kung ma-Intensive Care Unit daw ako, eventually mamamatay din ako sa cancer ko (My turning point was when the doctor told me that I was for DNR [Do Not Resuscitate]. Although because of my age, my insurance would cover my medical condition, which was cancer, in case I had to be sent to the ICU, they thought that I would eventually die of my medical condition)," Greg shared.
Greg, feeling enraged by the doctor's explanation, looked him in the eye and said: "Do you think you can play God and decide whether I will live or die?"
At that point, he prayed hard and told God, "Lord, let's show these people that there are miracles. Let's show them a miracle!"
After 15 days of confinement, Greg eventually recovered from COVID-19.
Now, he is undergoing treatment for cancer and his chemotherapy.
"I always say I work hard, play hard. Kumbaga parang nakalimutan ko na tao rin pala ako na kailangan kong magpahinga. Mayroon din pala akong kailangan na Diyos na kailangang sambahin. Noong dumating ito, talagang makikita mo 'yung kahalagahan ng family (I always tell people that I work hard and play hard. I realized that I had forgotten to take care of my body and that I also needed rest. I also realized that there is a God that I can turn to and worship in this life. When this event in my life happened, I truly realized the importance of faith and family," Greg shared.
Here is the full video clip from GMA News and Public Affairs' show, Survivor, detailing Greg's experience battling with cancer and COVID-19:
Based on Greg's story, we can tell that no matter where we are in life, the things that matter in the end, will be our family and faith in the Almighty. Let this story be a reminder for every OFW and their families to continue to support each other and to grow in faith, especially during these challenging times.
ALSO READ: Filipina Cancer Patient in UAE Goes Home