Most Filipinos aspire to work overseas to support their families in the Philippines. With that in mind, they are easily enticed by the many job offers that come their way. Unfortunately, many of them overlook the important details that they need to consider before they apply.
The Philippines' Overseas Employment Administration has over 1,200 agencies that are registered with it.
Despite the number of agencies that are registered, there are still many illegal recruiters operating in the country. This is why it is important for job seekers to be aware of the legitimacy of these agencies.
Many OFWs who aspire to work overseas have experienced issues with these agencies. In this article, we will talk about some of the common issues that they encountered and how you can avoid these. Aside from being aware of the legal requirements of recruitment agencies, you also need to be taught about the proper way they operate.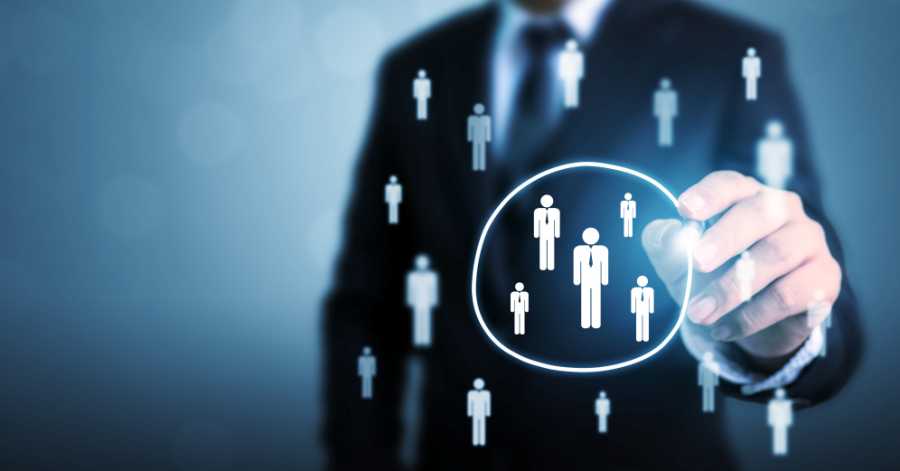 What Makes a Recruiter Legitimate?
Before an employment agency can operate, it should be licensed by the POEA. This should be the first step in ensuring that workers are placed abroad. However, it's also important to keep in mind that there are many other factors that go into making an application abroad.
Before you hire a recruiter, it's important to make sure that the details they provide are correct. Aside from the job title, other factors such as their legitimacy are also taken into account:
1. License Number
In the Philippines, it is only allowed for Filipinos to apply for jobs in other countries if they are through a local recruitment agency. The agency must be accredited by the Philippine Overseas Employment Administration.
If the agency you are applying to has not been authorized by the POEA, then it is considered an illegal recruiter.
2. Employer Accreditation Number
To be accredited as a foreign principal or employer in the Philippines, a person must first go through a process that involves the approval of a staffing agency and the POEA.
This process is very important to ensure that foreign employers are authorized to hire Filipino workers. It allows them to recruit and retain local workers.
3. Job Order
A job order or requisition is a type of document that describes a specific job position and its requirements. A work order is a type of document that describes the various elements of the job, such as the assigned cost, the billing rate, and the length of the assignment.
The agency will contact the qualified applicant if the POEA has approved the job order. Once the employer has received the job order, it will start the interview process.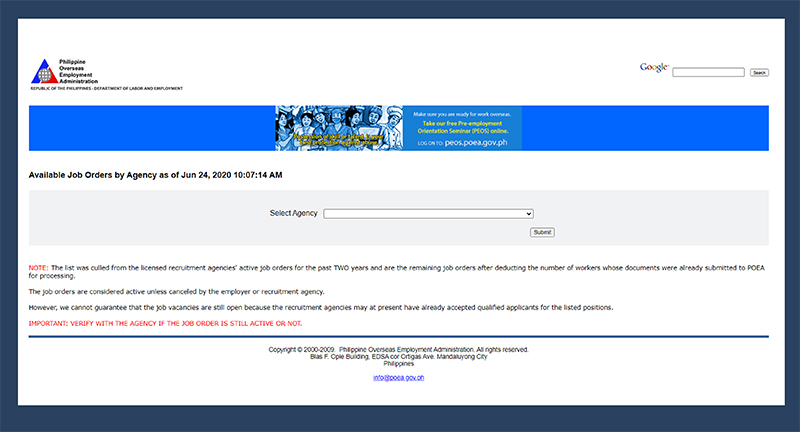 You must also apply for an overseas job with an approved work order from the POEA. This will allow the employer to confirm that you meet the requirements of the job.
To check if the job position you're interested in has an approved work order, go to the POEA's Job Orders page. You can also click the drop-down menu to select the recruitment agency that you want to work with.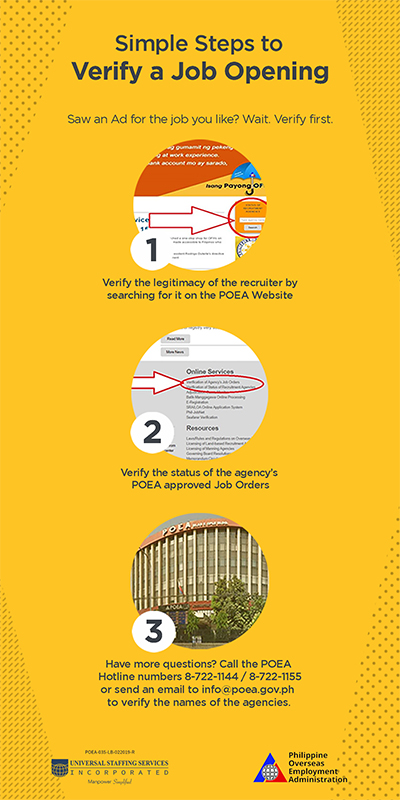 POEA: Elements of Fake Jobs offered Online
When in doubt, the POEA has some tips to help you determine if the job is fake. Here's a short list:
1. Charges fees.
If you are paying for the job, it's a scam. The POEA does not charge any fees for applying or processing applications.
2. Pressures you to avail of their services.
If a job agency is pressuring you to avail of their services, it's probably a scam. The POEA does not require any fees for processing applications or hiring workers.
3. Offers too-good-to-be-true benefits (No placement fees, No PRC license requirements, No exams, etc.)
If a job agency claims to offer no placement fees or no PRC license requirements, it's a scam. The POEA does not charge any fees for processing applications or hiring workers. If an agency is offering any of these benefits, it's probably a scam.
4. Claims to have a recruitment license, but operates as a direct-hiring agency.
Direct hiring is no longer allowed in the Philippines because it was abused by many unscrupulous employers and job agencies. These entities will not go through the process set by the Philippine government, such as application and processing fees, PRC license requirements, and exams. Instead, they'll just have you apply directly to them. The only way you can get a job in the Philippines is through a licensed recruitment agency.
5. Legitimate foreign recruiters (especially from Canada, USA, Australia, Japan, and New Zealand) DO NOT SEND OUT RECRUITMENT EMAILS – DO NOT FALL FOR THIS SCAM!
This is another thing you need to be wary of. If you receive a recruitment email from any of the above countries, it's probably a scam. Since the Philippines has very strict laws against illegal recruiters and agencies, legitimate recruiters will not send out emails to people looking for jobs in the Philippines. They'll only recruit through legal channels like job fairs or online applications. There's a very high chance that you might become a victim of human trafficking if you send your personal information to a recruiter who's not registered with the Philippine government. They may trick you into traveling overseas without proper documentation, take all your money, and leave you stranded in another country.
Illegal recruitment is a serious offence not only in the Philippines but in many countries around the world. It's a serious crime that can result in hefty fines, long prison sentences, or even death.
If you're wondering why this is so, just think of all the horrible situations one might get into if they were tricked by an illegal recruiter. They could be forced into a life of slavery and prostitution, or they might be put into a situation where they're held captive by criminals who expect them to pay off huge debts. If you've ever seen the movie "Taken" then you know exactly what we're talking about.
Frequently Asked Questions
1. What are the Details to Check in Recruitment Advertisements?
When you are looking for a job, it is important to check the details of an advertisement to see if it matches your requirements or not. You can also check whether or not the advertisement has been published by a reputed organization or not.
2. What is Considered a Recruitment Ad?
The Philippine Overseas Employment Administration (POEA) has stated that job advertisements for overseas workers should be published in various forms of media. These include press releases, advertisements in television, radio, billboards, and social media, and ad boards.
3. What to Look for Inside an Ad with Approved Job Orders?
Name, address and POEA license number of the agency;
Name, address, POEA registration/accreditation number and worksite of the accredited principal/employer;
Skill categories and qualification standards; and
Number of available positions and salaries net of foreign income tax.
4. What to Look for Inside an Ad for Manpower Pooling?
If a prospect employer has not yet secured approval for a Job Order, then a licensed recruitment agency may offer to pool their manpower. However, these conditions must be met in order for the agency to operate.
The advertisement shall indicate the phrases using large font sizes in the ad:
"for manpower pooling only"
"no fees in any form and/or purpose will be collected from the applicants"
"beware of illegal recruiters and human traffickers"
The advertisement shall specify the following:
name, address and POEA license number of the agency
name and worksite of the prospective or accredited principal/employer
the skill categories and qualification standards
5. Who can Advertise for International Recruitment?
Employers or principals that are accredited by the POEA may only advertise their overseas job vacancies through recruitment agencies that are licensed by the organization.
Final Thoughts
It is very exciting to have a big dream and to work abroad. However, it is also important to avoid getting carried away by the lure of fast and easy money. To ensure that you are getting the best possible advice, always seek accurate information. Doing so will allow you to avoid getting ripped off by those who promise quick and easy results.
One of the most important factors that you should consider when it comes to working in the Philippines is the availability of legitimate agencies. These will ensure that you are properly trained and prepared for your job. If you work with a legitimate agency, they will provide you with all of the necessary information about the company that hired them. They can also help ensure that you have all of the necessary paperwork in order so that there is no delay when it comes time to start working.
Moreover, you are secured because these agencies are the ones who will be responsible for finding you a job in the first place. Therefore, if anything goes wrong with your work permit or other paperwork, they can help resolve any issues that may arise.
We hope this article has helped shed some light on the difference between an agency and a recruiter. Again, if you are considering working abroad, make sure that the company you are dealing with is legitimate and licensed by the government of your country as well as by any other countries in which they operate.
READ NEXT: What to Look for in OFW Job Postings