GTI Recruitment, Inc. is well-known as one of the most dynamic land-based recruitment agencies in the Philippines specializing in the cross-border deployment and career placement of Filipino professionals and skilled workers worldwide. Its reputation as a consultative and innovative agency is unparalleled, allowing them to easily adapt to the changing market which, in turn, gives them the advantage in the competitive global recruitment industry.
Also Read: Staffhouse International Resources Corporation Job Agency
Over the last decade, GTI Recruitment continued to develop, both internally and externally. They have perfected their recruitment processes to the point of expertise. They also developed with it an extensive network of talents and corporate partners in Asia Pacific, North America, Europe, and the MENA regions.
Their extensive network led to the opening of GTI Recruitment offices in Manila, Al Khobar, Dubai, Australia, New Zealand, and Singapore, allowing GTI to offer their professional services to employers and jobseekers 24/7, 365 days a year.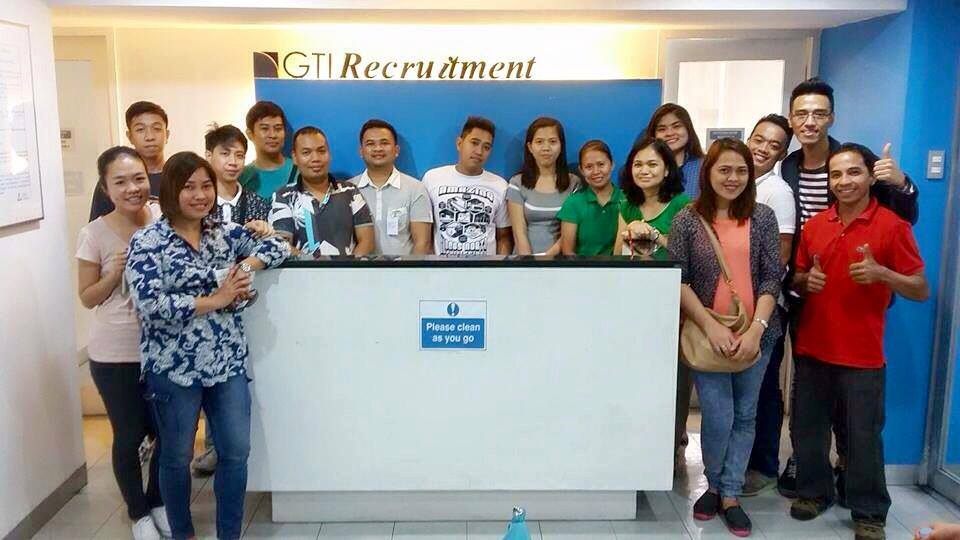 What is GTI Recruitment Inc.?
GTI Recruitment Incorporated is a land-based recruitment agency with offices in Manila, Dubai, and Al Khobar and operations in Asia Pacific, North America, Europe, and the MENA regions.
As an agency, GTI offers consultative and innovative workforce solutions, labor market advice, employment trends reporting, and customized training solutions and consultations on a global scale. Their specialized people-centric approach anchored on mastery, integrity, customer focus, and excellence helps them position their company and stakeholders for growth, allowing them to continuously exceed expectations.
List of Job Vacancies at GTI Recruitment Inc.
Finding the right job is an essential element of life's success. Equally important is choosing the right venue for job hunting, especially if you wish to get a good headstart when joining whatever industry you desire to be successful in. That said, it is therefore a good thing for Filipinos who wish to start their work abroad journey that GTI Recruitment Inc. is around to help.
As an agency at the forefront of executive, managerial, technical, and administrative recruitment worldwide, GTI offers endless opportunities to people with the right talent and skills in any of the following industries that they serve:
Engineering and Construction
Healthcare and Wellness
Hospitality and Retail
Oil, Gas, and Utilities
Manufacturing and Distribution
Technology
GTI Recruitment has proven time and again that it is at the forefront of providing the most highly trained personnel to its business partners, which is why they have a steady stream of job openings waiting to be filled.
So, whether you are simply checking out the market as a first-time applicant or you wish to expand your network further as a returning overseas Filipino worker in case there are better offers more suitable to your qualifications, you may check for the latest hiring positions at the GTI Recruitment website by visiting the Jobseekers' tab and clicking on Available Jobs. You may also just visit. the website directly at http://gti-recruitment.com/availablejobs.html.
How to Apply for a Job via GTI Recruitment Inc.
The GTI Recruitment Process is quite straightforward, be it for employers or jobseekers. However, in any market, it is imperative to not only have enough value as there will always be competition around. Now, if you, as an applicant, believe that you can offer more value than any other applicant for any of the available hiring positions at GTI Recruitment, then by all means, go for it.
The GTI Proven Management Technology
Having said that, if you're planning to apply for an overseas job abroad via GTI Recruitment, it goes without saying that you'll need to understand how the whole process works. In this section, we detailed the whole GTI Proven Management Technology, a process which involves all the phases that GTI recruitment undergoes, from the placement of a client job order to the actual deployment of talents, in order for you to understand just how the system flows.Simply put, we don't want you to feel that you are wasting time shooting blindly at a job post you might not even be considered for.
Phase 1: The Job Order
Every recruitment process at GTI Recruitment starts when a client or a company places a job order request. Once a job order request comes in, GTI consultants schedule an intensive interview and need analysis to understand the exact requirements of the client.
Phase 2: The Recruitment
Once GTI Recruitment gets the complete picture of what the client requirements are, then the recruitment stage starts.
For GTI, the recruitment starts with the selection phase.
This phase starts with a thorough review of the existing database of applicants to see if anyone is a "good fit" for the job. At the same time, the external sourcing which ranges from resourcing, advertising, and direct approach recruitment also starts, in the event that new and more qualified applicants may be interested in applying for the available position.
Once the selection has been completed, the screening phase will start.
During the screening stage, all applicants are subjected to comprehensive interviews and needs analysis. If they make it through the evaluators, the profiles of the shortlisted applicants are presented to the hiring clients for selection or approval. Those who make the cut will then be scheduled for employer interviews for another round of evaluation. Only the successful applicants who make it beyond this point will be required to submit the documentary requirements, take the medical screening, and process their travel documents to be able to proceed to the next stage of the recruitment.
The last and final stage of the recruitment process is, of course, the documentation and deployment phase.
Once the applicants successfully complete all the requirements, they will be monitored until they are deployed to their workplace destination.
Also Read: Manpower Agency: 10 Things OFWs Should Consider
The Jobseekers' Application Process
Understanding the GTI Recruitment process is one thing, but for applicants, this process takes a slightly different form. You'll need to prepare beforehand, so it will be in your best interest to have the following documents on hand before you even start the actual application process:
Updated resume with detailed job descriptions
Relevant Employment Certificates
Certificate of Trainings and Seminars Attended
Valid copy of Passport and NBI Clearance
Three (3) pcs. of your most recent 2×2 Photo
Now, once you have these on hand, you will need to follow these steps so you may get a shot at possibly getting hired for your desired position:
Visit the GTI Recruitment website at http://gti-recruitment.com/.
Click Enter as a Jobseeker and you will be redirected to http://gti-recruitment.com/jobseeker.php.
From there, you may either click on Available Jobs (http://gti-recruitment.com/availablejobs.html) to check the latest job openings or click Submit Your CV and fill out the form for manpower pooling.
Upon submission of your CV to GTI, a GTI consultant will evaluate your qualifications in reference to the job you are applying for.
If you make it beyond the initial screening by the evaluators, you will be invited personally for an interview.
If the interview is successful and you qualify for the job you desire, then your name will be included in the list of shortlisted applicants which will be sent to the client for his immediate review and evaluation.
If your profile makes it beyond this point and the client approves, you will be invited for another round of interviews done either in person, via mobile phone call, or via Skype.
If you pass the client/employer interview, you will be notified within 1 – 15 days for further instructions and documentary requirements. Note that some clients may take more time in selecting their candidates so if you don't hear from GTI in 15 days, you are encouraged to call or reach out to the GTI consultant for a follow up.
For more information, you may reach out to GTI Recruitment agency at telephone number (02) 8217940; 09282948148; 09296703646 or send an email to info@gti-recruitment.com so a GTI recruiter can contact you for further instructions. If you prefer to be a walk-in applicant, you may also do so by visiting the GTI Recruitment agency to submit your CV for immediate screening. The office of GTI Recruitment, Inc. is located at 4/F, Corela Bldg., 3713 Bautista St., Palanan, Makati City, Philippines.
Video: Applying via GTI Recruitment Inc.
If you need to know how the actual recruitment process works, you may hear it straight from the mouth of one of the successful applicants placed by GTI Recruitment by watching this video:
Also Read: How to Become an OFW and Work Abroad
Frequently Asked Questions (FAQs)
If you are an applicant, you probably have tons of questions that we weren't able to answer in other sections of this article, so we gathered all the frequently asked questions and tried our best to provide an answer to cut down on the time wasted on email exchanges to ask and answer them.
Here are some of the common questions applicants need answers to when it comes to applications via GTI Recruitment Inc.:
1. What services does GTI Recruitment Inc. offer?
GTI Recruitment offers impeccable recruitment services to all their stakeholders. That means, their process includes refining their actual needs, pinpointing specific requirements, and identifying the right click of culture to optimize their talent placement in such a way that will be beneficial to the corporate partners' business growth and transformation. Their extensive experience and presence are consistently recognized for the excellent service they offer across major industry sectors worldwide which involves the following:
Turnkey Recruiting And Deployment

job profiling
competency, outcome-based, and legally compliant interviewing technique
background credential verification
innovative talent sourcing
rigorous selection methodologies and assessments
administrative and management support

Contract Staffing
Their contract staffing services offer the following benefits:

The ability to hire for specific projects for a period of time
Improved access to experts in hard-to-find disciplines
Transfer of complex HR, logistical and statutory compliance responsibilities to expert providers
Professional competence in the area of immigration protocols and compliance including issuance of appropriate visas/work permits including tax compliance
Travel logistics (such as airfare, transport) handling and reliable service upon arrival in the host country

Executive Recruitment

Proven methodology, delivery, and experience in negotiating and delivering major contracts and running simultaneous recruitment campaigns for companies in the Hospitality, Healthcare, Construction and Engineering, Oil and Gas industries for successful delivery that scales to your organization.
Attract and retain top technical officials.
Development of an attractive Employee Value Proposition (EVP) that attracts the best talents.
Impeccable referral network with high rates of successful placement.
One of the most thorough screening and selection processes in the global recruitment industry.
2. What are the hottest opportunities available at GTI Recruitment?
Some of the hottest opportunities on offer at GTI Recruitment include executive, professional & non professional, and technical, skilled / trades worker positions in various countries around the world.
3. How does GTI find the perfect job for their applicants overseas?
GTI Recruitment runs a search of their existing database of applicants every time a job order request comes in. They also look at new applications upon submission of CVs by assigning a consultant to screen the jobseeker's qualifications to see if it matches the job requirements. Ifit does, applicants are invited for a second round of evaluation, which usually involves an interview. If the applicant qualifies for the job, they are then included in the shortlist sent to the client for evaluation and approval. Passing the client's evaluation would subject the applicant to a round of personal, mobile, and Skype interviews arranged and scheduled by GTI with the employer.
4. How will I know if I was included in the list of shortlisted candidates?
GTI has a very active team of consultants who ensures that all candidates are kept up-to-date regarding their application status, regardless if they were or were not included in the shortlist approved by the hiring client. In case an applicant doesn't hear back from the GTI consultant, or if they wish to follow up on their application status, they are encouraged to reach out to the assigned GTI consultant 2-3 weeks after the completion of the initial assessment.
5. If I failed the Initial Assessment, can I still have a chance to apply for work abroad?
Yes. In the event that an applicant fails the initial assessment for their desired position, they are still welcome to check other job openings available on the GTI's list of available jobs. Applicants are advised to check their qualifications and skills and to ensure that they have what it takes to do the job, so they will have more success during the recruitment process.
6. How long does it take for the results of the client/employer interview to be released?
It usually varies depending on the client and the industry as they usually keep to their own standard and timetable, but it is safe to wait for 1 to 15 days for the results. In case the applicant wishes to follow up and end the pain of waiting, they are encouraged to reach out to the GTI consultant that they transact with or to GTI directly to follow up.
7. What happens after the selection stage is over?
If the applicant makes it beyond the selection stage, they will receive a job offer from the client. Upon signing the offer, they will be turned over to the GTI documentation and processing team so that they may get assistance regarding the other documentary requirements as well as training, orientations, and travel permit processing required for deployment.
8. Are there other requirements aside from the ones listed as documentary requirements during the application?
Yes. Applicants may have to undergo tests and training and produce a documentary proof for doing so, but these requirements vary depending on the job and the destination country for deployment. Some of the important documents and training/seminar that applicants should prepare for include:
Complete Medical Examination (per country based)
Documentary Requirements (per country based)
PDOS – Pre Departure Orientation Seminar
Final Briefing – Travel tips and latest advisory (GTI Personnel)
GTI Recruitment also monitors the successful applicants closely and reports the up-to-date timetable from the selection process up to the time of their departure date.
9. If I still have some questions or concerns about the GTI overseas recruitment, how can I reach out to the right personnel?
As a renowned recruitment agency, GTI Recruitment ensures that all stakeholders get the best assistance there is, meaning, all the questions that require answers are addressed promptly. Having said that, applicants with questions or concerns are encouraged to call GTI Recruitment at telephone numbers 02 -9409592 so a GTI staff member can provide assistance or direct them to the concerned personnel.
10. How can I stay updated on job openings at GTI Recruitment Inc.?
To stay updated regarding the latest job openings available at GTI Recruitment, applicants are encouraged to regularly visit the GTI website or social media pages. For more information, they can simply check via the following links:
GTI Recruitment website (Jobseekers page): http://gti-recruitment.com/availablejobs.html
GTI Recruitment Facebook page: https://web.facebook.com/gtirecruitment/
GTI Recruitment Twitter: https://twitter.com/gti_inc
GTI Recruitment LinkedIn: https://www.linkedin.com/in/gti-recruitment-inc-505188b5/
Also Read: IPAMS Recruitment Agency for Overseas Filipino Workers
Summary
GTI Recruitment Inc. prides itself for having successfully served millions of employers and jobseekers since they started. Thanks to their people-centric approach, they have earned the reputation of being one of the world's most dynamic recruitment agencies, meaning, they have the ability to adapt to the changing times, which results in increased trust from their stakeholders. Their superior solution and impeccable recruitment and cross-border deployment service is well-known to a broad range of industry sectors, allowing them to consistently offer quality service as an innovative market player in the recruitment industry.
Contact Information
In case an applicant or client needs to contact GTI Recruitment Inc. for any reason, be it an inquiry or a concern, they are encouraged to reach out to GTI directly through the following contact information:
GTI Recruitment, Inc.
4th Floor Corela Bldg., 3713 Bautista St., Palanan, Makati City, Philippines 1235
Phone number: (02) 8217940
Website: http://gti-recruitment.com/
Email address: info@gtirecruitment.com
Facebook page: @gtirecruitment
LinkedIn: https://www.linkedin.com/in/gti-recruitment-inc-505188b5
They may also reach out to GTI by using the Contact Us form on the GTI website, http://gti-recruitment.com/contactus.php