Industrial Personnel & Management Services, Inc. (IPAMS) is a well-established recruitment agency in the Philippines for Filipinos looking for employment at reputable companies abroad. IPAMS has been helping Filipinos find employment abroad for over 50 years. The company has a strong network of connections and it offers a range of services to its clients, from resume writing and job placement to visa processing and travel assistance. The company also provides pre-employment orientation to ensure that employees are well-prepared for their new jobs. With its dedication to excellence and commitment to helping its clients reach their full potential, it is no wonder that IPAMS is one of the most trusted names in Philippine recruitment.
Also Read: 12 Reasons Why Filipinos Want to Work Abroad
One of the best things about IPAMS is that they are a NO-FEE charging company. This means that they do not extract placement fees, processing fees, or salary deductions from all their job candidates. For those planning to become Overseas Filipino Workers (OFWs), this makes IPAMS one of the most attractive options as it guarantees that you will receive your full salary once hired.
In order to attract and retain the best talent, they also ensure that their illustrious clients are the finest sources of employment for Filipino professionals. In return, they select only the most qualified individuals for these positions for their distinguished worldwide clientele.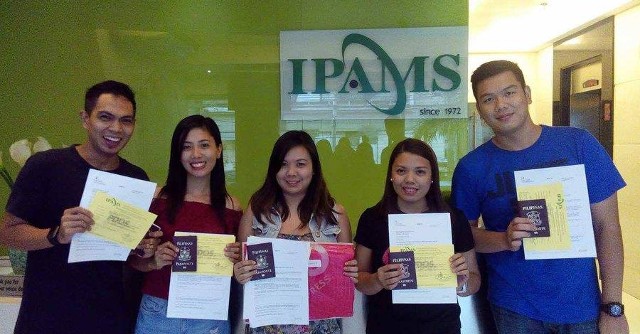 Even when Industrial Personnel & Management Services, Inc. (IPAMS) founder Raymond E. Wilmarth, Ph.D., retired as the IPAMS President Emeritus Chairman of the Board, he lived his life by taking the company under his wing and bringing it forward.
Wilmarth's journey has been about extraordinary service and labor relations, but this wasn't enough for the founder, as he introduced his own values, ethics, and strategies into the world, through IPAMS, a placement agency for Filipino professionals.
What is IPAMS Agency? Industrial Personnel & Management Services, Inc.
IPAMS is a licensed and multi-awarded recruitment agency based in the Philippines. It is reputed for excellent career placement, mostly among Filipino professionals and workers worldwide. Established in 1971 and incorporated in 1972, the 30-year-old company is believed to have had over 50,000 excellent workers placed and settled in various companies in different parts of the world.
As an agency, IPAMS was established as the brainchild of Dr. Wilmarth after his 16 years of exemplary service at Caltex. IPAMS was his second company, and it was launched after Wilmarth's Industrial Relations Counseling Practice, Raymond E. Wilmarth & Associates, which was set up so he could keep working as an independent counselor for Caltex. Later on, through his efforts and skills, IPAMS expanded its operations globally, placing Filipino professionals in various fields worldwide.
Fifty years later, IPAMS remains one of the world's leading placement agencies. Not only do they secure the best placements around the world, but they also successfully pooled the best talents the Philippines has to offer, thanks to the stringent processes they have in place—with tried and tested theories and practices the founder himself swore by during his years with the most successful companies.
Also Read: 10 Important Lessons every OFW will Learn when Working Abroad
What does IPAMS Mean?
IPAMS stands for Industrial Personnel & Management Services, Inc. (IPAMS).
List of Job Vacancies in IPAMS
IPAMS recruits for various industries. Their job opening include positions in:
Aviation

Administration

Engineering

Food and Beverage/Hospitality

Oil and Gas

Hospitality

Manufacturing

Sales and Retail

Healthcare

Skilled Work

Technical Work

Utilities
For specific job openings, you may visit IPAMS agency through the following channels:
Website – https://ipams.com/jobseeker
Mobile App – download for free via Apple Store and Google Play
Official Social Media Pages: Facebook, Instagram, and Twitter – @ipamsph
Linkedin – https://www.linkedin.com/company/ipams
Youtube Channel – https://www.youtube.com/c/ipamsphsocialmedia
How to Apply for a Job via IPAMS Agency
Slowly but surely, IPAMS built a solid foundation to back up the excellent service they are promising to their stakeholders. It took a while to shift the prevailing beliefs about staffing companies and made it thrive for over 50 years. So, suppose you want to join a company whose reputation speaks of success regarding the placement of licensed, certified, and experienced persons who have what it takes to thrive in specific fields and industries. In that case, this is the place to be.
Requirements
To get started with your applications via IPAMS, you will need to prepare the following requirements so you can have them sent when you receive an invitation from the recruiters.
Printed Application Form with your signature affixed. 

Evaluation Form based on your preferred position.

Detailed and updated resume/CV in MS Word or PDF format. 

Updated Photo on Resume taken within 6 months of your application.

Valid Passport. 

NBI Clearance with a minimum validity of at least 6 months. 

Education Credentials 

Diploma

Transcript of Records or Form 137 for High School

TESDA Certificates

Training Certificates

Certificate of Employment (COE) 

OFW Information Sheet (if no COE is available)

For Ex-KSA workers, a copy of the Final Exit Clearance if applying for a KSA job placement 

Printed mandatory PEOS certificate 

e-Registration form.

Foreign Police Certificate (for applicants who previously worked overseas).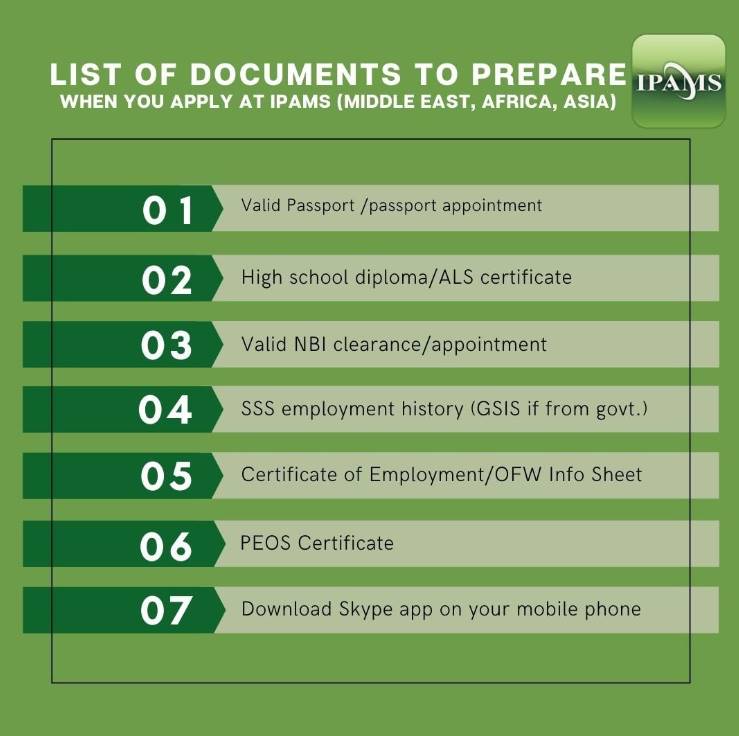 The last item in the list of requirements varies per country of destination, but former OFW applicants must secure this before they leave the country where they are employed.
Other requirements are detailed in the following links:

Canada Jobs – https://ipams.com/canada

Healthcare jobs – https://ipams.com/healthcare

Cabin Crew – https://ipams.com/cabin-crew

Skilled/Professional jobs in other countries – https://ipams.com/jobseeker
Upon receiving a job offer, applicants will need to present the original copies of the documents for verification purposes.
Applying for a Job via IPAMS
When applying for any of the vacant positions offered by IPAMS, applicants must:
Pick the desired job from among the available job posts and apply through any of the following channels: 

Jobseekers Page and Mobile App – create your account and apply for the desired post.

IPAMS' official social media accounts publish email addresses based on the job openings.

Google Sheets are published through official social media accounts.

Click the Register to Apply button to register and apply for the desired position.

Choose the correct application form based on your preferred position:

IPAMS General Evaluation Form:

For applicants for technical, skilled, customer service, administrative, and other professional positions

IPAMS Evaluation Form Healthcare and Medical Services:

For applicants for positions related to healthcare and other medical services

Registered Nurse (RN) Skill Self Assessment Form: For applicants who are licensed in the nursing profession
Cabin Crew Evaluation Form: For applicants for the cabin crew/flight attendant position

Accomplish the correct form by filling it up with your personal details.

Upload your resume or CV in MS Word or PDF format.
Note that once all the required documents are uploaded, you will have completed your IPAMS registration.
Once the IPAMS registration is completed, wait until the preliminary evaluation is over, as IPAMS will then contact all the shortlisted candidates. They matched the job description and submitted all the initial requirements. 

The shortlisted applicants will also receive an email from the IPAMS recruiters to submit the initial requirements and prepare for the initial screening, which will be done either via Zoom or Skype application. Sometimes, phone interviews are also conducted, so ensure you have the correct mobile phone number on the uploaded CV.
Note that all message exchanges or conversations between you and the IPAMS staff are strictly confidential. Sharing with others, taking screenshots, and posting messages on social media is prohibited and may result in disqualification of application even if you are already shortlisted for the position.
Applicants will receive an email or text message regarding their application or future final interview schedules with the employers. The following platforms will be used for the final interviews:

Skype

Zoom

Teams (Microsoft)

Other free apps as requested by the employer
Never send messages directly to your employer, especially if you want to follow up on your final interview result. Instead, reach out to IPAMS, as they will provide you with the results.
Interviewed applicants will receive a notification showing the result of your application from IPAMS if they are:

hired with a job offer

rejected

hired as a back-up
Note that all applications and related information received by IPAMS, whether qualified or not, will be stored in the IPAMS database for at most six (6) months. Beyond that, all information will be discarded per the IPAMS Data Privacy Policy. 
Also, during this time, IPAMS is strictly implementing guidelines that will ensure the health and safety of everyone, in compliance with the DOH's advisory regarding social distancing. That said, here are some things that interested applicants must remember:
All applications are registered online through the IPAMS Website or the IPAMS Mobile App.

IPAMS recruiters routinely check these submitted applications every day, so if you qualify based on the initial qualifications stated in the job description, you can expect them to reach out to you via mobile phone or social media app (Skype or Facebook Messenger). Likewise, there is no need to visit to confirm if the application has been received.

For shortlisted candidates preparing for the final interview, note that IPAMS makes all the necessary arrangements with the prospective employers regarding how the final interviews will be conducted. For updates, IPAMS will revert to the shortlisted candidates via email, skype, or Facebook Messenger.

For in-process workers who are getting ready for mobilization, only IPAMS project officers handling the mobilization process can provide instructions and respond to queries regarding your mobilization status.
Tips for IPAMS Applicants
IPAMS prides itself on its success in placing excellent professionals worldwide. This success is no small feat, and part of it stems from their careful nurturing that almost always leads to successful placements in their preferred locations. 
In nurturing the applicants, IPAMS has on-site tips and reminders to help the applicants successfully secure their preferred positions.
Writing your Resume/CV
Update your resume/CV and ensure it reflects the complete information about you, your educational background, and your work history. 

Always list all your tasks, responsibilities, and job descriptions truthfully.  

Make sure that the employment dates on your work history match those on your Certificate of Employment (COE). 

Update your contact information, including your mobile numbers and email addresses, so you can be contacted immediately without missing important feedback and updates.

Be true to your CV. State whether you are a college undergraduate or not, whether you resigned or were retrenched on your last job. Don't be afraid to put these important details, but don't forget to state why.
Note that providing the complete and accurate information on your CV will help the evaluators assess your qualifications for the position you are applying for. This will also improve the strength of your resume as it is highly dependent on the details of the job titles you once held. 
Interview Tips for IPAMS Applicants
Pay close attention to every detail of the job opening to see if it is something you can and are qualified to do. Make sure you match the qualifications and have the necessary experience or background to do the job. Do away with the "try ko lang" mentality. Not all companies happily welcome interns and would be nice enough to let you learn while on their grounds. 

Do your homework and check out the company and the work location. It's not enough to know that the company is legit, so personally checking for more information about it is a necessary step when applying for a job. It would help you answer the job interview question and give you an idea if it was where you see yourself growing into a much better individual for a certain period. Plus, knowing about the company and surrounding areas will be pretty helpful when you actually get hired. You may check Google, Wikipedia, Youtube, or any online site to help you have a better understanding of the country's culture, traditions, rules, and labor policies. Take the time to also check if there is a Philippine Embassy or Labor Office nearby in case of emergencies.

Get your Pre-employment Orientation Seminar (PEOS) Certificate. The Pre-Employment Orientation Seminar (PEOS) certificate is a mandatory requirement set by the Department of Migrant Workers (DMW, formerly known as the Philippine Overseas Employment Agency or POEA). It is a necessary document to secure if you are looking to apply for a job overseas.
For more information about obtaining your PEOS certificate, you may check our previous article on How to Register POEA Pre-Employment Orientation Seminar (PEOS) Certificate Online.
Research about the agency. Whether it's IPAMS or any other agency, you should always do your due diligence and check on the agency and its status. Visit their official website or check the government's list of registered agencies and ensure they have the necessary licenses. Check the reviews and comments about the agency and find out whether or not they collect placement fees. Check the location and verify that they have a legitimate office that runs a legitimate operation before entrusting them with your sensitive personal information and IDs. This will ensure you don't fall prey to illegal recruiters.

Prepare yourself and your outfit for the interview. Keep in mind that the first impression lasts. Make sure you dress appropriately in neat clothing and wear your best smile during the interviews. Avoid cloying scents, wear mild perfume/cologne, and make sure you bring breath mints to keep your breath fresh during the wait. Sit properly and avoid stretching or yawning. Keep your posture and ensure you have enough confidence to communicate in English before attending the interview.

Be attentive and interactive. That said, listen carefully and answer appropriately. Avoid making the interviewer repeat himself. When answering, make sure to keep eye contact and smile. Don't stutter, and make sure your nerves don't show. Keep your emotions in check, and do not show desperation or that you badly need the job. Just be confident and answer the interview question as factual as possible. 

Never ask for the salary offer during an interview. Instead, show off your capabilities and convince the interviewer that you should be hired for the job. Salary offers usually depend on the skills and qualifications and is typically discussed at the end of the interview, so there is no need to ask.

Be respectful. Remember: Interviewers are trained to ask questions that they need to ask and to assess applicants simply from their demeanor, attitude, and answers. They hold the key if you want to successfully ace the interview. It pays to stay humble, knowing that your future as an employee is in the hands of the person conducting your interview. That said, respect their position and know they are always better than you if you are still an applicant, so you can't be snotty or show a bad attitude towards them.

Listen carefully and remember the interviewer's instructions. Take down notes if you have to, but do note that the interviewers won't say anything that is not important to your application. That said, make sure you understand and remember what they tell you. Or, if it's unclear, ask clarificatory questions and ensure you know what they tell you before you leave.

If you ace the initial interview and you get scheduled for the employer's final interview, just follow the instructions stated in your email invitation to the letter. Applicants need to prove to their employers that they can follow instructions when necessary. It shows that you are a reliable person who understands orders and is willing to do so should you get hired for the position.
No Placement Fees
IPAMS doesn't collect any fees. Unlike other agencies that falsely advertise "no fees" but charge applicants in the form of hidden charges, IPAMS maintains its position of "no placement fee, no processing fees, and no salary deduction arrangement for all its worldwide recruitment.
It's a golden rule for IPAMS, traced back to when it was founded in 1971. According to them, all charges, including recruitment and deployment expenses and the initial compulsory insurance coverage, are paid for by their clients so they can maintain the highest standards of integrity and service without collecting fees from their applicants.
Salary Rates and Benefits
Typically, salary rate offers are commensurate with the applicant's qualifications, skills, and experience. At IPAMS, salary rates are usually not discussed until after the selection process is complete. It is generally addressed in a formalized Offer of Employment, along with the accompanying employee benefits package and other terms and conditions stipulated in the Employment Contract.
As IPAMS only chooses the most reputable clients, the placement agency promises applicants that they can be assured that they will get a highly competitive compensation and benefits package if they make it through the final interview.
Top Reasons to choose the IPAMS agency
IPAMS agency boasts one of the widest employment opportunities for Filipino professionals. Some reputable market leaders come from aviation, administration, engineering, food and beverage, hospitality, oil and gas, manufacturing, sales and retail, healthcare, skilled work, technical work, and utilities.

It is the most awarded POEA-Licensed agency (both among employers and for best hiring practices). They received the most coveted award for international recruitment agencies and the Presidential Award of Excellence at the Malacanang Palace. At the first and second International Employers Awards, they also received the most awards from employers to recruitment agencies. 

IPAMS prides itself on its ethical recruitment practices, prioritizing quality over quantity and maintaining the zero-fee collection policy since its launch.

They also partner with reputable industry leaders, only working with companies that can offer competitive employee benefits and welfare.
Video: Why choose IPAMS when applying for work Overseas
For more detailed information on the best features that IPAMS as a global recruitment agency offers, you may check this video here:
Frequently Asked Questions (FAQs)
1. What is IPAMS?
IPAMS is a recruitment agency for Overseas Filipino Workers. They help connect qualified workers with potential employers around the world.
2. What services does IPAMS offer?
IPAMS offers a variety of services, including job placement, pre-departure orientation, and visa assistance. They also provide support to workers after they have relocated to their new country of employment.
3. How do I apply for a job through IPAMS?
You can apply for a job through IPAMS by creating a profile on their website. You will need to provide your personal information, education and work history, and skills and abilities. You can also upload your resume and cover letter. You can also attend Open Day recruitment events whenever there are job openings in companies that IPAMS is recruiting for.
4. What are the requirements for applying for a job through IPAMS?
The requirements for applying for a job through IPAMS vary depending on the position you are applying for. However, most employers will require you to have at least a high school diploma, and some work experience may be required as well.
5. How can I prepare for my interview with IPAMS?
You can prepare for your interview with IPAMS by researching the company and the position you are applying for. You should also practice your answers to common interview questions. Additionally, it is important to dress professionally and arrives early to your interview.
6. What is the process for hiring an Overseas Filipino Worker through IPAMS?
The process for hiring an Overseas Filipino Worker through IPAMS varies depending on the country of employment. In general, the employer will first contact IPAMS to find qualified candidates. IPAMS will then screen the candidates and provide the employer with a shortlist of candidates to interview. The employer will then select a candidate and negotiate terms of employment with them. Once the contract is signed, the worker will begin the process of applying for a work visa. After the visa is approved, the worker will make arrangements to relocate to their new country of employment.
7. What are some tips for finding a job through IPAMS?
Some tips for finding a job through IPAMS include creating a strong profile, staying up-to-date on job openings, and attending Open Day recruitment events. Additionally, it is important to dress professionally and arrive early to your interview.
8. How can I stay updated on job openings through IPAMS?
You can stay updated on job openings through IPAMS by subscribing to their email newsletter. You can also follow them on social media, such as Facebook and Twitter. Additionally, you can check their website regularly for new job postings.
9. I applied and made it to the final interview, but I did not get a callback from IPAMS. Can I apply again?
Yes. Do note that whenever you do not receive any notification after the final interview, it generally means that you didn't make the cut for your desired position. However, this does not mean that you should not apply again. As long as you believe that you have the qualifications for a specific vacant position, then, by all means, feel free to try your luck again. Ensure you keep your resume/CV updated, especially if you attended additional training or gained other experience. You may also check the IPAMS website and social media accounts from time to time to check for new job posts or scheduled training.
10. I'm having problems registering for an account online. What should I do?
If you have issues with account registration, you may check if you already have a previously registered account using the same email address. If you do, but you forgot the password, try logging in using the same email address and click "forgot password" to get a new one.
11. I can't register for an account because I do not have a Pre-Employment Orientation Seminar (PEOS) ID. What should I do?
Before trying again, you can secure a Pre-Employment Orientation Seminar (PEOS) ID. But, if it still doesn't work, you may email support@ipams.com along with a screenshot of the issue/error message, and an IPAMS staff will get back to you.
12. Is it okay to apply for multiple open positions?
Yes. It's okay to apply to at most two (2) open positions simultaneously. However, it's still best to apply only for jobs you are qualified for or have experience with, as all applications will still be evaluated according to your qualifications. You may also get matched for other vacancies. Suppose you wish to either apply for another position, make revisions to your application, or update your resume. In that case, you may also visit the job seekers page and log into your account using your email and password.
Also Read: Why you Need to Keep your Options Open when Working Abroad
13. I'm living and working abroad. Can I still apply?
Yes. You need to apply online, so your personal information will be saved and stored in the IPAMS database for future reference. When a matching vacancy becomes available, depending on the mobilization requirement date, you may be considered and invited to apply. Do not forget to update your resume consistently by logging in using your email address and password.
Summary
Apart from their recruiting dedication, IPAMS' fifty years of accrued experience in the field means they know the market well enough to know what candidates and characteristics will be the best fit for their clients. They've also built networks and connections, which means applying or hiring through them will ensure a high chance of landing golden acorns and purple squirrels.
Contact Information
Address: IPAMS Bldg., 723 Aurora Boulevard, New Manila, Quezon City, 1112
Telephone Number: +632.82345635, +632.82345639, +632.82345637, +632.82345640, +63917.625.9759, +63923.085.8907
Operating hours: 8:00am – 12:00pm, 1:00pm – 6:00pm Mondays to Fridays, Manila Time, They are also open during Philippine holidays.
Website: https://www.ipams.com/
Facebook Page: @ipamsph
If you have other questions or concerns that we failed to answer in this article, please feel free to contact IPAMS by going through any of the following channels:
The IPAMS CONTACT US page is accessible via https://www.ipams.com/contact. Simply fill out the required fields with your inquiry details, and an IPAMS staff will get back to you.

You may also leave a message via the IPAMS Facebook Page, @ipamsph.

For Balikbayans, the Employee Relations Department will happily address all your concerns either via email – er@ipams.com or via their landline numbers: 02-82345640 to 41 local 501 and 502.
Also Read: 15 Questions to Ask Yourself Before Working Abroad