Great news for newlyweds! You can skip waiting long hours and queuing at the issuing office to get your PSA marriage certificate.
ALSO READ: Everything You Need to Know About Getting a National ID this 2021
As per the Philippine Statistics Authority (PSA), the earliest time you can file a request for a copy of your PSA marriage certificate is three months after the wedding date. This is the most conservative wait time; sometimes, it takes up to six months before a PSA copy is made available. Do note, however, that this will depend on how fast the city or municipal hall (where the marriage was registered) endorses the documents to the PSA for authentication.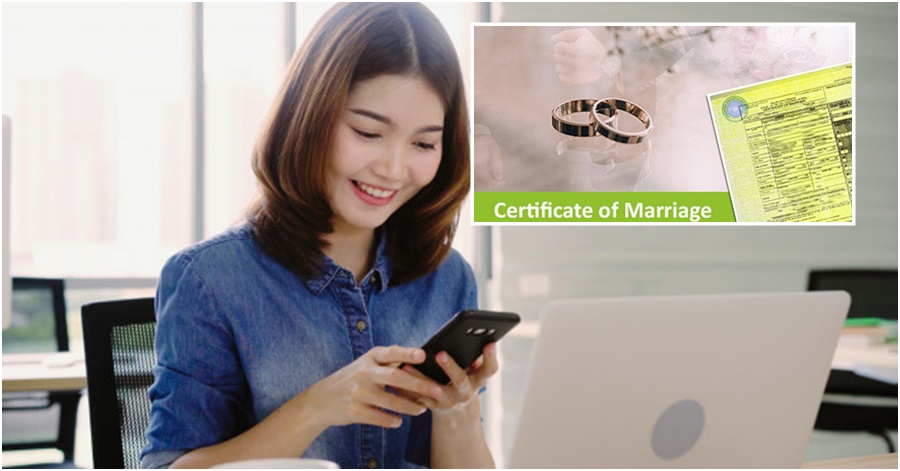 How To Request A Copy Of Your PSA Marriage Certificate Online
In line with this, the very first copy of your PSA marriage certificate must be secured at the nearest PSA office in your area.  All succeeding copies may already be requested online at PSAHelpline.ph.
You may order copies of your PSA marriage certificate on their website and they will deliver these to you. How convenient is that?
To request a copy of your marriage certificate, simply follow these steps:
STEP 1: Go to the PSA's dedicated website for the release of marriage certificates, psahelpline.ph.
STEP 2: Click Get Started. For first time customers (first time to order at the website), click New Customers.
STEP 3:  Read through the Terms of Use and click Next.
STEP 4: Fill out the form with all the details required then click Submit.
STEP 5: The following two pages will request for your delivery address, mobile number, and email address. You will also be asked to create a password for your account. Once you have provided all of the information requested in these two pages, click Submit. The system will send a verification code to your email address so make sure you can access your email right away. The verification code does not have a time limit.
STEP 6: After verification, you will be taken to the page where you can choose the type of PSA certificate you wish to order.
STEP 7: Choose the certificate you would like to request and follow the instructions on the succeeding pages.
Tip: Carefully read and answer all of the questions provided as this will be a legal copy of your official marriage certificate. Treat it as though the document went through a court order for changes on the details and if your birth was registered late.
STEP 8: On the Delivery Page, you will be shown a breakdown of the fees. For quick reference, birth and marriage certificates cost Php 365 each and the CENOMAR costs Php 420. These prices already include processing and delivery fees so it's actually reasonable. After you have verified the delivery address, click Confirm.
You will then receive a 10-digit reference number and you will also be asked to upload a photo of yourself holding your government-issued ID.  For the list of acceptable government-issued IDs, check out the bottom of the page.
Important: Until you are able to upload a selfie that meets the system's standards, you will not be able to proceed to the payment page.
Fees and Payment
As for payment, you may choose among the following approved methods as shown on their website:
VISA or MasterCard Credit Cards – you may pay for your orders directly on their website using any of these credit cards.
GCash – You may pay for your orders using the GCash app.
PayMaya – You may pay for your orders using the app.
7-Eleven – Look for the CLIQQ machine and choose bills payment and type PSAHelpline.ph on the search bar.
BancNet ATMs – Pay using a BancNet ATM by choosing NSOHelpline Plus on the payment menu.
Dragonpay – Once you have submitted the information (proof of identification) required by the system, you will be advised to pay for your order through any of the above payment channels. Once your order is paid, your order will be processed and will be delivered to your registered address. Those residing within Metro Manila can expect to receive their orders within three to five days, while provincial orders take 7 to 8 working days. Also, make sure to check that your area is covered by their delivery fleet.
Do note, however, that for safety and privacy reasons, only the husband and wife can order their PSA marriage certificate at PSAHelpline.ph – this is the reason for the selfie with a government-issued ID requirement. If you want to order for your family and friends, you may do so at the nearest PSA office.
Last year, the government has loosened the protocols for public gatherings and events, which include weddings among others, but with certain restrictions. Now, with services such as these, it's much easier to get government-authorized documents such as the PSA marriage certificate, avoiding the hassle of traditional methods, requiring one to wait in a queue for long hours – not to mention the physical travel, which is highly discouraged nowadays.
FAQs
For more details, here are some of the frequently asked questions (FAQs) related to this service:
I have already paid for the document request, can I cancel?

The PSA has a no-cancellation policy.

Can I request a refund of my payment?

The PSA doesn't have a refund policy, as well.

What can be considered as an unsuccessful delivery?

If the one who ordered could not be tracked and contacted or does not live in the address specified.
If the shipment is refused.
If the address is incomplete or incorrect.

Is it possible to request another delivery in case it was unsuccessful?

Unfortunately, you can't. As per the PSA, an unsuccessful delivery is considered already done. This means that you will need to go through the process again.

What other documents can I request from the PSA?

You can file a request for a copy of birth certificates, marriage certificates, or death certificates.
If you would like to learn more about the process employed by the PSAHelpline, you may visit their website and check out the updates and guidelines using this link.
READ NEXT:  How to Request for PSA Birth Certificate