As you go through the "adulting" phase of your life, your need for legal documents becomes more defined. Whether you are an OFW or a regular adult working within the country, you know that upon reaching the legal age, one of the many things that you need is to know how to apply for a birth certificate.
The document is a requirement for almost every document or ID you need to apply for—whether it's a passport, a driver's license, or a new visa. It is also required upon enrollment in school or when looking for a job. Plus, having a birth certificate on hand is a simple way to prove your birth date and identity—something you actually need to do now and then.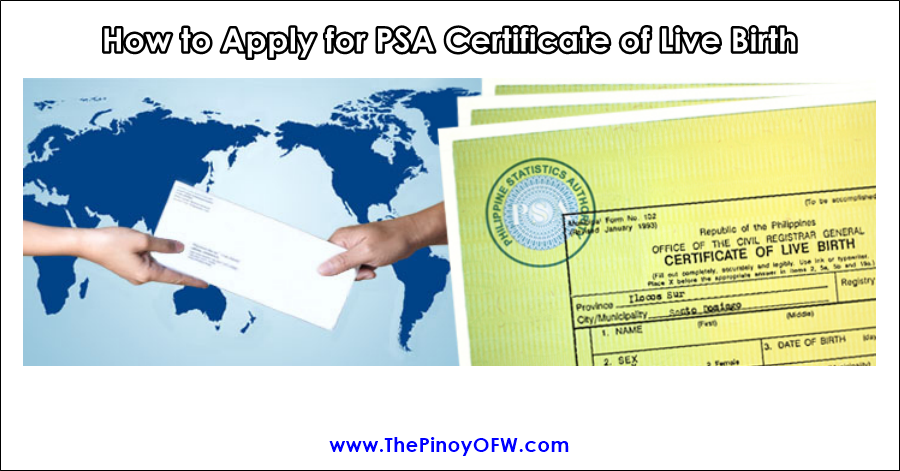 What is a birth certificate?
A birth certificate is a vital record, an official form that establishes the birth of a child and gives details on a person's birth – including the name, sex, mother's name, (usually) father's name, time, and place. The term "birth certificate" may refer to either the original document or a certified true copy of the original record of birth, and is typically issued after birth or upon request.
The first copy of your birth certificate is issued shortly after birth, after the doctor files the required forms with the proper government agency, usually the local civil registrar's office. The official birth certificate is kept at LCR, a place where records are archived inside the NSO. This document is used to authenticate one's identity and nationality, assist with applications for government-issued ID and documents, and prove one's citizenship in nations where citizenship depends on location of birth.
How to get a copy of your birth certificate?
Luckily, requesting for a copy of your birth certificate is not a difficult process. Even for first-timers, getting the document from the Philippine Statistics Authority (PSA) is super easy. To help you out, we run down a step-by-step procedure about how you can apply for the essential birth document, whether online or offline. But first, you need to prepare.
What requirements do you need when getting a PSA birth certificate?
Duly filled out Birth Certificate Application form with correct information
Authorization Letter (if you are not the owner, parent, spouse, direct descendants or legal guardian)
PSA Birth Certificate Fee
What information do you need when requesting for a PSA Birth Certificate?
Complete Name (first, middle, last)
Complete Name of father
Complete Maiden Name of Mother
Date of birth (month, day, year)
Place of birth (city/municipality, province)
If it's registered late, the year of registration
Requestor's complete name and address
Relationship of the requesting party with the child
Number of copies needed
Purpose of certification
Note that the issuance of birth certificate is subject to the confidentiality clause provided for by the Child and Youth Welfare Code.
Art. 7. Nondisclosure of birth records. The records of a person's birth shall be kept strictly confidential and no information relating thereto shall be issued except on the request of any of the following:
The person himself, or any person authorized by him;
His spouse, his parent or parents, his direct descendants, or the guardian or institution legally in charge of him, if he is a minor;
The court or proper public official whenever absolutely necessary in administrative, judicial or other official proceedings to determine the identity of the child's parents or other circumstances surrounding his birth; and
In case of the person's death, the nearest of kin, any person violating the prohibition shall suffer the penalty of imprisonment of at least two months or a fine in an amount not exceeding five hundred pesos, or both, in the discretion of the court.
What are the steps when requesting for issuance of a PSA Birth Certificate?
Getting a copy of your birth certificate can either be online or offline. Whether you choose one or the other, these are the procedures:
1. Walk-in Application
This refers to application made in person, either by the owner or by a representative, and is received at different either the PSA office or from different Census Serbilis Centers. Here's how you do it:
Print the PSA Birth Certificate Application form and fill it out.
With your requirements, submit the documents to the person-in-charge for checking.
Once your ID is returned, proceed to the cashier to pay.
At the cashier, pay P155 for each copy. Keep the OR and remember the date for claiming.
Go back to the Census Serbilis Center on the scheduled release date (with OR, Claim Stub, Valid ID, and Authorization, if applicable) and proceed to the releasing area to claim your PSA Birth Certificate.
2. Via SM Business Center
Here are the steps on how to get a PSA birth certificate, if you choose to go for it via SM Business Center
Print the PSA Birth Certificate Application form or take one from an SM Business Center and fill it out completely.
With your requirements, visit the nearest SM Business Center, get a payment form, and line up to pay at the cashier.
When it's your turn, submit your requirements and pay the fee (it costs P180 per copy, including an additional PHP 25 for the Service fee charged by SM). Make sure to keep the Official Receipt (OR) and the Claim stub.
Go back to the SM Business Center on the scheduled release date. Do not forget to bring the following requirements: OR, Claim Stub, Valid ID, and Authorization, if necessary; before you proceed to the releasing area to get the PSA Birth Certificate.
3. Online, through the Web
We can process online requests for birth certificates in two ways. Either way has its own process and pace, but both are definitely the easiest way to avoid the hassle of long queues and road traffic. Read on and find out how to get your birth certificate online from either PSA Serbilis or PSAHelpline.ph.
4. PSA Serbilis
When going via the one-stop shop for PSA documents like birth certificates, then you would want to go via the PSA Serbilis' website.It was formerly known ase-Census,and is a site primarily handled by PSA themselves. Here are the detailed steps to get your needed document from the PSA via PSA Serbilis:
On the PSA Serbilis homepage, click the "Click here to request now" button.
Read and accept the Terms and Conditions by clicking on the "I Accept" button.
Key in your contact and delivery information, then click the Next button.
Confirm the information you provided.
Choose birth certificate, answer the questions that follow, then click the Next button.
Enter the required personal information, then click Save.
Confirm your details.
Once done, a Requests Summary page will appear. If you do not need to make any changes, click Submit.
You should see an acknowledgment page confirming your successful PSA online application along with the batch request number and request reference number, which you'll need when making payments.

If paying over the counter, print two copies of the Acknowledgment page.
If paying with a credit card, click "Pay online via credit card now" to proceed with the payment.
5. PSAHelpline.ph
PSAHelpline.ph, formerly known as NSOHelpline.com or NSOHelpline, is an online service portal run by Pilipinas Teleserv, an accredited partner of the PSA. Just like PSA Serbilis, PSAHelpline accepts online requests for PSA-authenticated birth certificate, but it only delivers within the Philippines and has a higher cost than that of PSA Serbilis.
Applying for a birth certificate online through PSAHelpline.ph involves the following steps:
Frm the PSAHelpline.ph homepage, click the Order Now button.
Choose birth certificate.
Select the purpose of your request.
Completely fill out the online application form.
On the checkout page, key in your contact details and delivery address, confirm the truth and accuracy of your information, then click Continue.
Select your preferred payment channel. Once done, you'll receive instructions on how to proceed along with a text message and an email message from PSAHelpline containing your reference number.
How to pay for your birth certificate?
Payment for birth certificates requested online can be done via the following channels, depending on whether you requested for it via PSA Serbilis or PSAHelpline.ph. Nevertheless, here's a list of the payment channels acceptable for each provider.
PSA Serbilis
PSA Serbilis accepts payments for PSA birth certificate fees through the following channels:
Bayad Center outlets
Any BDO branch in the Philippines
BDO ATM (for BDO accountholders only)
Any UnionBank branch in the Philippines
UnionBank ATM (for UnionBank accountholders only)
BDO Remit subsidiary offices and remittance partners abroad
Foreign correspondent banks
PSAHelpline.ph
PSAHelpline accepts payments from various over-the-counter and online payment channels nationwide, including the following:
BancNet ATM
Bayad Center
ECPay at any 7-Eleven outlet
Metrobank
PNB
How many days does it take to deliver the birth certificate?
The delivery of birth certificates requested online via PSA Serbilis and PSAHelpline.ph varies for different providers. Whether it is a walk-in or an online request, the release date also varies depending on certain factors like location and courier, but here's a quick guide about the delivery timeframe based on the provider and the delivery location.
Walk-in via PSA Serbilis
Should you decide to go for it and request for your birth certificate via a PSA Serbilis Outlet, note that the processing takes 1 or 2 days, except for those born on or before 1940, which takes 10 working days.
Walk-in via SM Business Center
For requests processed via the SM Business Center, the release of your PSA Birth Certificate will take about four to seven working days.
Online, via PSA Serbilis
For birth certificates requested via PSA Serbilis, the requesting party will have to wait between three to nine working days after payment for orders placed anywhere within Metro Manila and four to 13 working days for PSA birth certificate requests from other cities and provinces within the Philippines. If you requested for a birth certificate via PSA Serbilis and you are residing abroad, you will have to wait between six to eight weeks after payment to receive it. However, if your PSA certificate needs to be searched and retrieved manually, then you can expect to wait for an additional 10 to 15 more days until your birth certificate arrives.
Note that PSA Serbilis sends documents via third-party couriers anytime from Monday to Friday, between 8 a.m. and 5 p.m. (except during holidays). The couriers for deliveries within the Philippines are 2GO Express and LBC Express, whereas overseas deliveries are handled by PHLPost. For express deliveries abroad, PSA Serbilis uses FedEx.
Note that for requests to deliver abroad, the delivery charges shall be covered by the requesting party. Also note that you will have to send an email to info2@psaserbilis.com.ph before the delivery can be booked, and the document shipped. Do not forget to include the following information in the email:
Subject line: Special Courier
Paid PSA Serbilis Batch Request Number
Active FedEx Account Name and Account Number (should match the requester's or document owner's name and from which the shipping cost will be charged)
Delivery type (Priority or Economy)
Complete consignee's name and address (Note that this should match the requester's or document owner's name)
Online, via PSAHelpline.ph
For requests made via PSAHelpline, the delivery of the PSA-authenticated certificates to anywhere in the Philippines ranges from anywhere within two to seven working days after payment.
How to check the status of your request?
Checking the status of your requests is also available for either platform. To do so, you may follow the following procedures:
PSA Serbilis
From the PSA Serbilis homepage, tap "Check the Status of Your Request" found at the lower right corner.
Enter your Batch Request Number or Request Reference Number, then click Go.
For other information on your request status, you may send an email to info@psaserbilis.com.ph to check.
PSAHelpline.ph
From the PSA Helpline homepage, click the Check Status tab.
Enter your order reference number.
Click Submit.
The convenience offered by the online services in the processing of documentary requests like that of PSA Birth Certificate usually comes with a higher price tag and longer timeframe. However, whether it is worth the higher price tag and the longer wait depends on the priorities of the requesting party. This is particularly useful if the requester do not wish to take an absence from work and spend an entire day just to secure a copy of their birth records.
Note that those who are pressed for time or are trying to save money are better off applying in person at a PSA Serbilis Center. Not only can you get your PSA birth certificate within the day or the next working day, but the fees are also much lower.