The Department of Labor and Employment (DOLE) has made good on its promise to begin the issuance of free iDOLE Overseas Filipino Workers (OFW) identification card – a replacement for the Overseas Employment Certificate (OEC). The new OFW ID is meant to not only prove that the individual is legally employed and certified by the Philippine Overseas Employment Agency (POEA), but also to make the migrant workers' life a lot easier when transacting with agencies.
Not only does the new OFW ID serve as a legal proof of a migrant worker´s license to work in the country, but it also doubles as a unified entry and exit pass to Immigration gates and a quick pass for ease in transacting with agencies such as Social Security System (SSS), Philhealth, and PAG-IBIG. In addition to these benefits, it provides travel with no terminal fees and also doubles as an ATM card for the OFW Bank.
The good news, according to Labor Secretary Silvestre Bello III, is that the ID is free for OFWs, and will be paid for by the Overseas Workers Welfare Association (OWWA).
"This is free for our OFWs. We do not want our OFWs to shoulder the cost because this is a gift from the President [Duterte] to recognize their sacrifices and immense contribution to our economy," he had said.
As proof of this happy news for OFWs, a Facebook user named Rich Esquerra had posted about how he got his. In his post, he shared a few tips that would make the ID application as hassle-free for the others as it had been for him.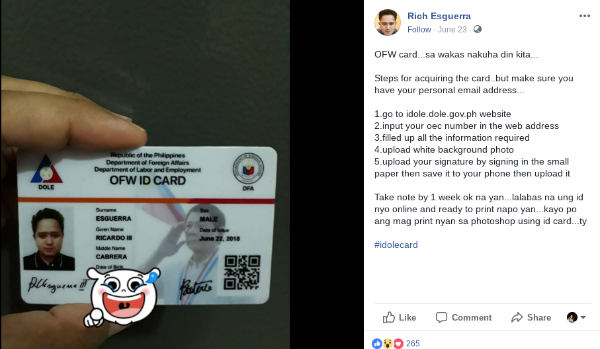 How to apply for and get the iDOLE OFW ID?
Here is the step-by-step guide in securing this one-of-a-kind wonder card for migrant workers in the Philippines:
1. Secure everything that you would need in your application for the ID.
Valid email address
latest OEC number
Your scanned photo with white background
Your scanned signature on a piece of white paper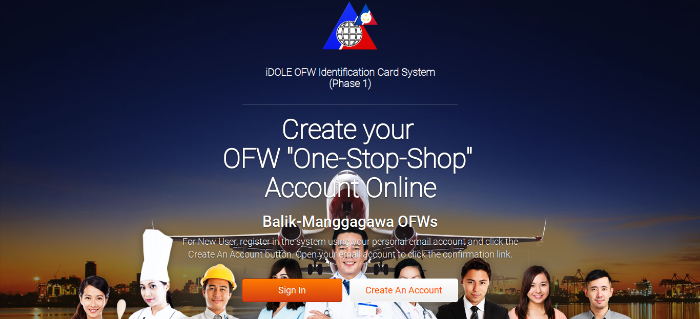 2. Go to iDOLE website and register for an OFW account (if you still don´t have one!).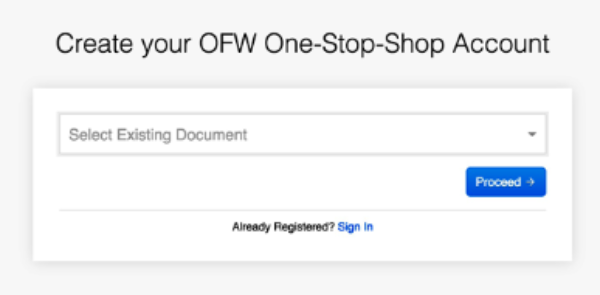 3. Completely fill out the form you are redirected to and click SUBMIT.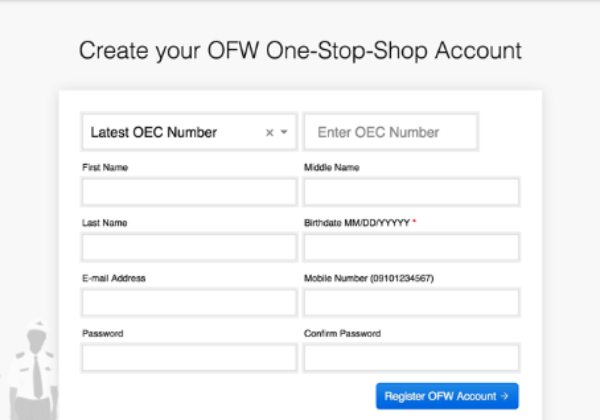 4. After the account is set up, log in and click the 'iDOLE One Stop Shop' button, then click "OFW ID Card."
5. Choose your desired delivery type and the nearest Philippine Overseas Employment Agency (POEA) office to your location for claiming your ID, then click SUBMIT.
6. You should see the confirmation message which says,
"Your OFW ID has been generated successfully."
along with your OFW ID Number and confirmation details. You may print this out and bring this to the POEA office upon pick up.
It should take about a week before the ID is released. When picking up the ID, come prepared because while it is free for OFWs, there are a few things necessary to avoid going back and forth just to claim your ID.
7. When claiming your ID, check this guide:
Make sure you have 2 or more valid IDs as proof of your identification. Government IDs or your OEC should be fine.
Approach the person-in-charge for your application.
If necessary, present your OEC, otherwise wait as your name is verified from the OFW database.
After successful verification, your ID will then be printed and will be made ready for release.
Wait until your name is called for the release of your iDoLE ID Card.