Japanese Ambassador Koji Haneda has announced at the 44th Philippine Business Conference that the Japanese government is opening its doors to welcome aspiring Filipinos in various industries, to serve its aging population.
"Japan faces an aging society and lacks labor force, while the Philippines is abundant with young labor force with great potential," Ambassador Haneda said.
A few months back, POEA announced that Japan will be opening new opportunities for Filipino nurses, farmers, construction workers, shipbuilders and those in the hospitality sector to make a beeline for available jobs in Japan in the next six years. According to POEA Administrator Bernard Olalia, "It will run into thousands, especially because Japan will host the Tokyo Olympics. They will need a lot of workers."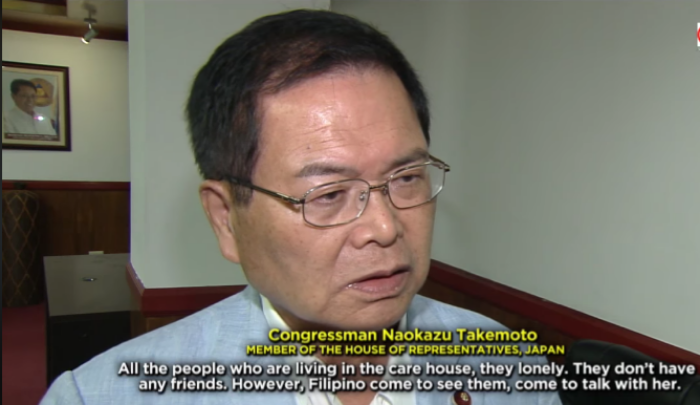 POEA announced that the Japanese government is offering the technical intern training program (TITP), a new deployment scheme which allows a worker to start as a trainee. The scheme will cover about 77 kinds of jobs needed in the TITP. This includes jobs in caregiving, textile and machinery, and construction.
The expected salary under the TITP is also made attractive to migrant Filipino workers. For instance, caregivers are offered a monthly salary of ¥160,000 which is equivalent to about Php 70,000.
In addition to the TTIP, Haneda also said that the government of Prime Minister Shinzo Abe is set to deliberate on finalizing a new policy on residency status for foreign workers which will allow temporary residence to foreign manual laborers. This policy will create a new residency status that would allow foreign workers in various industries to stay for 5 years. It will also effectively lift the ban on the recruitment of foreigners for manual labor.
At present, there are 153,600 Filipino workers in Japan which is about 12 percent of the total number of foreigners workers. Most of them are also in highly specialized fields like engineering and the academe as Japan only allows hiring of highly-skilled foreign workers. Filipino nurses and caregivers are also allowed only because of the provisions of the Japan-Philippines Economic Partnership Agreement, which took effect in 2008.
With these new programs, Japan and the Philippines is expected to build a relationship where Japan can teach Filipino trainees who will also serve their aging population. The new ideas that the trainees get while earning a decent amount of cash in the process, can be used for putting up their own businesses when they return to the Philippines.
Meanwhile, Haneda also expressed hopes that this will make more Filipinos want to keep coming to Japan.