An overseas Filipino worker (OFW) working as a receptionist in a spa in Kuwait was reportedly beaten and stabbed with a screwdriver by two drunk Kuwait nationals after he turned them away from their establishment.
Also Read: Do's and Dont's in Kuwait
The assault had been caught on CCTV footage, which revealed what had happened prior and at the time of the incident.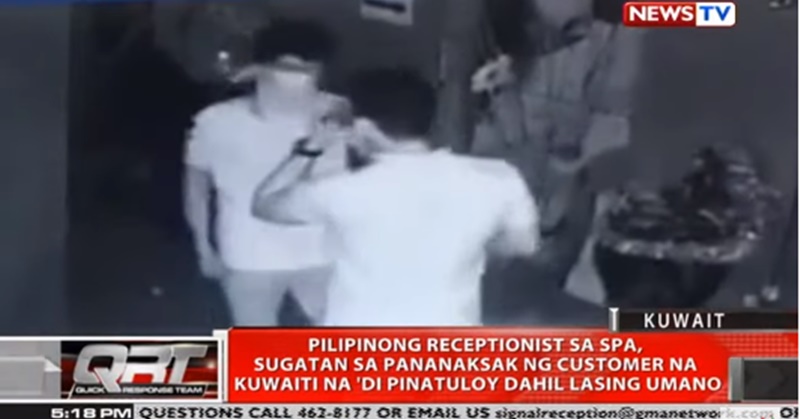 Kuwait OFW Working in Spa, Allegedly Attacked by Kuwaiti Customers
According to a report on the incident, the three suspects allegedly became aggressive toward the Filipino receptionist, throwing money at his face and pulling him by the neck, when he refused to provide them service because they were drunk, as shared in a report by GMA News Online.
Furthermore, the CCTV footage showed the OFW-receptionist and the Kuwaiti suspects in a brawl, before the latter left.
The suspects were seen returning during the spa's closing hours with their faces covered and began attacking the receptionist with a screwdriver, landing hits on his head, back, side, and other parts of his body.
Despite being unarmed and outnumbered, the OFW managed to fight back in spite of the simultaneous assault he took from the masked group of Kuwaitis.
Following the ordeal, the OFW immediately sought medical treatment at the hospital and then reported the incident to the Kuwaiti police.
Charges have already been filed against two of the three suspects, while the other one is yet to be identified.
Commenting on the matter, the Philippine Embassy in Kuwait vowed to assist the injured OFW.
In a statement, Vice Consul Adrian Audrey Baccay  said, "Tayo sa embahada, we will get to the bottom of this case. We will help him find a lawyer, or help him file a case with a lawyer na ipagkakaloob sa kanya ng embahada. At sisiguraduhin natin na imo-monitor natin itong kasong ito para mabigyan siya ng karampatang hustisya."
(We, at the Embassy, will get to the bottom of this [case]. We will help him find a lawyer, or help him file a case with a lawyer provided by the Embassy, and we will be sure to monitor the case to provide justice for which, the OFW deserves.)
Watch the video of the report shared by GMA News Online via YouTube below:
It's not uncommon to hear stories of people being assaulted randomly in the news, but what's noteworthy is the reason for which they were attacked in the first place. In the case of the OFW victim, he was merely doing his job by not allowing people who may cause a commotion at his workplace, to enter the establishment and interrupt the business. Fortunately, the Embassy in Kuwait has owned the case already and are working with Kuwaiti officials to bring justice to whom it is due.
ALSO READ:   KUWAIT: OWWA Provides Cash Assistance To Displaced OFWs