Two Filipinos were found dead under the debris of a collapsed 140-meter bridge in Taiwan on October 1 (Tuesday).
As per a report by Taiwanese officials, the two OFWs were among the people caught in the incident, along with five other Filipinos injured in Nanfang-ao, Yilan County.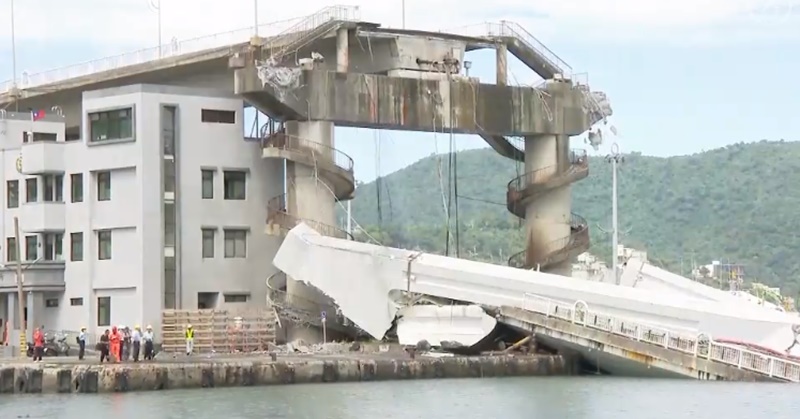 2 OFWs among Casualties in Bridge Collapse in Taiwan
The Department of Labor and Employment (DOLE) identified the five injured Filipino fishermen as Julio S. Gimawa, Jason N. Villaruel, Allan H. Alcansano, John Vicente Royo and June B. Flores, as shared in a report by the Tribune.
Regarding this, officials from the Philippine Overseas Labor Office (POEA) have already reached out to the Filipinos involved and extended assistance. Meanwhile, the other two Filipinos who were recovered under the debris, have yet to be named.
According to the National Fire Agency (NFA) of Taiwan, landmark arch Nanfangao Bridge hovering above the entrance to a port suddenly ruptured and fell to the ground at about 9:30 a.m., crushing three fishing boats and an oil tank truck just about to exit the bridge.
Taiwan's Interior Minister Hsu Kuo-yung shared that while two bodies have been found, their identities are still being determined.
The employer of the Filipinos involved owns five boats and employs 23 migrant fishers.
In relation to this, the Coast Guard Administration dispatched three ships to the scene and deployed 66 people for the search-and-rescue mission.
Furthermore, a Black Hawk helicopter operated by the Ministry of National Defense took off from Taipei International Airport (Songshan airport) to take over site surveillance, which was earlier provided by an NA101 chopper of the National Airborne Service Corps, the NFA revealed.
As of press time, authorities are still trying to determine the cause of the collapse. Initial information received by the Ministry of Transportation and Communications indicated that a collapse of the bridge piers might be to blame.
In relation to this, transport officials said it was not yet possible to determine if a magnitude 3.8 earthquake that occurred at 1:45 a.m. on the same day in waters off Hualien County and registered an intensity of 4 in Yilan County's Nanao Township had anything to do with the incident.
The landmark structure, which was completed in 1998, was the only single steel arch bridge in Taiwan and was the first bifurcated single-arch bridge in Asia.
The bridge, which extends 140 meters long and 15 meters wide, sat across a waterway in the Nanfangao fishing port and was high enough to allow larger fishing boats to pass underneath.
ALSO READ: How to Travel to Taiwan Using a Philippine Passport