Warning to all women to please stay safe and be careful when you go out especially at night. A video has been circulating online which showcases a man allegedly kidnapping a woman in the evening. The caption from the post mentions that this incident took place in Al Khobar, KSA.  It was a good thing that men came to rescue the woman and fought back against the attacker.
Also Read: Philippine Consulate General in Jeddah, Saudi Arabia
A video has been uploaded on Facebook Page – OFW JOIN FORCE – Ang Boses At Kakampi Ng Mga OFW – with the caption "Paalala lang sa mga OFW ingat po lagi huwag lumabas kung mag isa lang muntik na madukot si kabayan mabuti na lang may tumulong sa kanya…ayon sa source sa Al Khobar KSA daw yan" (English Translation – "Just a reminder to OFWs, take care always, don't go out alone, my compatriot almost got kidnapped, it's good that someone helped him… according to the source in Al Khobar, that's KSA")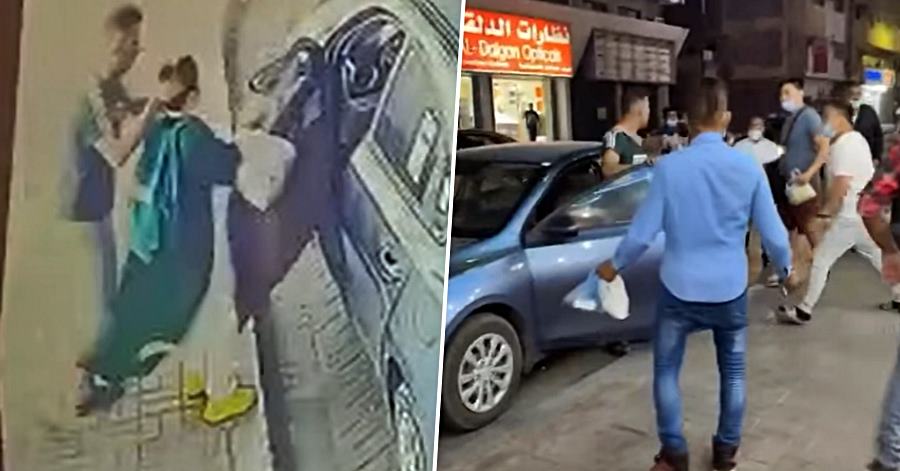 Group of Men Rescue Woman in Saudi Allegedly Abducted by Man in Vehicle
Two videos were uploaded and the first video shows the woman being taken by a man with a Blue Kia car.
The woman wearing a green robe was seen being forcefully pushed into the vehicle by an unknown man. The unknown man even seized the head of the woman so she would go directly into his vehicle. The woman desperately tries to escape but the man grabs her from behind and got into the car.
The next scene should that a group of men of different backgrounds rushed to the vehicle to confront the suspect. They were able to get the woman out of the vehicle and they fought back against the suspect. While other men (in local dress) tried to confront the suspect, but the suspect could be seen driving quickly and escaping the incident when he had the opportunity.
Please stay tuned for more updates as this story is still developing.
Here's a video uploaded from a CCTV:
Here's another video shared which seems to have been taken from a phone camera:
We thank the men who did not hesitate to rescue the victim and confront the suspect.
While details are still being gathered, may this be a reminder to everyone to please always be alert and be careful especially when walking alone at night. This is also a warning to men to avoid breaking the law and to respect women.
The OFW JOIN FORCE – Ang Boses At Kakami Ng Mga OFW is a Facebook Page which intends to unite Overseas Filipino Workers around the globe. They regularly features news and updates for Pinoys overseas.
Source: