Making the rounds on social media is the viral video of an overseas Filipino worker (OFW), claiming that some of his belongings had been stolen, the Philippine News Agency reported.
ALSO READ: Airline Baggage Handler Caught Stealing from Passenger Luggage
The OFW, Andrew Mortes, is a deportee from Saudi Arabia. Upon arriving at the Ninoy Aquino International Airport (NAIA) on November 17, he complained that he lost some valuables placed inside his checked-in luggage — including money, a cellphone, and a gold necklace.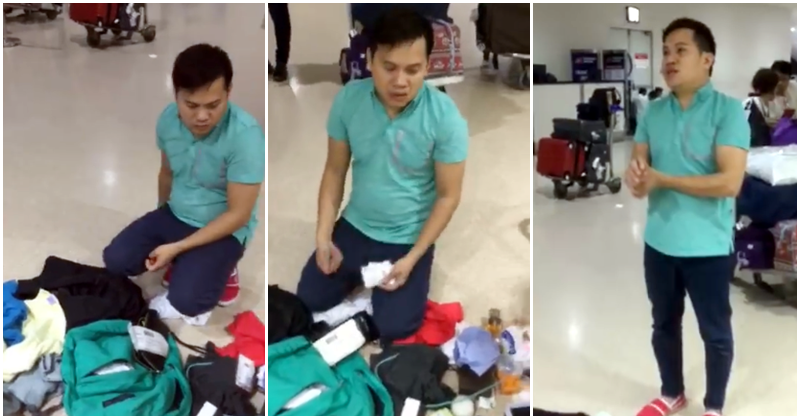 Deportee Claims Money, Cellphone, & Jewelry Were Stolen
The video shows Montes on the floor, looking through his belongings. "Ang sabi po ng mga pulis sa Jeddah bawal po namin bitbitin kahit anong gamit,kailangan daw po namin ilagay sa aming bagahe. Kaya po sinunod namin sila (The police in Jeddah said we couldn't hand-carry anything, we need to put them in our luggage. So we just followed them)," Montes said.
"Pagdating po namin sa airport ng Pinas, nagkalat na po ang mga gamit ko… Nawala po ang cellphone ko, mga alahas, at pera, pati din po sa mga kasamahan namin (When we arrived at the Philippine airport, our belongings were scattered… My cellphone, jewelry, and money were missing, same goes for the other deportees)," he complained.
According to Montes, he and the other deportees reported the incident to Saudia Airlines. However, the airline company said that they were not liable for their passenger's belongings. Montes expressed that they do not know what else to do, and asked President Duterte for help.
Here is the video of Andrew Montes, shared by Raffy Tulfo Supporters' Facebook page:
In response, the
Manila International Airport Authority (MIAA)
coordinated with the airline's ground handler.
Ma. Consuelo Bungag
, Officer-in-Charge of the MIAA Media Affairs Department, said that MIAA authorities examined the body cameras of the ramp agents.
However, camera footage did not reveal any irregularities during the handling of the luggage. Hence, the MIAA declared on Thursday (November 29) that no irregularities took place.
The Chief Legal Officer of the Civil Aeronautics Board, Wyrlou Samodio, said that airlines are responsible for lost luggage. However, he explained that for a passenger to get compensation for lost or damaged luggage, he or she should have declared the valuables inside it in the first place.
"Sometimes, to avoid paying duties, passengers don't declare their valuables," Samodio explained. "Then they would complain if their jewelry, for instance, is missing. How would the airline know if it's true, if they did not declare it?"
Meanwhile, the MIAA General Manager, Ed Monreal, reminded Montes to be careful with what he posts on social media. He also said that baseless accusations could tarnish the country's image.
ALSO READ: Airport Police Catch Woman who Stole Almost PHP 300K from OFW in NAIA
While many of us may sympathize with Montes, we cannot discount the fact that no irregularities were found in the handling of his luggage. In any case, as travelers, we should take care of our belongings at all times, and declare valuables placed in our checked-in luggage.