One of our OFWs came home to the Philippines but claimed his baggage was tampered and his personal belongings and valuables were stolen.
Jovenil dela Cruz's home coming to the Philippines was supposedly a happy homecoming bringing a year's worth of hard work for loved ones. However, in an unfortunate turn of events, he found himself being a victim of airport theft, with 82,000 worth of valuables in his luggage gone.
List of countries banned for OFW
In a Facebook video he posted, dela Cruz warned all OFWs of airport personnel in Clark International Airport who forced open his luggage and stole the "pasalubongs" supposedly for his loved ones.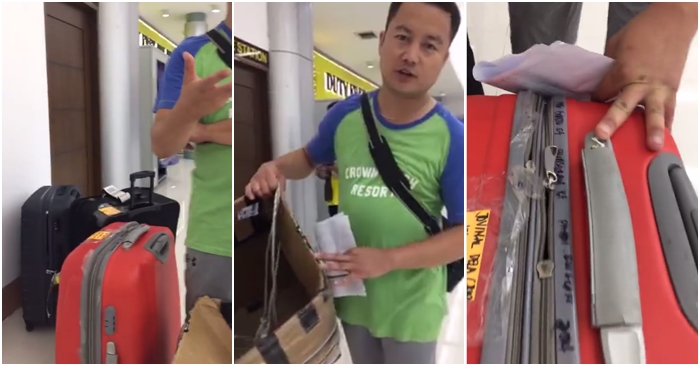 OFW Finds Luggage Forced Open with Expensive Valuables Gone,
The OFW arrived in the Philippines on the 23rd of December from a flight in Singapore. Upon his arrival, a certain Jobel Fernando, an agent from the Philippine Airport Ground Support Solutions reportedly informed him that he will just be notified once his luggage arrived.  However, did not hear from anyone for two weeks. That's when he started to take action and went to the airport on January 10 only to find his luggage ransacked and forced open with all his valuables stolen.
He was clearly dismayed as he shows the padlock from his two luggage clearly pilfered and his box already opened and half-empty.  In the same video he reminded all OFWs to avoid travelling with check-in baggage especially if they are passing through Clark International Airport.
6 Employees Fired
Alexander Cauguiran, acting president of the said airport was quick to respond to the incident and identified six employees who were immediately put under investigation and on preventive suspension. The six employees were reportedly employees of  MIASCOR aviation services. In the most recent development, it was reported by Rappler that Clark International Airport Corporation has already filed criminal charges against the six personnel Friday last week. The employees admitted to the crime and were immediately dismissed from their jobs at MIASCOR Aviation.
Jovenil Dela Cruz on the hand was reportedly compensated by MIASCOR Aviation a total amount of PHP82,824.00 for the stolen valuables.
Here's the video uploaded by Dela Cruz: