A lot of Filipino nurses dream of being able to work as a nurse in the USA. The application process is quite tedious, especially since a huge number of other nurses from other countries want to work in the US as well. One major aspect of finding a job in the country is taking the NCLEX.
Also Read: How to Apply as a Nurse in Canada
The article asserts that the best time to take the NCLEX is as soon as possible. As you go through the steps, you will realize how each has its own waiting time. If you are not willing to do the task right and as soon as you can, then you may not be able to work in the US as a nurse.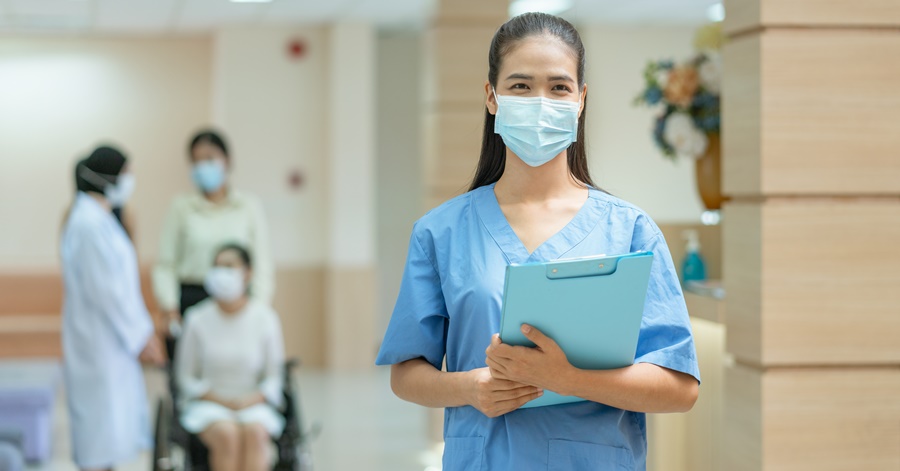 Disclaimer: The information posted here is based on the personal experiences shared by the OFW in the video below. Please let this post serve as a guide only. If you have specific questions, you may ask the OFW by commenting on their video on their accounts.
When is the Best Time to Take the NCLEX – National Council Licensure Examination
The information presented in this video comes Nurse Juan OFW. If you want to watch the full video, click on the link below:
When should one start their NCLEX application? The answer to that is now. Not tomorrow, not after reviewing, not after saving money, not after all those reasons. If your dream is to go the USA, you really need to start right now. That's because the application process takes time, and there's a lot of factors involved that prompts you to be wise in doing things.
If you don't start now, the vlogger says you might end up like him in that it took him several years to get to the USA because he didn't know the process and the steps that he should have researched during here NCLEX application.
In the video, the vlogger also shared the reason why you should start the process of your NCLEX application as soon as possible. This is something that you should know because if you let this pass by, you might have to wait for at least 10 years or more before you can enter the USA.
A lot of new nurses don't know how to process their NCLEX application. They think that after taking the NCLEX, they can immediately leave for the US. However, there's so much more to do yet before you reach that final stage, so we will discuss all of that below.
As a summary, here are the following stages for your NCLEX journey:
NCLEX Application and Requirements Stage
NCLEX Authority to Test (ATT)
NCLEX Testing Center
NCLEX Review
CGFNS Certification
IELTS
Immigration Process via Agency (Staffing / Direct Hire)
NCLEX Application and Requirements Stage
Even at this early stage, you need to already know which state you wish to take your NCLEX in. Each state has different licensing rules and regulations. You have to choose just one of these states.
For example, if you want to get an NCLEX in California, you have to understand that the state has its own Board of Nursing. This organization has specific requirements which may differ from those in other states. Take note that California is one of the hardest states to take an NCLEX in.
The vlogger says that you need to have a social security number if you wish to take an NCLEX in California. That's why most Filipinos take NCLEX in a different state where the processing is much faster. These states include the following:
New York
Saipan
NMI (Northern Marianas Islands)
After taking the NCLEX in these or other states, you can have them endorsed to another state anyway if you want. You do have to comply with the requirements for that specific state, but this is less of a hassle compared to when you took the NCLEX in that state in the first place.
Document Requirements
So what documents do you normally need to submit? These are the following:
PRC documents
Licensing documents
State board
School documents
You need to send these documents to the United States, to the particular state where you wish to apply in.
NCLEX Authority to Test (ATT)
You need to have a permission from the state that you can already take the exam. After sending all the documents, you have to wait for the ATT so that you can apply for the NCLEX. This is another waiting period that normally takes around 2 to 3 months.
After this, the next step involves the Pearson VUE testing center.
NCLEX Testing Center
After receiving your ATT, you can now apply to take an exam. In order for you to take the NCLEX examination, you can only do that in specific testing centers. These centers are called Pearson VUE in the Philippines. There is only one Pearson VUE in our country, and that is located in Trident Tower, 312 Sen. Gil J. Puyat Avenue, Makati, Metro Manila.
All Filipino nurses that wish to go be U.S. RNs in the future should take the exam in this center. This also means that all nurses in the Philippines are practically competing against each other for slots to take the NCLEX in Pearson VUE. In fact, for example, if you wish to get a slot today, your appointment may even be as far away as 6 to 8 months or even a year from now.
That's why the vlogger really encourages everyone to apply the NCLEX as soon as possible because it does take time.
Having said that, if you don't want to take the test in the Philippines, you can do so by going to the following countries:
U.S.
India
Turkey
or other states that have Pearson VUE
Of course, the problem if you go to a different country to take the NCLEX is still scheduling for slots. Even there, they also run out of slots due to the sheer number of applicants. Other nationalities are going there to take the examination as well.
For example, if you go to India to take the exam, you will complete for slots with the Indians. Indians are very competitive at the work force and are very hardworking. Just like Filipinos, Indians are used to overcoming difficult situations, given that they are also coming from a third world economy. Indeed, the vlogger says that the Indians are the number one competitors of Filipino nurses.
In addition, you also have to factor in COVID scenarios. When cases surge, testing centers have to cancel schedules. That's why you really need to plan as soon as you can to take the NCLEX so that you can manage these unforeseen situations.
You should also be aware that sometimes there are random openings for slots to take the NCLEX. Usually you get these random open slots notifications by following the Lefora Filipino Nurses to US Facebook page. That's why you really need to stay in tune for these posts so you don't miss these golden opportunities.
If you are first to discover these slots, you'd be among the first to apply. This is especially useful if, after your first application, you find that your appointment is scheduled for next year. This means that you don't have to wait for next year. You have to willing to patiently wait and be on the lookout for these random slot openings. This also implies though that you have to be prepared with all the required documents.
NCLEX review
You have to be prepared by reviewing as soon as you can. In fact, you should have already started your review as you start your NCLEX application. This ensures that when your ATT arrives and you are already scheduled to take the exam, you are already 100 percent ready to do so. Don't cram by reviewing only after getting your examination schedule. You never know when a random slot opens that gives you the opportunity to take the exam earlier.
Indeed, you want to take the earliest slot if you could when it comes to NCLEX. In addition, many Filipino nurses opt to go to review centers to prepare for the NCLEX. There are advantages to doing this, but the vlogger says that you don't really have to. A lot of the nurses in the US say they didn't go to review centers. Normally, what they do is get review materials online.
So where can you get NCLEX review materials online? Here are some of them:
You will most like pay around 200 USD to get questions with answers and rationales. The vlogger says a lot of nurses do this and so it definitely works. It is something you can do as well. He also recommends that you start as soon as you can, trying to do at least 50 – 100 questions per day if you are busy. This ensures that your learning is continuous on a daily basis.
The vlogger also shares the following tips when studying for the NCLEX:
Answer as many questions as you can
Study the rationales so that you will understand the answer
Try to see why the other options are not the correct answer so that you can really identify the differences
CGFNS Certification
After passing the NCLEX, the next thing you need to do is to apply for a CGFNS certification. CGFNS stands for Commission on Graduates of Foreign Nursing Schools. Most states require this to nurses that graduated from foreign colleges or universities. CGFNS ensures based on the documents you submitted that you really took the nursing course and that you enrolled in all the relevant subjects and gained the right skills and knowledge.
There are two ways that you can do this:
IELTS
Take the IELTS after passing the NCLEX examination. That's because the validity of this exam is shorter; in fact, IELTS is valid for 2 years only. Once your IELTS expires, you will have to take it again, and that will just mean extra expenses.
Immigration Process via Agency (Staffing / Direct Hire)
After passing the NCLEX, you should start contacting direct hire agencies or staffing agencies. The vlogger recommends getting a direct hire agency if you want to have a more wonderful American life experience. This stage of the application takes time.
There are two ways to go through the immigration process. These are the following:
Regular processing
Expedite
As much as you can, the vlogger recommends that you try the expedite process if it is available. This is a much faster processing, although this also depends on how fast the agency processes your papers and how fast you do your part, including following up on your agent. You have to be proactive because there are so many applications they might forget yours, causing further delay.
When it comes to the immigration process, you will encounter many different terms. These include the following:
I-140 Premium
NVC Visa Fee Bill
DS 260 Form
Civil Docs
Documentary Qualified (DQ)
Interview Instructions
Medical Exam
Embassy Interview
Visa Issuance
PDOS
Indeed, this stage is the longest because there are may steps that you need to go through. Your employer will play a huge part in much of these steps and you can communicate with them in terms of the payment and processing.
Most likely, after DQ or document qualified, the next step is that they will give you an interview date. This stage can be quite stressful since after DQ, you'll have to wait for someone from the U.S. embassy to give you an interview date. This depends on the number of applicants and which embassy you need to get that interview.
Many Filipino nurses get stuck in this phase. In some cases, even if the visa for nurses is already open, the US embassy cannot give an interview slot. Some nurses have waited for as long as 6 to 9 months and they haven't received a slot yet. That's because there are so many applicants.
The good news is that lately, the US embassy is quick to give IDs nowadays, because they really need nurses. That's why if you are interested in becoming a nurse in the USA, enjoying all perks that go along with it, then you should start working on your NCLEX right now.