If you're planning on an Asian tour soon (or even maybe sometime in the future), be sure to make a stop and visit magical Nepal. You'll be impressed by the excellent natural wonders and numerous UNESCO World Heritage Sites you'll find this very unassuming corner of the world.
ALSO READ: How to Apply for an India Tourist Visa
If you're not familiar with Nepal, you'd be pleased to know that this country is often described as the Amazon of Asia, and is home to eight of the highest peaks in the world, including Mount Everest and Kanchejunga. Nepal is also known as the birth place of Buddha, as the country is situated between China and India.  And even more wonderful is the fact that getting a Nepal tourist visa is an easy and straight-forward process, as you can get it on arrival at the airport.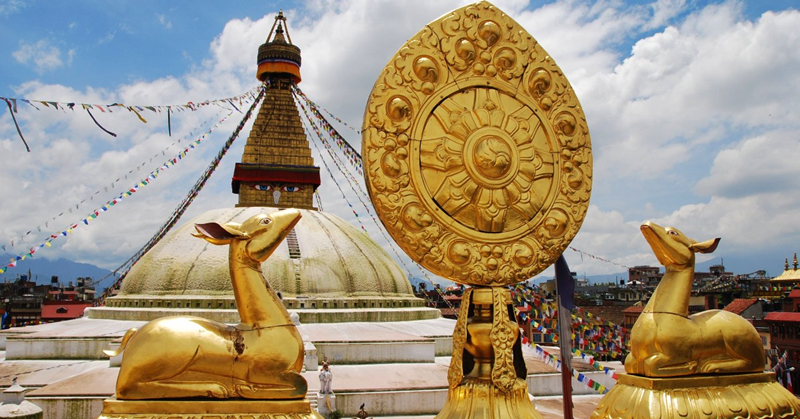 Applying for a Nepal Tourist Visa in 2018
While there are various types of Nepal visa (diplomatic visa, marriage visa, work visa, relationship visa, study visa, etc.) for a number of specific travel purposes, all foreign nationals (except Indians) would need to get a tourist visa to travel there.
Philippine nationals are eligible for a tourist visa on arrival, (which will be the focus of this post). You would need to have a passport that has at least six (6) months of validity from the date of your arrival in Nepal. And your passport must have at least one (1) blank page for stamping by the Immigration officer.
There are actually two ways to obtain a tourist visa on arrival in Nepal:
At Kathmandu International Airport (TIA):
For this process, you will simply have to provide the following documents:
Your valid passport (and a photocopy of the bio page, in case they will ask for it)
A visa application form which you can fill out (1) manually, with an (2) automated machine, or (3) online (advance application). For the last option, you will need to prepare digital copies of your photos as well the document with the address details of your hotel accommodation in Nepal. This has to be submitted within 15 days of your arrival in the country, but if you would simply like to get this out of the way, the fastest way would be to accomplish the document through the automated machines available at the airport as this would only take you around five (5) minutes to complete.
Copies of your passport-sized photograph (35 mm x 45 mm). If you're going to submit your application through the automated machine, you wouldn't have to provide physical copies of your photos, but in case you take the manual option, you can have your photo taken in a photo booth at the airport. This costs around NPR 200.
2. At any of Nepal's land border crossings that are open to foreigners
This would typically apply to visitors travelling to Nepal by land. These land or cross-border entry points are located at Nepalganj, Birganj/Raxaul Bazaar, Sunauli, Kakarbhitta, Mahendranagar, Dhangadhi and Rasuwagadhi at the China/Tibet border.
After you've submitted your visa application through either of the above channels, the next step would be to pay the Nepal Visa Fee. If you're doing this at the airport, you may proceed to the payment counter. The fees for single-entry visa are as follows:
15 days: USD 25
30 days: USD 40
90 days: USD 100
Note: For international travellers, it would be advisable to pay in exact amount in cash, preferably with US dollars. As of now, credit cards are not an accepted method for visa payment in Nepal.
Once you've settled your visa payment you will need to head over to the Immigration Desk along with your application form, payment receipt, and passport.
As always, authorization to enter a country (not just in Nepal), is subject to the decision of authorities. Therefore, you may still be required to provide other documents such as proof of your accommodation, financial documents, return/onward journey tickets, upon request by officials. Of course, just to be on the safe side, it would be best if you secure these documents for your travel in advance. Otherwise, you will simply have to coordinate with officials on how you can best proceed with your travel. Best of luck!
ALSO READ: How to Apply for a China Tourist Visa