Around 700 overseas Filipino workers (OFWs) have been victimized by an alleged scammer identified as Lenie Camacho.
Victims reported that they have been convinced to invest their money in an "investment" program that promised to yield 15% interest after 15 days. 
Watch the full clip of the episode here via Raffy Tulfo's YouTube Channel:
[Watch] 700 OFWs Lose Php 160M to 'Scammer Queen' 
In an episode of Raffy Tulfo in Action, one of the OFW victims, Marie Mendoza, described how she was convinced to invest a large amount of money in a program that would yield large returns in a short period.
Camacho reportedly also sells beauty products and offers remittance services.
Mendoza said: "Dati naman po wala siyang problema, ngayon tinangay na po niya ang pera nawala nalang po siyang bigla. (We didn't have any issues with her in the past, but after she has collected our money, she suddenly disappeared.)
According to the investigation, Camacho's investment scheme had been running for three years, allegedly luring around 700 OFWs, mostly from China and Thailand.
Also, she was said to have been preying on victims on social media. She attracts interest by showing her products and permits to prove her authenticity before inviting others to join her "business investment". 
Moreover, Camacho reportedly uses different aliases to victimize other people.
To this, Raffy Tulfo commented: "Ganyan naman talaga ang scammer, pinapakagat kayo."
Mendoza shared that she had put in a total of Php 160,000 to the investment scam.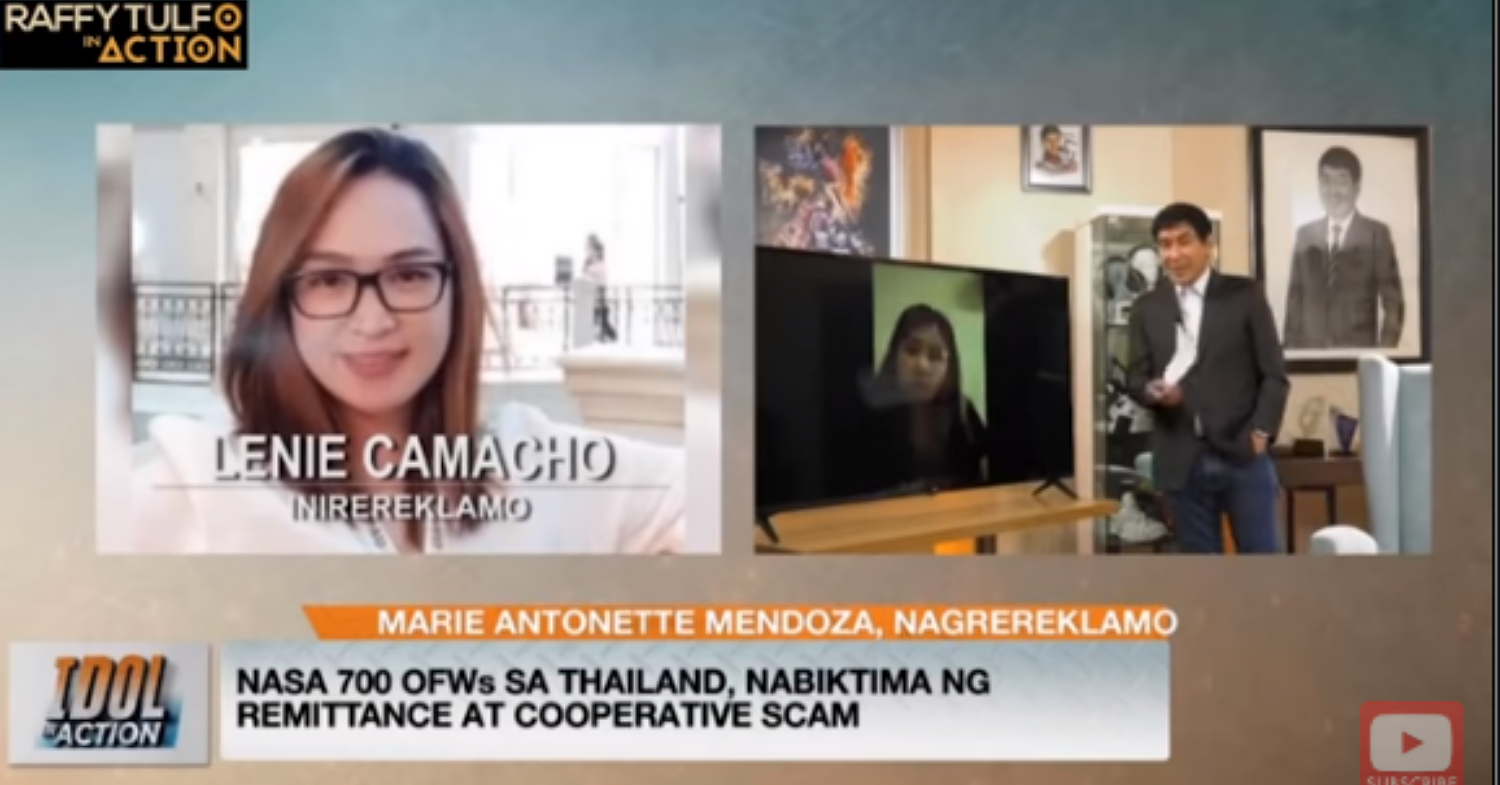 In line with this, OWWA Administrator Hans Cacdac said that they will look into the complaints and will coordinate with their counterparts in Thailand. 
Meanwhile, lawyer Garreth Tungol of ACT-CIS noted that they will monitor the situation of the 700 OFWs allegedly scammed. If the suspect is in the Philippines, she could be charged with large-scale estafa.
However, if Camacho is in Thailand, the OFW party-list representative said that they will coordinate with POLO-OWWA because the case will be handled in Thailand.
Scammers have been targeting OFWs ever since because they possess large amounts of money from working abroad and they are most susceptible to investment scams in the guise of businesses offering various products or services.
Through today's technology and social media, it's easy to find businesses online offering lucrative yields, and guaranteeing results for the lowest risk and shortest time possible. Unfortunately, that is not how legitimate businesses or investments work. Remember, if something sounds too good to be true, it probably is. So take extra caution when dealing with unexpected offers or even from those referred by family or friends. 
ALSO READ:  Here are 5 Investments OFWs Must Consider