Did you know that OWWA has partnered with Philhealth to provide financial assistance to OFWs who might have contracted or developed a life-threatening disease while working abroad? This is called the OWWA MEDPlus program. If you think this is something you can look into as a 'safety net' in case you get ill (knock on wood) in the future or during the course of your work abroad, then make sure to read it until the end of this guide.
READ NEXT: How to Maximize your OWWA Membership as an OFW
In this post, you will learn more about what the MEDPlus program is all about, who is eligible, requirements for application, coverage/benefits, and the step-by-step process to avail of this benefit.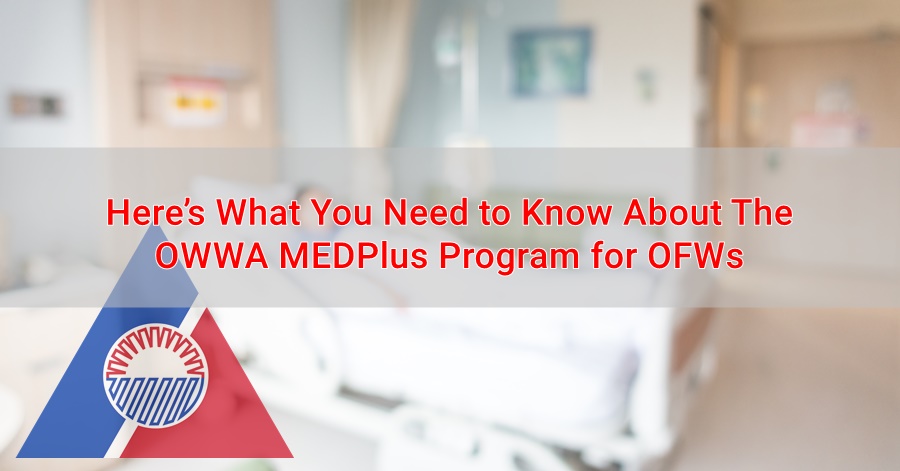 How to Apply for OWWA MEDPlus Program for OFWs
We've all heard of stories about OFWs working overseas for long years but later on develop illnesses, get laid off, and eventually sent home to recuperate. Unfortunately, some of them were let go from work without much savings and help even from the employers they worked for. Sad, isn't it? Fortunately, OWWA and Philhealth have teamed up to ensure that OFWs get the much-deserved help and financial benefit in case they become ill during their tenure of work abroad. This is what the OWWA MEDPlus Program is for.
What is the OWWA MEDPlus Program for OFWs?
The program established by key agencies OWWA and Philhealth offer supplemental financial assistance for OFWs. Take note of the operative word here: supplemental. This means that the financial assistance comes on top of the medical coverage and services offered at any Philhealth-accredited facility, available to all Philhealth members.
The program is carried out through the Philippines' 18 provincial offices. Moreover, it covers member OFWs and their eligible dependents in the Philippines in case the former passes away or cannot return home, still.
Benefits of the OWWA MEDPlus Program
OFW members qualified for this program will receive financial assistance not exceeding Php 50,000 per member for one dreaded disease. The program covers both medical and surgical procedures for dreaded diseases. These include all forms of cancer, heart diseases, chronic obstructive pulmonary disease (COPD), chronic kidney disease, and liver disease.
It's important to note that hospitalization benefits through this program are valid for only one diagnosed dreaded disease. However, you may avail of the OWWA medical assistance several times as long as you do not max out the Php 50,000 and must be only used for the dreaded disease you initially applied for.
Application Requirements for the OWWA MEDPlus Program
Applying for this financial assistance program shouldn't be difficult as long as you present all of the required documents as listed below:
Duly Accomplished MEDplus Program Application Form
A photocopy of a passport-sized photo
PhilHealth Benefit Payment Notice (BPN) — This should indicate the actual payments you settled through PhilHealth in relation to your current confinement or availment of medical coverage.
Copy of your latest OWWA Membership payment
For OFWs based abroad and the claimant, being the next-of-kin: a duly notarized Special Power of Attorney must be provided with the authorization of the OFW-member.
For deceased OFWs: a copy of the death certificate of the OFW-member and either the Marriage or Birth Certificate of the next-of-kin claimant to prove the relationship with the deceased OFW.
Step-by-Step Guide for Applying for the OWWA MEDPlus Program
The OFW-member or their representative must apply for the benefit within the membership validity period of the OWWA member. Otherwise, an application can still be made 60 days after the OWWA membership expires.
To avail of the MEDPlus Program benefits, you only need to do two things:
Visit the nearest OWWA Regional Welfare Office or POLO-OWWA (if based overseas).
File the documentary requirements for medical assistance.
Note: The processing for the MEDPlus Program benefits can take up to three days after the submission of your documents and confirmation of the Philhealth benefit payment.
VIDEO: An Overview of the OWWA MEDPlus Program
In this short introductory video clip, you will get a general idea of what the OWWA MEDPlus Program is all about. If you've assessed whether you are qualified for the said program or not, make sure to prepare all of the requirements so that you can expect your application to be processed and released the soonest time possible.
FREQUENTLY ASKED QUESTIONS ABOUT OWWA MEDPLUS PROGRAM
1. Is the OWWA MEDPlus Program an HMO?
While this program may function like an HMO, this one-time financial benefit is not a form of medical insurance as it is not commercially offered to the public, but is only exclusive to active OWWA-OFW members.
2. If I have Philhealth and HMO Insurance can I still apply for this benefit?
You have the liberty to use any resources you have to help you cover your bills, such as Philhealth benefits and HMO coverage plus the OWWA MEDPlus supplemental medical coverage if you qualify for this program and may need additional financing to cover your bills for a dreaded disease identified by Philhealth and OWWA such as heart diseases, chronic obstructive pulmonary disease (COPD), liver disease, chronic kidney disease, and all forms of cancer.
4. How long should I wait until my application gets approved?
OWWA will shoulder a portion of or your entire bill as long as it does not exceed a total amount of Php 50,000. This benefit is typically processed within three business days only. So to ensure that you receive this benefit at the earliest time, prepare all the necessary documents and secure a PhilHealth Benefit Payment Notice (BPN) as soon as possible.
Summary
There is comfort in knowing that even though you may not have HMO insurance back home, OWWA and Philhealth still have got you covered. However, as in most emergencies, you need to prepare for the worst. That said, it is still highly advisable to take out personal insurance back home if you can afford one, so that when the time comes that you would need one, you wouldn't feel helpless or lost in the dark looking for financial help.
Nevertheless, you can rely on OWWA's membership benefits, particularly the MEDPlus Program to supplement your financial deficit when it comes to paying for hospitalization or surgical treatment for certain types of illnesses which, you might (though hopefully not) develop while working overseas.