The year hasn't ended yet, but we're all super excited for next year's list of holidays and long weekends. (Hint: there will be a handful of them next year!) On Friday (Nov 16), Malacañang announced the regular and special non-working holidays for 2020. Here we list the public holidays for Filipinos in the coming year.
So, what're you waiting for? Be sure to bookmark this page and start planning your holiday trips for next year!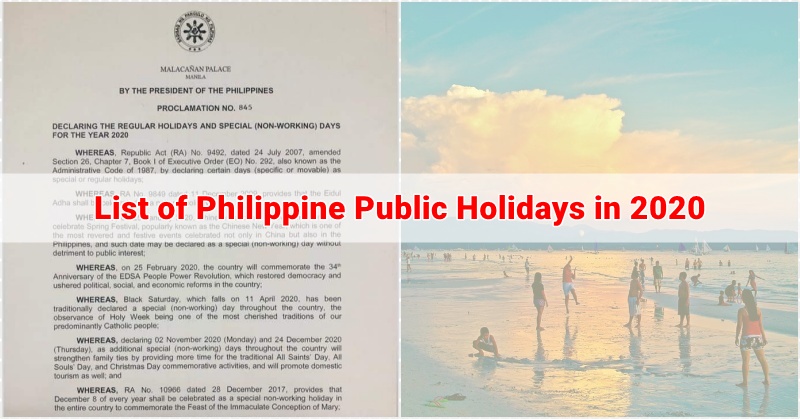 Forget the Holiday Rush When You Can Now Plan Your Holidays for 2020
2020 will be an exciting year to travel locally and overseas as there will be several major events happening around the world such as the 2020 Tokyo Games, the Expo 2020 in Dubai, as well as the UEFA Euro 2020, among others. But if you're not big on traveling in a foreign land, there's also a lot of places you can visit in the Philippines for your holiday pleasure.  Remember, it's more fun in the Philippines, right? 
ALSO READ: Top 3 Best Islands in Asia are Located in the Philippines
To help you plan your travels, here is the list of the national (regular) and special (non-working) holidays for next year:
REGULAR PHILIPPINE HOLIDAYS:
January 1 (Wednesday) — New Year's Day
April 9 (Thursday) — Araw ng Kagitingan, Maundy Thursday (*)
April 10 (Friday) — Good Friday (*)
May 1 (Friday) — Labor Day (*)
June 12 (Friday)– Independence Day (*)
August 31 (Monday)– National Heroes Day (*)
November 30 (Monday) — Bonifacio Day (*)
December 25 (Friday) — Christmas Day (*)
December 30 (Wednesday)– Rizal Day
(*) – holidays that fall next to the weekend (long weekends)
SPECIAL NON-WORKING DAYS
January 25 (Saturday) — Chinese New Year
February 25 (Tuesday) — EDSA People Power Revolution Anniversary
April 11 (Saturday) — Black Saturday
August 21 (Friday)– Ninoy Aquino Day
November 1 (Sunday) — All Saints' Day
December 8 (Tuesday)– Feast of the Immaculate Conception of Mary
December 31 (Thursday)– Last day of the year
ADDITIONAL SPECIAL NON-WORKING DAYS
November 2 (Monday) — All Souls' Day
December 24 (Thursday) — Christmas Eve
Note: The official dates for the observance of Eid'l Fitr and Eid'l Adha will be confirmed by the NCMF, and announced by the Office of the President after the official lunar sightings have been determined following the Islamic calendar. Check back on this post as we will be updating it as soon as they are available!
Here is the official proclamation released by the Office of the President through the PCOO via Facebook:
To maximize the holidays, it's best to plan ahead of time and part of this is to put into careful consideration the time that you'll be needing to process your documents, especially if you're traveling overseas for leisure and relaxation.