Members of the senate voiced their gratitude and support of His Highness Sheikh Mohamed bin Zayed Al Nahyan, Crown Prince of Abu Dhabi and Deputy Supreme Commander of the UAE Armed Forces, for the Emirates' "constant help" in times of crisis.
On March 10, the Philippines has convened its 57th plenary session Wednesday last week, where Senator Richard Gordon aired their appreciation for Sheikh Mohamed who has been "consistently helping Filipinos" through the years.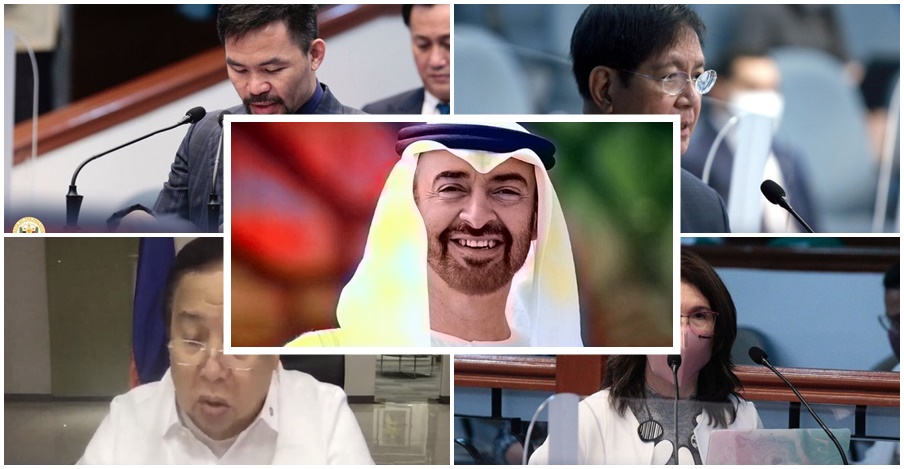 PH Lawmakers Thanks Sheikh Mohammed for "Constant Support" and "Present Help" in Times of Need
Senator Gordon acknowledged the UAE's contributions and efforts, through Sheikh Mohamed to "consistently help Filipinos" through the years, the Khaleej Times reported.
In line with this, the senate officially adopted Resolution No. 671 that recognised Sheikh Mohamed for his "gestures of compassion, concern, friendship, solidarity and support toward the Filipino people in times of natural disasters and during the course of the pandemic" as a response to the UAE Head's support and constant help to Filipinos amid various crises.
Lacson mentioned that the Emirates Red Crescent built school buildings in Basey, Samar and health centers in Eastern Samar. #SenatePH 3/3 @iampinglacson

— Senate of the Philippines (@senatePH) March 10, 2021
Meanwhile, another senator, Ping Lacson, also commended Sheikh Mohamed and his country's efforts as a whole in solidifying international relations, noting how Emirates Red Crescent officials "came to the Philippines in 2014 and offered $10 million to assist the 171 cities and municipalities affected by typhoon Yolanda".
For her part, Philippine Ambassador to the UAE Hjayceelyn M. Quintana said the Philippine Senate's recognition is a timely gift of the Filipino people for Sheikh Mohamed on his 60th birthday on March 11 and to all Emiratis on the UAE's Golden Jubilee this year.
Quintana shared that the Filipinos in the UAE are elated that the Philippine Senate […] recognised Sheikh Mohamed Bin Zayed's deep support for Filipinos through the assistance given to the Philippines in times of natural disasters […] and during the pandemic, by also publicly extolling the heroism of Filipino medical frontliners in the UAE.
READ NEXT: How to Sponsor A Family: Residence Visa in the UAE (Dubai, Abu Dhabi)