Whether you're looking for a better-paying job or want to further your language skills, Filipinos should consider finding work in South Korea. It's one of the most stable economies in Asia and offers many opportunities for Filipinos who are interested in working there.
Also Read: How to Become an OFW and Work Abroad
Aside from the curiosity opened by the Hallyu wave, consisting of the popularity of Korean pop music and entertainment, the country itself is a beautiful place with many opportunities for Filipinos to work. Here are some reasons why you should consider working in South Korea: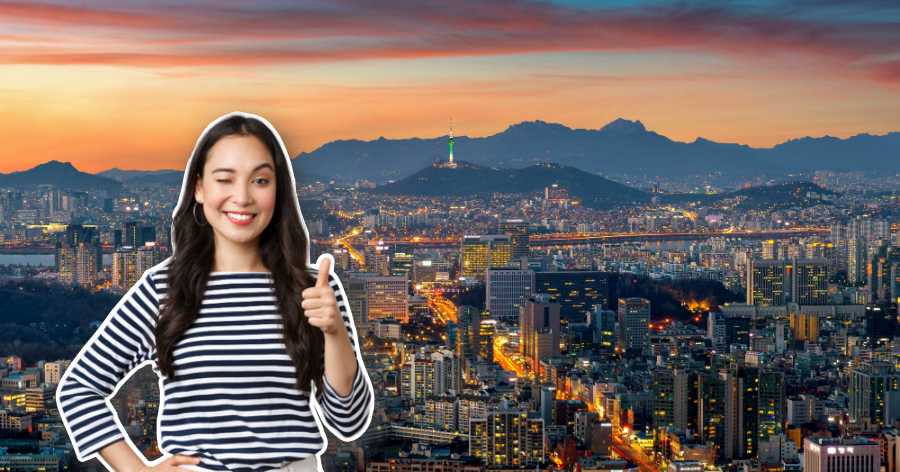 1. The South Korean government allows Filipinos to work in the country through the Employment Permit System (EPS)
When you want to work in South Korea, the first thing that you need to do is apply for an EPS visa.
The EPS visa is a special type of employment permit issued by the South Korean government to foreign nationals working in the country. It allows Filipinos to work in South Korea as professionals, skilled workers and other various types of workers.
If you're interested in applying for an Employment Permit System (EPS) visa or working under this program, it would be best if you contact an immigration consultant who could help guide you through the process and ensure that everything goes smoothly when applying for your permit.
Just remember, applying for an EPS visa is a very long, tedious process that requires a lot of time and effort. You'll need to gather all the necessary documents and materials and submit them to the Korean government in order to be approved for this visa.
If you are serious about working in South Korea, make sure to apply for this visa as soon as possible so that you can start working once your application has been approved. Also, consult with the DMW-POEA for legitimate job offers and employment contracts. This is the best way to avoid being scammed by fake companies.
2. Korea employs thousands of Filipino workers
There are thousands of Filipinos already working in South Korea. In 2017, South Korea issued more than 30,000 visas to Filipino workers. In 2013, the Philippines was South Korea's top source of foreign workers and they were its second largest source of foreign workers after China in 2015.
Korean employers, just like their various Asian counterparts, prefer Filipinos because of their good command of English, their willingness to work long hours, and their cultural affinity. The working conditions in Korea are not as bad as some people think. There are laws that protect Filipino workers from exploitation and abuse by employers.
Moreover, there is merit for those who are loyal and stay long in the country. Many Filipinos who have worked in South Korea for more than three years are eligible to apply for permanent residence status. If there's one place many Filipinos aspire to migrate to, it's Korea. Why? Because of the high standard of living, stable economy, and excellent social welfare benefits. The Korean government is also very proactive in promoting its culture and traditions through various programs. This makes it easier for Filipinos to assimilate into Korean society.
3. You can earn more money than in the Philippines.
If you're working in South Korea, you can earn more money than in the Philippines. This means a higher income and savings. You can make use of your extra cash to send money home to your family or invest it into your future profession.
In general, one's earning opportunities in Korea is higher than in the Philippines. You can find a better job in South Korea than at home. The Philippine labor market is highly competitive and it's difficult to land a good job without experience. On the other hand, South Korea has more opportunities for fresh graduates because there are more companies hiring them than those who already have previous jobs. Moreover, there are plenty of part-time jobs in Korea that can help you earn extra cash. You can also make money by teaching English or taking online jobs from home.
4. You can further your language skills
The Philippines and South Korea have a lot in common, so it makes sense that Filipinos would want to learn Korean. Many Filipinos are already bilingual or tri-lingual with English, Tagalog and their regional dialects. However, many other Filipinos only speak one language: Filipino/Tagalog.
If you work in Korea, you'll have the opportunity to learn more than just Korean—you'll have access to the culture also have access to the culture doesn't just help you communicate better with new people—it also helps your brain stay active by challenging yourself to think differently about words and concepts that are familiar but written differently.
Learning a new language can be difficult, especially if it's not your native tongue, but learning Korean is definitely worth it! Not only will you be able to communicate with the locals better, you can also enjoy your favorite Korean dramas and music, as well as learn about the culture of South Korea. If you're considering learning Korean, here are some helpful tips for getting started:
-You should start with basic greetings and phrases. You can find a list of these on many websites, including Google Translate. These will help you get started with your language learning journey without having to learn all the grammar rules first.
-Try watching some Korean dramas or movies! This is a fun way to practice what you've already learned while also learning new vocabulary words.
-Keep track of your progress! If you're serious about learning Korean, then write down any words or phrases that are unfamiliar to you so that you can look them up later. This will help you remember what you've learned and keep track of your progress as well.
5. Filipinos love K-pop, Korean films, dramas and even K-dramas (Korean drama series shown on the local TV)
As a Filipino, you are definitely familiar with K-pop and Korean dramas.
K-pop is a popular genre of music that originated in South Korea. It has spread to other parts of Asia and the world, including the Philippines. In fact, there are many fans of Korean artists here in our country as well as abroad.
The same goes for K-dramas (Korean drama series shown on local TV). You can watch these shows whenever possible because they're available on local channels such as ABS-CBN or GMA Network.
Some people mistakenly call them Hallyu or Korean Wave, but we prefer to call them "Korean dramas" instead because it sounds more appropriate and less confusing! This may be trivial for some, but not if you have been exposed to Korean dramas. You will know that the culture, traditions, and language are very different from ours. For example, some of their words are spelled differently than what we normally use in English. But you can still learn a lot about Korea just by watching these local TV shows! After all, there's no such thing as overly enjoying a culture, especially if you live in another country. These dramas will give you a deeper insight into what Koreans are like, how they think, and some of their traditions.
6. There are opportunities to study at a Korean university
You can study a wide range of subjects at a Korean university. There are opportunities for undergraduate, graduate, and doctoral degrees in various fields such as engineering, business and management, social sciences including education and humanities. If you have an area of interest that is not offered by the Philippine universities you can consider studying abroad at a Korean university where your subject may be more specialized or cutting-edge.
Many exchange programs are available to Filipinos who want to study abroad in South Korea. These include short-term programs like summer schools that last from three weeks to two months; semester exchanges that run from one semester up until two semesters; and year-round exchanges lasting one full academic year (9 months).
You can also take short courses offered by some universities and colleges all over South Korea during breaks such as summer break when many Filipinos travel back home or holidays when businesses close down temporarily due to holidays like Christmas Day, among others.
If you're planning on getting higher education (post-graduate, doctorate, and so on), Korea is also a good place to consider. It's one of the top Asian countries in terms of education and boasts of some of the world's best universities. You can get your degree here at a much lower cost compared to other countries such as the US, UK or Australia. The only downside is that you'll have to learn Korean first before enrolling in any university here. This, in itself shouldn't be a disadvantage because the better you imbibe the Korean culture, including their language, the higher your chances are of getting a good job or even becoming a permanent resident in this country!
7. You will experience a different culture and make new friends.
Working in Korea is a great chance to experience a different culture and make new friends. You will have the opportunity to learn about Korean culture, practice your Korean language skills, or just hang out with your co-workers and make friends.
Living abroad can be exciting and challenging at the same time. With that said, it's important that you know what to expect when working in Korea before leaving home. And even if things don't work out according to plan while you're in Korea, having good connections not only in the country, but from other parts of the world, (Korea, after all, has lots of foreign nationals studying or working there) can help you make the most of your time while living in Korea. You can even explore other opportunities elsewhere if you have a good reputation or at least a good network to fall back on.
8. Supporting Staff Hobby and Sporting Groups
One of the best things about working in Korea is encouraging their employees to form sports teams so they can compete with other companies or even go pro (or semi-pro). There are many opportunities for Filipinos here because there's already a huge following of basketball players who previously played for an international team before moving here! And if basketball isn't your thing, there are always other sports like volleyball, baseball and soccer which are very popular among Koreans and expats from all over Europe or North America who live here too!
One thing you'll definitely appreciate while working in Korea is the fact that Koreans value physical health and well-being. This means that employers are very supportive of their employees taking part in sports and other activities which can help them stay healthy and happy! Many companies offer discounts for gym memberships and other sports facilities like swimming pools or ice rinks where employees can play together after work hours or on weekends. If you're looking for a job in Korea, these might just be some of the most attractive benefits that you could enjoy while working here!
9. Free Lunch!
Filipinos who work in South Korea can expect to be fed by their employer. At most companies, lunch is provided and consists of rice, soup and side dishes along with the main dish. Lunchtime can be an hour or two long, depending on the length of your shift and will usually be served by an older employee who has been on shift for a while. You may see some familiar faces if you're working for a multinational company or one with many foreign employees!
Korean food is very healthy, so it's no surprise that Filipinos tend to lose weight while living there (if they don't eat too much).
South Korea is a country full of opportunities for Filipinos.
South Korea is a country full of opportunities for Filipinos. There are many job opportunities in South Korea, and you can earn more money than in the Philippines. You can also further your language skills.
Final Thoughts
If you're a Filipino looking for work abroad, South Korea is a great option for you. It has many opportunities, and the country is home to many Filipinos who have relocated there from all over Asia. You can also make new friends here!
READ NEXT: How to Apply as a Factory Worker in South Korea