Great news! Filipinos arriving at the country's airports no longer need to submit arrival cards to officers manning the counters of the Bureau of Immigration (BI).
The immigration bureau has recently issued a memorandum directing that the submission of arrival or disembarkation cards by Filipino passengers be stopped following the sharp decline in the number of COVID-19 cases for which an arrival or disembarkation card is required.
BI: Filling out Arrival Cards No Longer Required for Returning Filipinos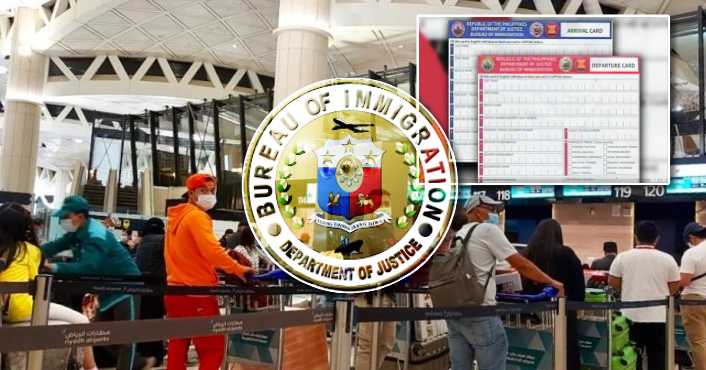 BI has eased travel requirements for arriving Filipinos, according to the agency's chief of the BI Port Operations Division, Carlos Capulong. In a statement quoted by Sun Star, he said, "This move is part of BI's efforts to ease its travel requirements for arriving Filipinos and facilitate their fast and hassle-free entry into their own country."
The BI official assured that it is no longer necessary for arriving Filipinos to fill out and submit disembarkation cards to the BI. This practice was followed before the onset of the pandemic.
He said that Commissioner Jaime Morente had approved the policy of exempting Filipinos arriving in the country from having to submit embarkation cards.
"We required the submission of these disembarkation cards by arriving Filipinos to help the government in its contact tracing efforts at height of the pandemic. Now that Covid cases are on the decline these cards can now be dispensed with," Capulong said.
The adjustment, according to Capulong, will significantly lessen the requirements and processing time of arriving Filipinos, including OFWs.
Filipinos returning from abroad will no longer be required to fill out and submit arrival cards to officers manning the counters of the Bureau of Immigration at airports.

Story: https://t.co/7IynEvWURi pic.twitter.com/2F2RgiH7EJ

— UNTV News and Rescue (@UNTVNewsRescue) April 12, 2022
Based on BI estimates, around 14,000 returning OFWs and overseas Filipinos are projected to arrive in the Philippines in April.
READ NEXT: Arrival Guide for OFWs and TnTs Entering the Philippines