It's not every day that we get to hear or read about stories of goodwill and kindness, especially involving overseas Filipino workers (OFWs). However, even as the Holy Month of Ramadan is about to end, opportunities to help out those in need are common anywhere.
ALSO READ: Hospital in UAE Shoulders Half of Life-Saving Surgery for Filipina OFW
For those who believe in miracles, sometimes it's still hard to understand what it is unless it happens to you first-hand. And this has been the story of an OFW based in the Kingdom of Saudi Arabia (KSA) who was the recipient of a prince's generous help for his critical surgery on the heart.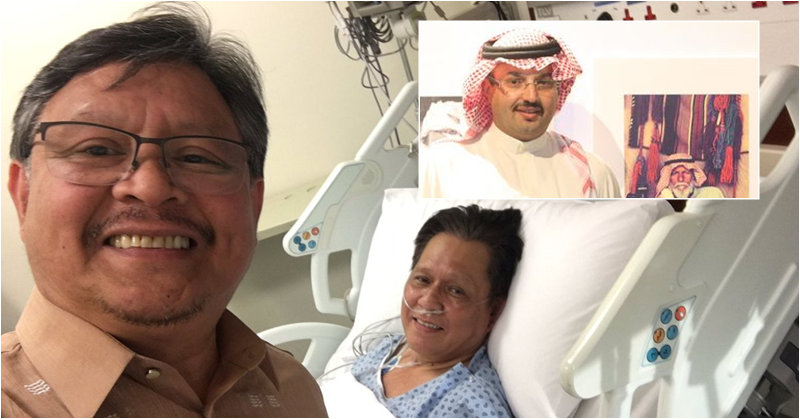 OFW Given Full Assistance by Saudi Prince for Critical Heart Surgery
A Saudi prince and the Governor of the Asir region offered to shoulder all the medical expenses and to airlift a Filipino worker who is set to undergo an open heart surgery operations in Saudi Arabia, as shared in an update by the Philippine Ambassador to the Kingdom of Saudi Arabia via Twitter.
Posing with our kabayan who just had a successful heart bypass surgery courtesy of Prince Turki bin Talal bin Abdulaziz Al Saud. Life is good. pic.twitter.com/0uwXOKUiD4

— Adnan Alonto (@adnanalonto) June 2, 2019
According to Philippine Ambassador Adnan Alonto, he received a call from the office of Prince Turki Bin Talal bin Abdul Aziz Al Saud informing him that there's a Filipino named "Ted" who is set to undergo an open heart surgery last week.
Alonto shared that since the hospital in Asir didn't have the necessary facilities to conduct the open heart surgery, the Prince's office had to contact their office to request for Ted to be transferred to a capable facility in Riyadh.
Furthermore, Alonto and Ted were both surprised when Prince Al Saud's office said that they will cover all the expenses needed for the complicated surgery.
Alonto explained that he and Ted were both dumbfounded by the news, because even Ted himself cannot explain anything he did to deserve such generosity, and even from a member of the Royal family of the Kingdom.
In an update via Alonto's Twitter page, Ted is now in a stable condition, and he is with his wife, who also works in the Kingdom as a nurse.
Citing the Philippine ambassador's words, 'miracles do happen' and it's always nice to share good news that Saudi employers or nationals also care for Filipinos.
ALSO READ: Hong Kong Man Flies to Philippines to Visit Ailing Former Nanny