As the number of new coronavirus infections all over the world is on the rise, Filipinos based in the Philippines and overseas are urged to maintain optimal health at all times and to avoid unnecessary travels, especially to places where infection rates are highly active and are still being put under control. 
Despite the spread of the infection in around 40 countries and regions, the Philippines is actively addressing the situation locally and has managed to reduce the number of persons under investigation admitted in various health facilities to only 43. As of March 2, a total of 592 patients have already been discharged.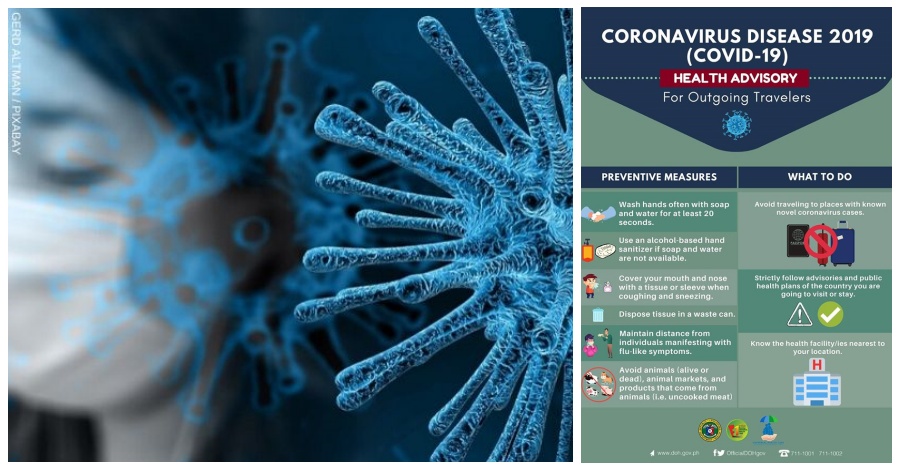 [Infographic] Guidelines to Prevent the Spread of the Novel Coronavirus When Traveling
According to Health Secretary Francisco Duque III, "The decrease in the number of PUIs being admitted is welcome news to all. This may be attributed to our strengthened surveillance, early travel restrictions, and enhanced laboratory processes." 
He added, however: "But this is not enough reason to let our guards down. The DOH will continuously assess the situation and improve its surveillance protocols based on evidence and further developments."
In line with this, here are protective measures shared by the World Health Organization (WHO):
Clean your hands frequently and thoroughly

 with an alcohol-based hand rub or wash them with soap and water. This helps kill viruses that you may have come in contact with your hands. 

Maintain social distancing. Keep distance by approximately 1 meter (3 feet) from anyone who is coughing or sneezing. When someone coughs or sneezes they spray small liquid droplets from their nose or mouth which may contain a virus. If you are too close, you can breathe in the droplets, including the COVID-19 virus if the person coughing has the disease.
Do not touch your eyes, nose, and mouth with your hands because your hands might have come in contact with surfaces where the virus can lodge and you may transfer the virus to your eyes, nose or mouth. From there, the virus can enter your body and can make you sick.
Cover your mouth and nose with a tissue or your sleeve when you cough or sneeze.  
Then dispose of the used tissue in a trash bin immediately. This simple yet mindful practice can prevent the spread of the virus through droplet transmission. This will also help protect the people around you from viruses such as cold, flu and COVID-19.
Avoid having contact with animals (alive or dead), animal markets, and products that come from animals (i.e. uncooked meat).  
Avoid traveling to places with known cases of the novel coronavirus. You can do this by strictly following advisories and public health plans of the country you plan to stay in. And in case you will require medical attention, be sure to know the nearest health facilities to your location. 
Follow advisories and public health plans of the country you are travelling to.
Know the location of the nearest health facility.
Despite the alarming updates in the news, the COVID-19 infection can be prevented by maintaining good health, proper hygiene, and other preventive measures. 
After all, even if there's no cure for the virus yet, there are plenty of ways we can do to prevent getting infected.  
Here is an infographic shared by the Department of Health regarding this latest advisory: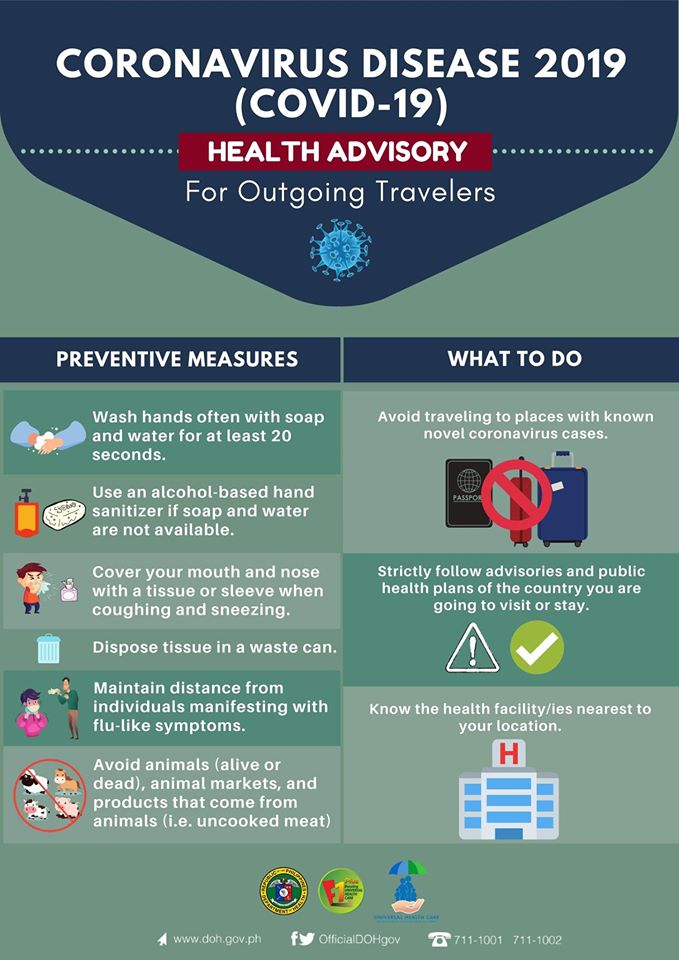 ALSO READ: World Governments Bolster Preparations Against Looming Coronavirus Pandemic