Effective on the 1st of April, the UAE is implementing a new rule for sponsorship of expat families to amending the existing provisions and include 'income' in the consideration for approval.
In a recent Instagram post by the UAE government, they posted that the new sponsorship facilitation for family sponsorship has been approved by the Cabinet.
A statement by the General Secretariat of the Cabinet revealed that as per the amended provisions now, the 'income' instead of the 'profession' of expat worker is the requirement for sponsoring family members. It used to be just the 'profession' of the worker that was taken into consideration to sponsor their families.
This amendment is in line with international developments, and is based on the best practices, it said.
The statement also revealed that the decision aims to attract highly skilled workers while also maintaining a healthy work-life balance.
"The decision aims at enhancing family stability of foreign workers and social cohesion," the statement added.
The UAE Cabinet approved the amendment in the hopes of reaffirming its position as a hub for talents and land of opportunities.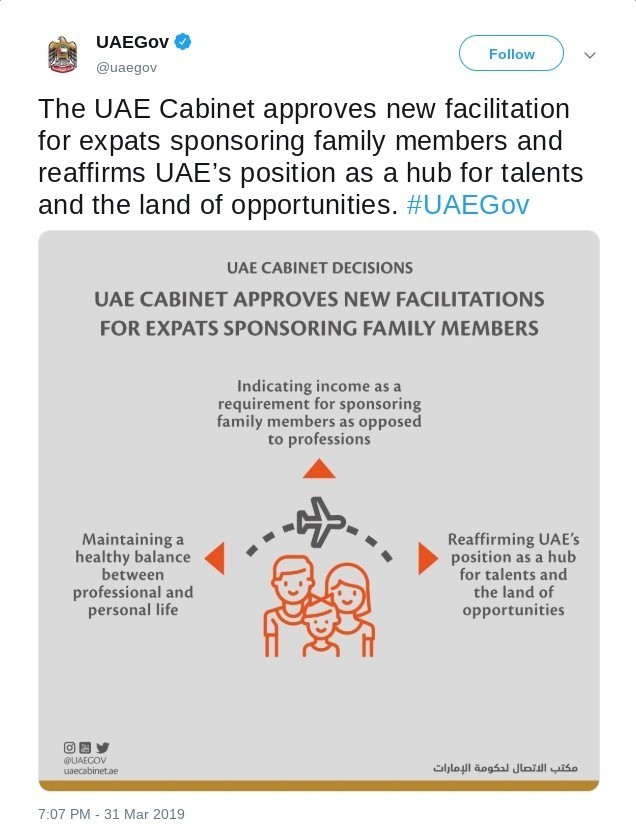 The Cabinet also called on the relevant government entities to do studies to assess and improve the services being provided to residents, including in the field of education and health.