Do you want to be an occupational therapist in the UK? There are many reasons why you should consider working in the UK in general, and there are lots of positive expectations when you do so. But the field of occupational therapy, in general, is such a rewarding endeavor in the country, as you shall soon learn after reading this article.
Also Read: What is the Monthly Salary of a Nurse in the United Kingdom?
To apply as an occupational therapist, though, there are many steps that need to be taken. In order to go from the Philippines to the UK and work as an occupational therapist, skills, experience, time, and money are needed, but if you have your eyes set on the goal, then nothing is impossible.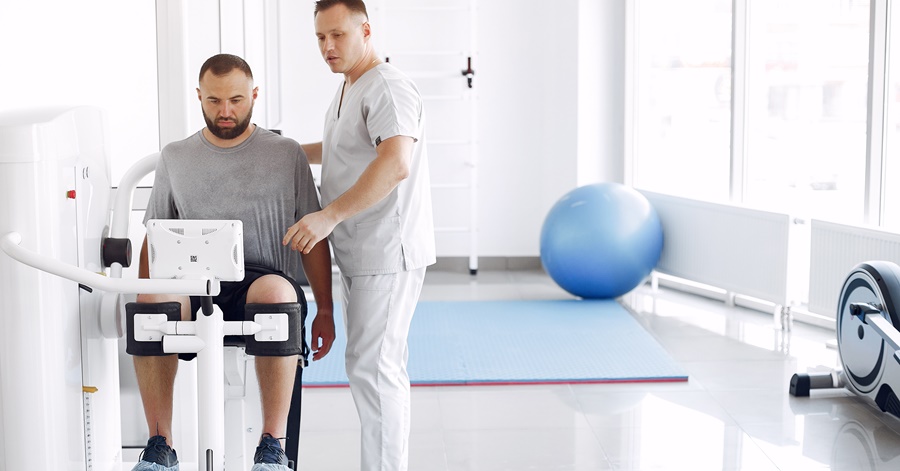 Disclaimer: The information posted here is based on the personal experiences shared by the OFW in the video below. Please let this post serve as a guide only. If you have specific questions, you may ask the OFW by commenting on their video on their accounts.
What's it Like Working to Work as a Filipino Occupational Therapist in the UK?
This article is based on a YouTube video from the channel, "Manong George: Filipino UK Nurse. You can click on the full video below:
Before talking about the steps and processes required to become an occupational therapist in the UK, let's first learn more about what an occupational therapist does.
The roles of an occupational therapist are as follows:
Helping people who are trying to gain independence and manage their daily lives
Assess what a patient needs to do, like getting washed and dressed, shopping, managing meals, working, etc.
Determine the abilities of patients, whether physical, social or thinking skills
Evaluate what gets in the way of the above-mentioned abilities
Look to either get that patient regain these abilities or adapt to new changes
Figure out how the patient's environment impacts their ability to manage everyday tasks.
Advantages of being an occupational therapist
What makes being an occupational therapist great? Well, there are many reasons, but that includes the following:
It is a very practical and hands on profession
Every day brings about new experiences
You get to work at the most difficult points of a patient's life and help them overcome it
In that regard, being an occupational therapist can be quite rewarding.
Roles of an occupational therapist
An occupational therapist has a lot of different roles, including the following:
Working with various types of patients – these patients include people with cognitive disabilities, elderly people who have been in accidents, amputees and more.
Setting goals with patients
Work closely with physiologists and other kinds of healthcare professionals
Work with both the patients and their families and friends.
Do various assessments on the patient – these include wash and dress assessments, kitchen and transfer assessments and more.
Go to the patient's home environment to make sure that the equipment or other recommendations provided by the OT can work well in these environments.
Why being an occupational therapist is rewarding
As mentioned above, the occupational therapist job can be quite rewarding. There are several reasons for this, but one is that you often work with patients who are caught at their worst moments, and your goal is to help them get back to their old self.
For example, you may have a patient that just underwent a stroke. Now some patients may be so down that they think they won't ever come back home. As an occupational therapist, you have the ability to get them home again, and help them get their personality to come out even further. That is really rewarding.
As an occupational therapist, you also get to work with a team of wonderful and supportive professionals. In the UK, in particular, chances are you will be a part of a hardworking team that are not only knowledgeable and skillful, but also find time to relax and be informal. You definitely have a support system with other OTs and other health professionals in your team.
Other professionals that work with occupational therapists
As an occupational therapist that works in a hospital environment, you often belong to a multidisciplinary team whom you work with on a daily basis. Some of these include the following:
Physiotherapists
Speech and language therapists
Nursing staff
Healthcare Assistants
Junior Doctors
Senior Doctors
Consultants
And more
Aside from other healthcare professionals, occupational therapists also collaborate with communities, making referrals to continue the care for their patients. Linkages are established between various types of related support services, such as equipment support services and more.
How to apply as an occupational therapist in the UK
So what are the requirements to be able to apply for an occupational therapist job in the UK? Well, is a summary of the requirements:
Work experience
Filled up HCPC-UK application form (Health and Care Professions Council )
English proficiency
You need to have the work experience first. In particular, before going to the UK, you should have worked as an occupational therapist in the Philippines for at least 2 or 3 years.
Applying for an occupational therapy job in the UK requires you to fill up an application form. In that form, you need to write down what your work experience is, along with the trainings, seminars and workshops you have attended while working as an occupational therapist in the Philippines.
Therefore, if you don't have the job experience, you won't be able to complete the application form, which means you can't even begin to process your dream of working as an occupational therapist in the UK.
What are some of the other things you need to fill up in the application form? Here are some of them:
What year you graduated
Your work experience as an occupational therapist
Certificates for the trainings that you had in the Philippines
In fact, when the vlogger filled up the application form, it ended up having 39 pages because she had to include the training certifications and a few paragraphs defining what those trainings are all about.
As mentioned above, you can download this application form at the HCPC-uk.org website, fill it up and then send it. In the video, the interviewed occupational therapist mentioned that the scrutiny fee is worth 495 pounds. In Philippine pesos that is equivalent to around 34,000 PhP.
In addition, it takes around 60 working days to complete the whole assessment.
Stages During the Application Process
The whole application process can be divided into several stages. These are the following:
Screening of completeness of application
Assessment of qualification to practice in the UK
Notification of results
As mentioned above, the first step is that they will screen your application if it is complete. If it is not then they might send it back to you.
If it is complete, then the next phase is for HCPC to assess your application for around 4 weeks. They will check if you have the necessary experience or training to qualify you to practice in the UK.
After this happens, they will send you an email or notify you by post and that's it.
Other qualifications
What are some of the other qualifications you need to have in order to work as an occupational therapist in the UK? Well, here they are according to the vlogger:
You need to be a registered occupational therapist
You need to have an employer
You need to be qualified to apply for a visa
These are the things you need in order to qualify. In addition, in order to qualify to apply for a visa, you need to have work permit and other supporting documents.
While working as an occupational therapist in the Philippines, you need to be registered. By then, you also need to start looking for an employer. There are several ways to do this. Here are two of them mentioned in the video:
Start looking for employers online
Ask someone who is already in the UK
The latter means that if you already know someone who works in the medical field in the UK, you can talk to them and ask them what hospital they are working in. Then, you look for the website of that hospital, check out their job vacancies and then you can apply from there.
Interview process
The interviewed occupational therapist also mentioned that you can seek the help of agencies to process all requirements you need. You can directly apply through their websites, and will most likely ask for the following requirements:
OT registration
HCPC registration number
Potential employees will then screen your application and short list you. If you make it to the short list for an interview, they will then most likely conduct the interview through video conferencing online. Perhaps, a zoom call will be made between you and the authorities.
During the interviewee's time, she said her interview was done through long distance calls. There would be a panel of 2 to 3 people asking her questions. After the panel interview, she was then notified via call or email if she got the job or not.
If your interview is successful, that means you get the job. An HR officer will then email you and ask you for additional requirements or possibly fill up another form.
Getting a Visa and a Flight to the UK
After the successful interview and additional requirements, the HR will organize a work permit that will support your visa application.
When it comes to expenses, will they be shouldered? Well, the vlogger says that it is possible, but in her case, she just decided to pay for the visa application fee and the one-way airfare ticket to UK on her own. That way, the process is faster and much easier, albeit more expensive.
It will probably take around 5 working days before you can receive the visa.
So once u get the visa, u usually I think it only takes like five working days to know when u get the visa. Then, the next thing you need to do is book a flight going to the UK.
After arriving in the UK, you can then ask your employers when you can start. Moreover, your employers will likely understand the fact that you would need accommodation upon arriving in the UK. As such, they can temporarily provide you with a place to stay, but the rent will then be automatically deducted from your salary.
Applying for a Band 6 role
During the interview, the occupational therapist is asked if one can apply for a band 6 role in the UK? A band 6 is part of the UK pay system for band 4 to 10. Basically, this is a pay policy in which the higher your band number is, the higher the salary is across levels within that particular band.
To answer the question, the occupational therapist said yes, and that depends on your experience and perhaps how you fared during the interview process.
In the case of the interviewee, she said that she was happily allowed to start at band 6 because of her 5 years of experience working as an occupational therapist in the Philippines.
Difference in practice between the Philippines and the UK
The interviewee mentioned the following key differences between OT practice in the Philippines and the UK:
Most OT work in the Philippines is privately paid, with a few exceptions (e.g war veteran)
In the UK, there are acute hospitals, community hospitals, community inpatient hospitals
In the UK, there are community teams as well that go to various houses of patients to continue OT therapy.
In the UK, the NHS covers your occupational therapy. As a tax payer, that's one of your benefits
In the UK, they provide equipment like hoist, wheel chairs, chair raisers, anything that would help patients become more independent and safer at home.
In the Philippines, if you need equipment you have to buy, or you can create a makeshift one.
Advice for Future UK OFWs
For those who are really aiming to work in the UK, the advice is to get at least 2 to 3 years of work experience in the Philippines.
In addition, be ready to spend. The application is expensive, and the airfare is as well, but if you have to, just loan money from your family or friends. Besides, you will repay them during your first year of working.
Another advice is to adjust to the changes during the practice. For example, you will be dealing with new equipment, so you have to learn those. Also, you have to know what to recommend as a care package to social workers. Basically, just know the roles of different members of your multidisciplinary team.
Once you arrive in the UK, you will get training, supervision, then you will go up the ranks, and each year your salary will increase. Soon you will have the option to apply for a higher band.
The experience of working as an occupational therapist in the UK is different. Your job is more specialized, so you have to know which specialization you really want and that makes you happy. If you pursue this, then pretty soon, you will be joining the ranks of many other Filipino medical staff in the UK